His roots come from the south of France, from Grasse, a small town in Provence in the Côte d'Azur, but he grew up partly in the United States in the state of Georgia. Raphael Valentin, model and personal trainer chats with Yummy about his roots and upbringing, his career path, and his interest in fashion, skincare, and traveling. Marking his first-ever naked shoot, Valentin poses for Sasha Olsen for Yummyzine 2, an opportunity we have to ask him about this wonderful experience and some sexy and hot questions.


Photostory by Sasha Olsen interview by Adrian Gomis Exposito

The images is cropped/ made safe for online purposes, full images available inside Yummyzine Issue 2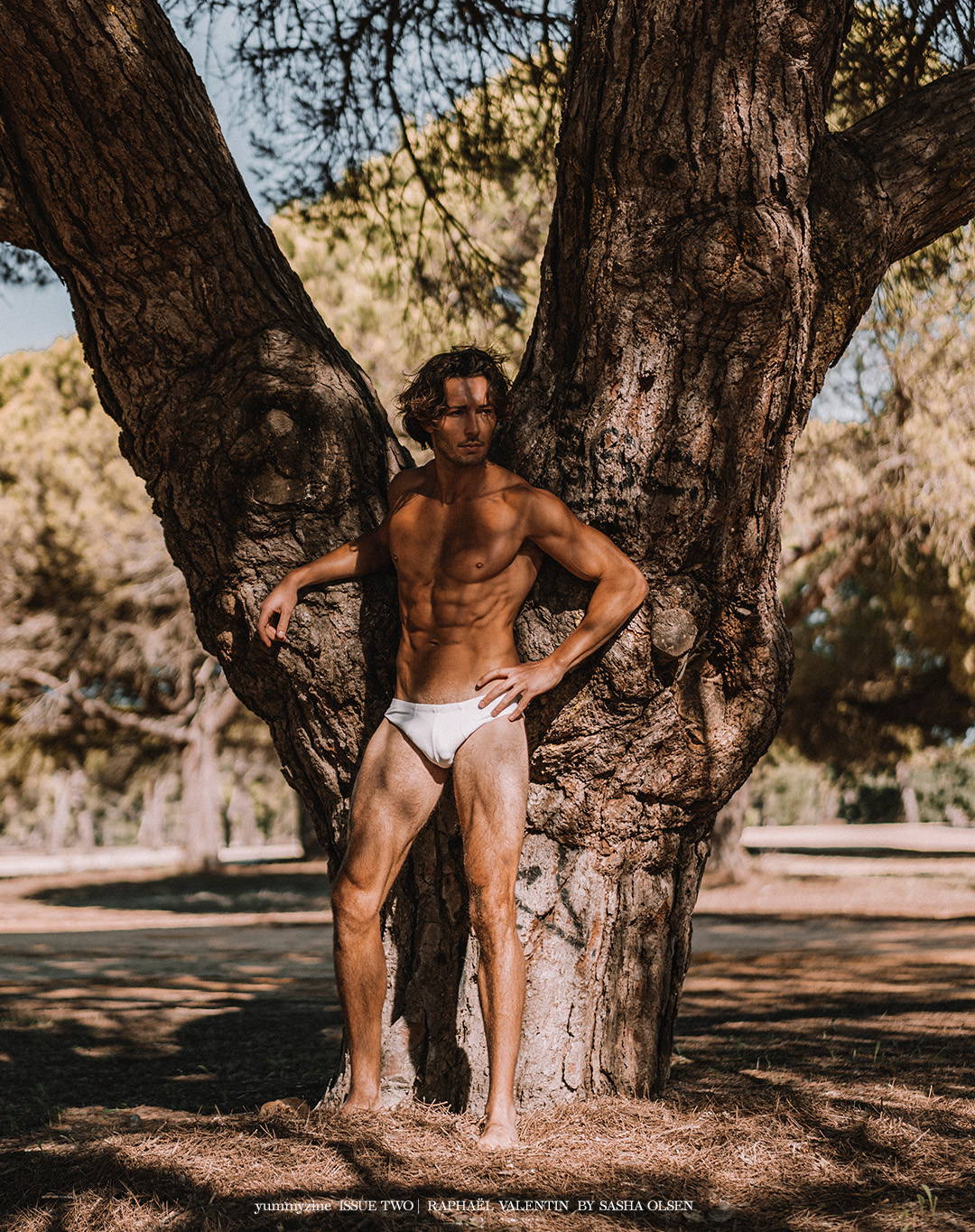 To begin with, could you please start by telling us a little bit about yourself?
My name is Raphaël Valentin, I'm originally from the south of France but I grew up partly in the United States, more precisely in the state of Georgia. For the past years, I have been working as a model and personal trainer. I could also humbly say that I am somewhat of a "micro-influencer" as I'm far from having the millions of followers some people have.
Besides being partly in the US, what was it like to grow up in Saint-Tropez and the glamorous french riviera? What was your childhood like?
Actually, I'm from Grasse, a small town in Provence but pretty close to Cannes and Nice, which is located in the Côte d'Azur or French Riviera. I guess I feel pretty lucky because it's a place where people go on vacation as the weather and scenery are absolutely stunning all year round. You could say there's a particular mentality because of the glamorous vibe, but it's kind of cheesy sometimes haha. I identify more with the '60s era of Alain Delon and Brigitte Bardot - classy yet laid back. But I definitely get inspiration and feel close to nature here. The Mediterranean Sea has and always will fascinate me.
I believe you work professionally as a model. Do you do it full-time or do you combine it with other jobs?
Yes, that is right. As a matter of fact, I do several activities. Like I said earlier, I work as a personal trainer, which is a job I love because of the connection I can have with the person, feeling I'm helping them give their best and surpass themselves. I also worked as a freelance illustrator for a while, as I initially studied Fine Arts. Now drawing is definitely more of a passion and a hobby.
What's your story with modeling? When did you decide that it was something of interest to you and something you wanted to pursue professionally?
I actually wanted to be an actor when I was young. At that time I took acting lessons in a school that was not very conclusive. I was often told that I could model but I did not pursue it. It was only many years later that a friend who worked in an agency told me to send my book to her mother's agency at the time. I had positive feedback from them and since then it has been progressing quietly.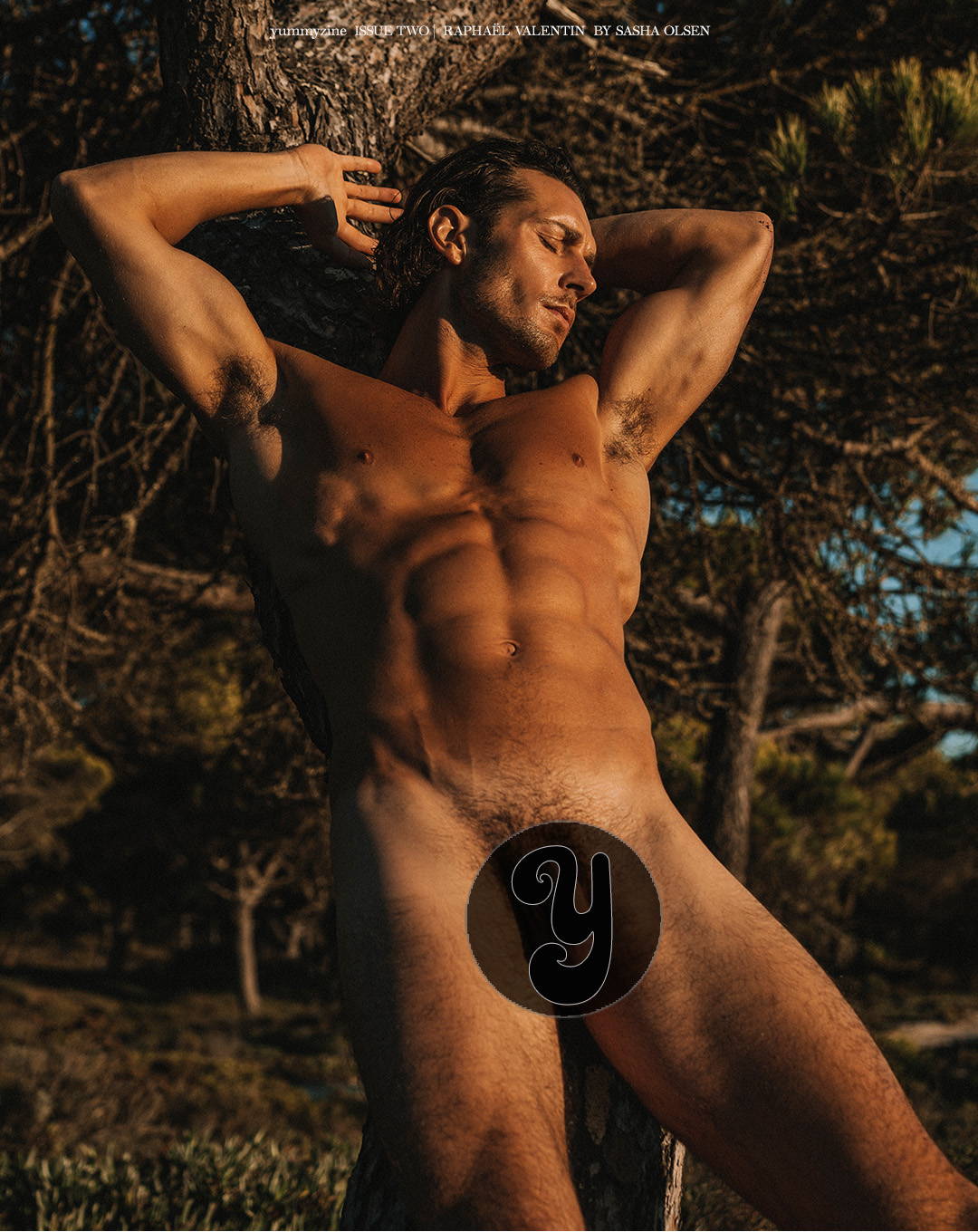 Seeing the type of aesthetically pleasing and traveling content you publish on Instagram I feel you are right when you mentioned you also aim to be an influencer. Would you consider yourself a social media celebrity?
First of all, thank you, that's very kind! I do give attention to aesthetics and want things to look harmonious. I would definitely not consider myself a celebrity though, but I enjoy creating content that's for sure. Certain brands which are ethical and ecological make the creative process have a deeper impact and meaning. I also feel that bigger brands or websites with huge economic resources do not respect our work as content creators… which for me is something I find distasteful in this field.
What about your hobbies? Could you tell us more about them? For example, tell us about your passion for travel and skincare.
Waking up with the sun and the sea not far away. Being native of a region where these two things are omnipresent, I find it very difficult to be far from the sea and in a region where you don't often see the sun very often. I love working out and getting a good sweat, going for a run next to the beach or in the forest, playing basketball, surfing, and hiking. You can tell I like being active and feeling my body athletic, but I also like to chill, read a book, and have a good coffee. Spending quality time with my family is definitely essential for me. My parents brought me with them when traveling from a very young age and ever since I've been hooked. Discovering new landscapes and cultures is certainly one of the most enriching things, and this whole Covid phase was frustrating for that. Skincare is a great subject that I'm passionate about. I stick to a very strict morning and evening routine. I love discovering new products and I try to buy products with ethical and ecological policies
It's undeniable that you literally have the body of a Greek god. What do you do to keep in shape and how have you achieved such a perfect body?
You're way too kind! I appreciate it! It's a true compliment because I've always been interested in statues and mythology. In art class, I used to love observing the details and seeing what made it so aesthetic. I've never wanted to be bulky, but definitely athletic and I liked how they were harmonious and chiseled so I tried reproducing that for me. I do a lot of cardio because I just love being drenched in sweat, and I also work out six times a week, sometimes twice a day. And I also eat plenty of lean protein sources, fresh veggies, and fruit!
I've also sensed you have great fashion taste, your outfits, and aesthetics are so good. What process do you follow to choose an outfit every day? How important is fashion for you?
Yes, I do appreciate good style and think in some way it represents who we are. I like minimal and neutral tones but also more sporty and flashy. I get inspiration from the '90s, love a good Friends show outfit haha but also from nature I guess. Pastel tones and textures. It's important but I keep it as something a bit personal even if I share some outfits. I don't follow too many trends and try to accumulate tons of designer pieces. I respect it but I like more to find a good vintage piece in a thrift shop.
You've recently shot a wonderful story for Yummy with Sasha Olsen. How did you feel throughout the shoot and how was the experience?
It was amazing! First, Sasha is such a great photographer and we actually planned it like an adventure – just going around looking for great locations to shoot, with wild landscapes and beautiful scenery. We ended up having a little setback on the first day but that's part of the adventure sometimes. I felt really good because he made me feel confident and it was just so fun the whole time.
Was this your first time shooting naked? If so, how was it?
That's right! My first time totally nude and in nature! Like I said earlier, Sasha made me feel confident and comfortable so it was a positive experience. I think also of the way he's able to capture details and make them look natural. I like that in his work a lot.
On to the yummy questions, I would like to know what the word yummy means to you. What do you see when you think about it?
Good question! The word makes me think about breakfast. I hope that doesn't sound weird but I guess it's just that feel like having something sweet and comforting like pancakes and an almond milk cappuccino.
With your gorgeous body, I'm sure it must be difficult to resist taking sexy pics. Do you do it often?
Actually, I've done underwear-only before, but this was my first time shooting nude. But yes, then I usually take one or two selfies when I get out of the gym.
How important would you consider sex in your life? How important do you find it to spend some fun and sexy time with someone you like? 

Very important definitely! I think it's about having a good connection with a person, sharing an intense moment with a whole lot of pleasure. It's about communication too and just trying to make it fun so you both have a big smile at the end.
What is the craziest sexual experience you have ever had, anything you would like to share with us?
One that comes to mind would be one I had with my ex-girlfriend. We were on some kind of road trip, I was driving, she was taking care of me… and the tension was just too high that I had to pull over on the side of the road in a little parking lot. There were a few cars that seemed empty, it was not until we reached the climax that we saw there was an elderly couple in the car next to us.
To finish this wonderful interview, I would like to ask you what is your motto in life and the greatest advice you can give someone.
I think it's to always be curious and to be respectful. Quite simple I guess. I believe as humans were pure potential, that if we believe in ourselves and give ourselves the opportunity we can achieve so many amazing things. It would be to stay true to yourself. It may seem cliche but when we constantly compare ourselves to others, especially via the networks, we must know how to find inspiration but stay in tune with ourselves. Also, don't be too hard on yourself. Have compassion and acceptance, and have benevolence towards yourself. But also be exigent and disciplined, keep your goals and stay focused.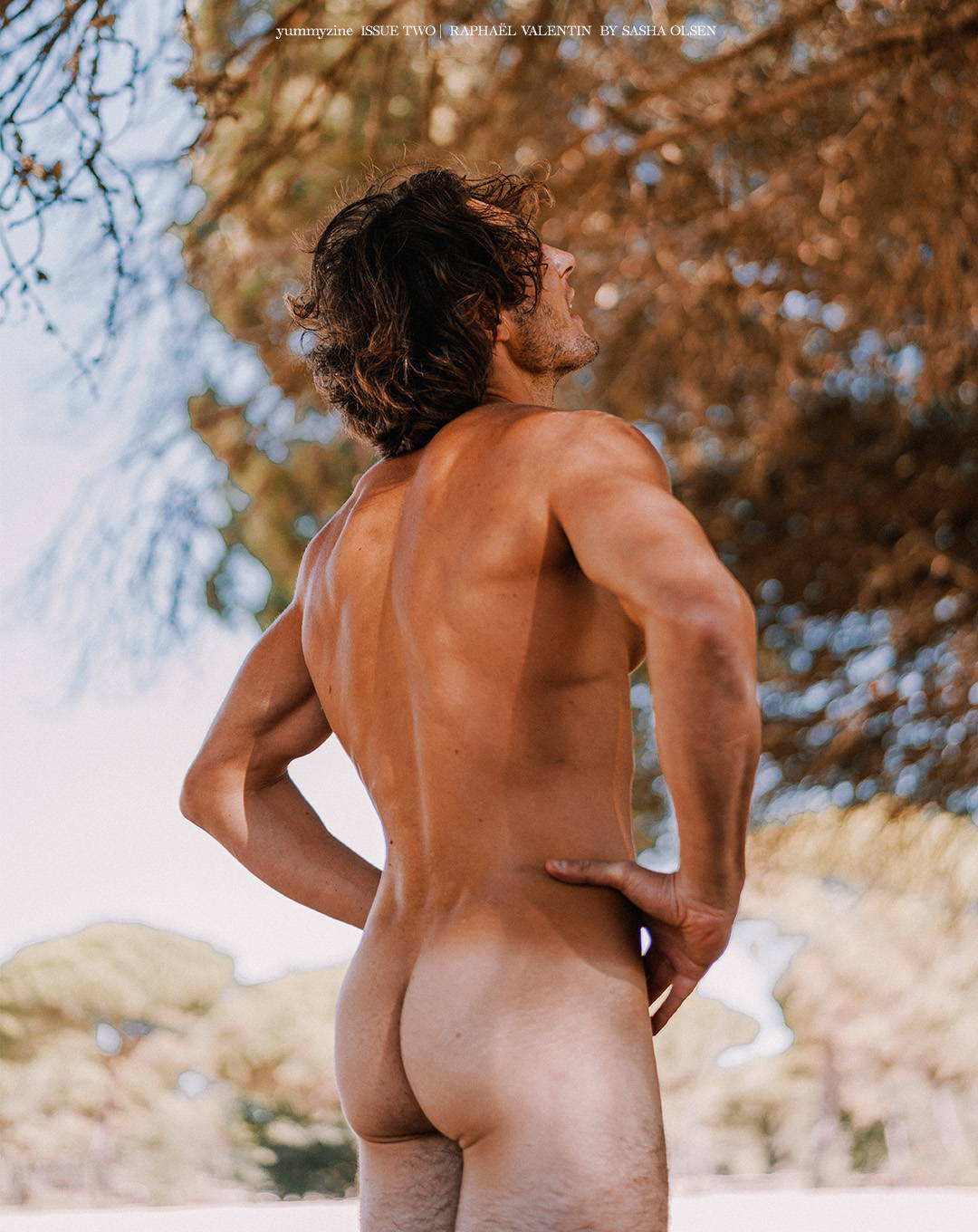 Photographed by Sasha Olsen exclusively for Yummyzine Issue 2
Interview by Adrian Gomis Exposito (AGE)