Passionate, caring, and probably the sweetest person you'll ever meet, the incredibly talented model and dentistry student Giorgio Ramondetta allowed us to take a peek into his fascinating world and personality to know the beautiful human he is.

Being this the first-ever interview he has ever done, he doesn't hesitate to open up about his origins with Adrian Gomis Exposito, telling him about the journey he has followed in the modeling industry starting with Yummy, and now being the face of Emporio Armani.

We also get to discover his ambitions and goals in life as well as, of course, his yummiest side, how his perception of nakedness changed after Yummy, how his confidence increased, and some little secrets about his sexiest side.

Sasha Olsen took care of portraying the sexiest but also the most human side of this beautiful model for Yummy Issue 5.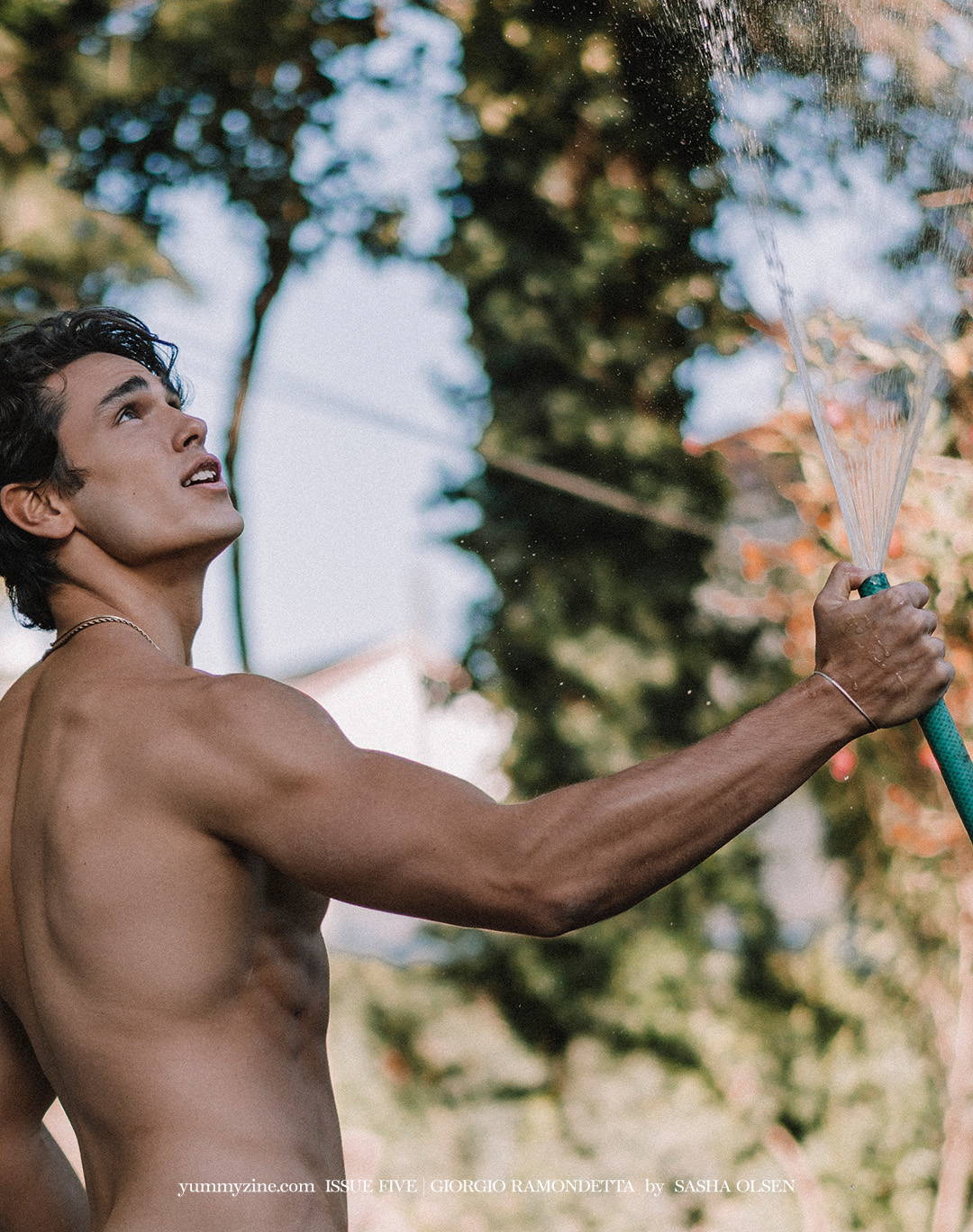 The above image is cropped, the full image is available only inside Yummy 5
ADRIAN GOMIS EXPOSITO. To start this interview properly, could you tell me a little bit about yourself?
GIORGIO RAMONDETTA. I am Giorgio Ramondetta, I am 22 years old and I am from Sicily, a region in the south of Italy. What people don't know about me is that my father is actually from Indonesia and my mother is from Sicily, that's why my face is not so so Italian, or at least that's what people say. As to what I am doing in life, at the moment I am studying Dentistry in Portugal and I'm in my third year, so I have to study for two more years to get my degree. I started working as a model last year during the summer. My first job was with Yummy actually and I now work as a model full-time. I am also an ambassador of a big brand of supplements called Bulk, with whom I signed a contract recently, and I'm really excited about it! I decided to go for this opportunity because I really love sports. I hit the gym between 4-5 times a week, so I try to practice any type of sport every single day.
AGE. How did your modeling career begin and how did you start being interested in this industry?
GR: This is a really good question I've never answered before. What happened is that I was lying in bed in Portugal and an agency from Milan called me and they told me: 'Hey Giorgio, we were interested in your profile and we would like to know if you're available to take some photos in Italy next month.' So in the beginning, I said 'why not? It could be interesting,' but then they said the picture featured in the magazine would be fully nude, so I told them 'I need to think about it, I've never done it before, but I will let you know.'
I discussed it with my parents and my father really liked the idea, but my mother said 'I don't know Giorgio. I don't know what it is, you need to be careful with these things,' and so on. So I thought about it and the day after I called the agency back and I said 'Yes, I'll do it, why not!' I really love doing things I don't usually do because I see great opportunities. I didn't know the popularity of this magazine and I didn't know who was going to be the photographer. I didn't know anything about it. Just a few days after agreeing, the photographer texted me saying he was excited we were going to shoot together. So from the beginning, I've had amazing experiences working with the photographers. I went to Italy and I met Giampaolo Sgura, it was an amazing experience. Giampaolo is one of the best people I know and it was a pleasure shooting with him. Thanks to him, my first contact with the fashion industry was amazing. It was the first time I was photographed fully naked but I felt really confident with him. He also played a very important role when I joined the fashion industry because after our first shoot he told me: 'never change and keep doing what you do in the same way, and you will go really far.' This phrase made me believe more in myself and trust what I am doing. Giampaolo for me was the input to start in this industry. After doing this project with Yummy I signed with an agency named Special Management and I began working as a model full-time.
I would also like to mention the important role that the photographer Sasha Olsen played in my career and personal life. He was the first photographer that ever contacted me on Instagram to do a private project. I saw from his messages that he was really interested in photographing me, he really wanted to do something that made both of us grow together. It wasn't just that he wanted to grow his own popularity because I saw that he really cared about me too and he pursued equal growth for both of us. He considered me every time, we talk a lot, and we have built a very good relationship. I think the age gap between us benefited us in a lot of ways because we are really similar in age and that's why we connect better, something that I sensed doesn't happen with other photographers. This doesn't mean that I didn't enjoy working with the other photographers, I really had amazing experiences, but shooting with Sasha it's different because I'm with a friend and that gives me a lot of self-confidence. I hope I get to work with him again because he's amazing, he has incredible ideas and he has a lot of potential.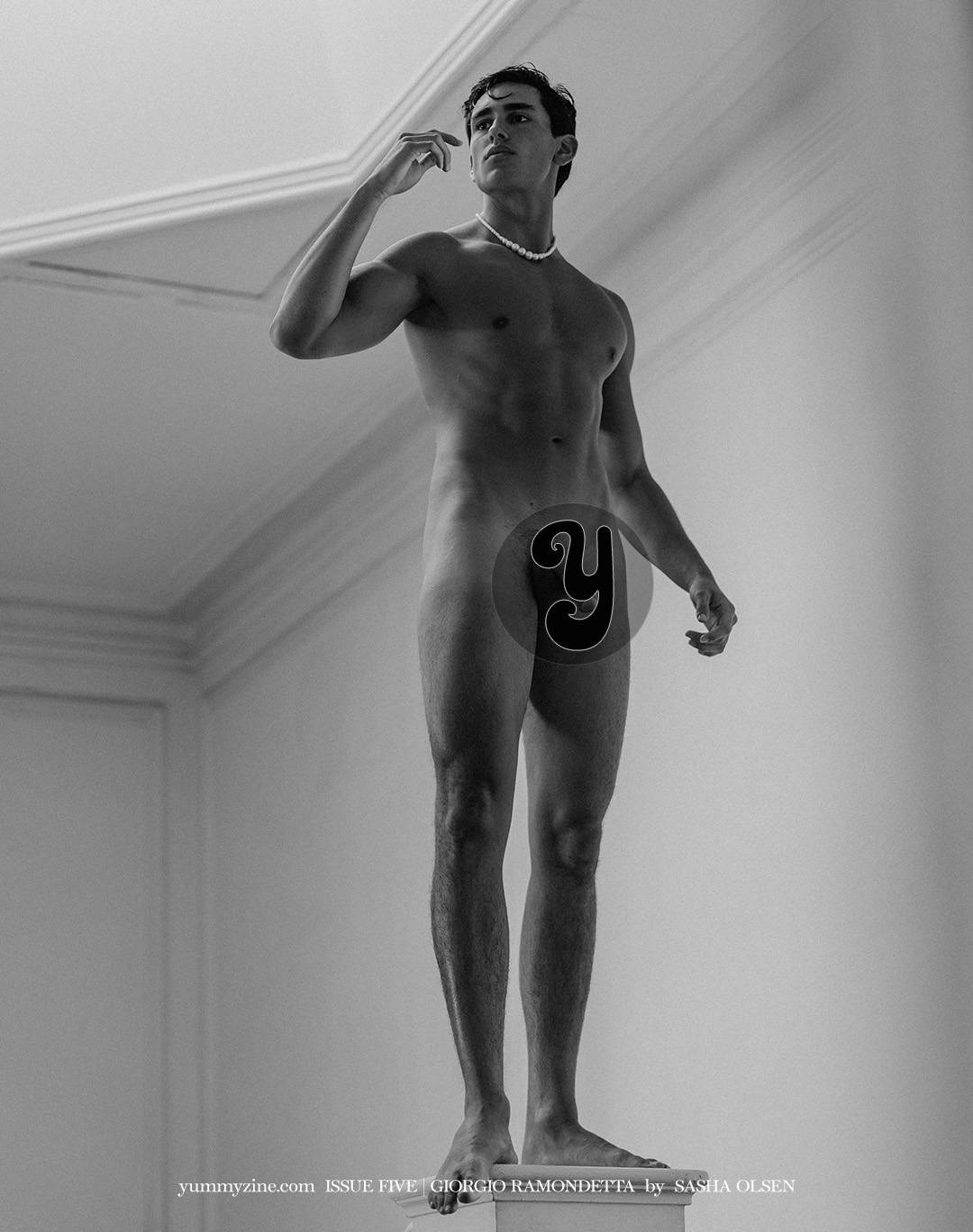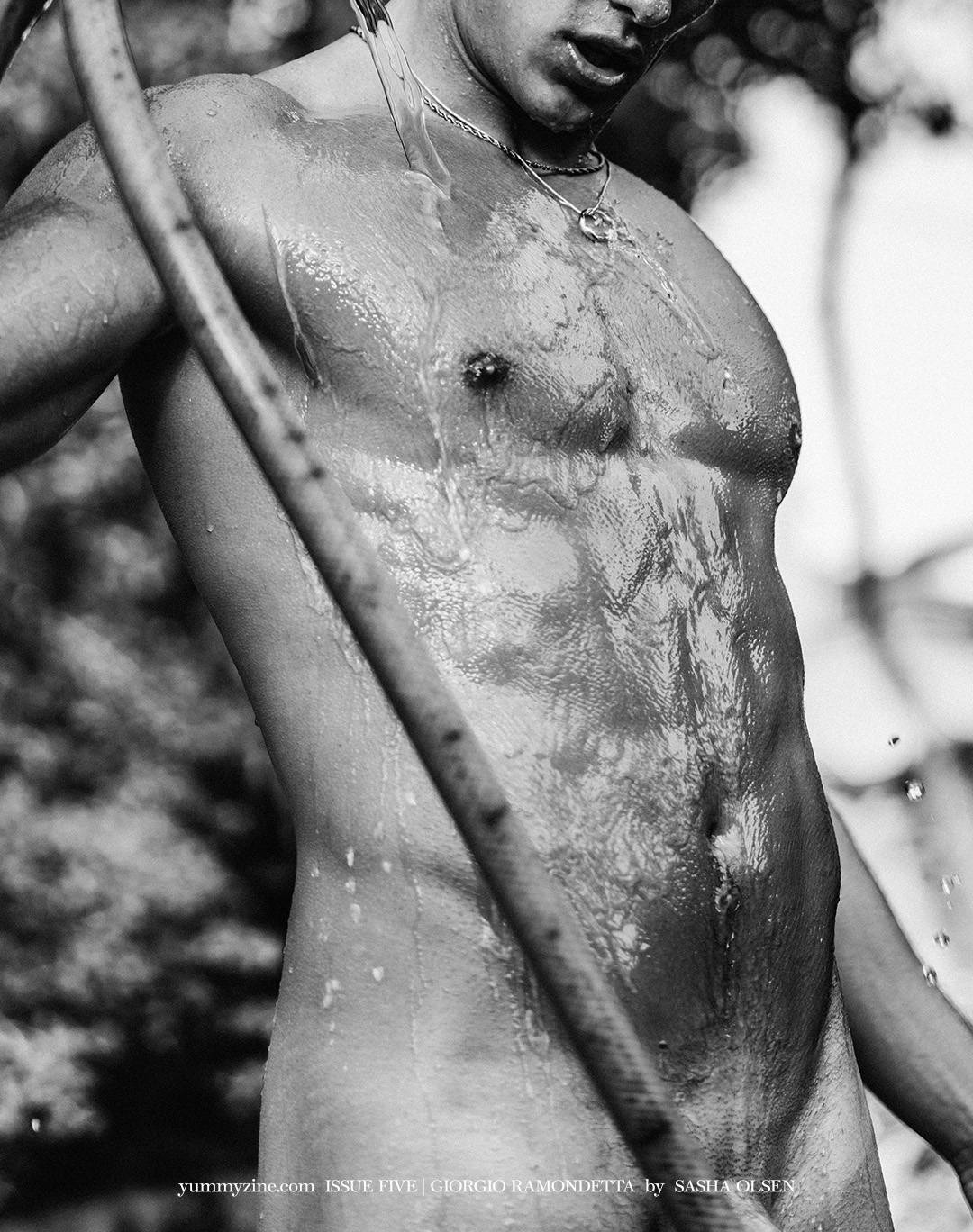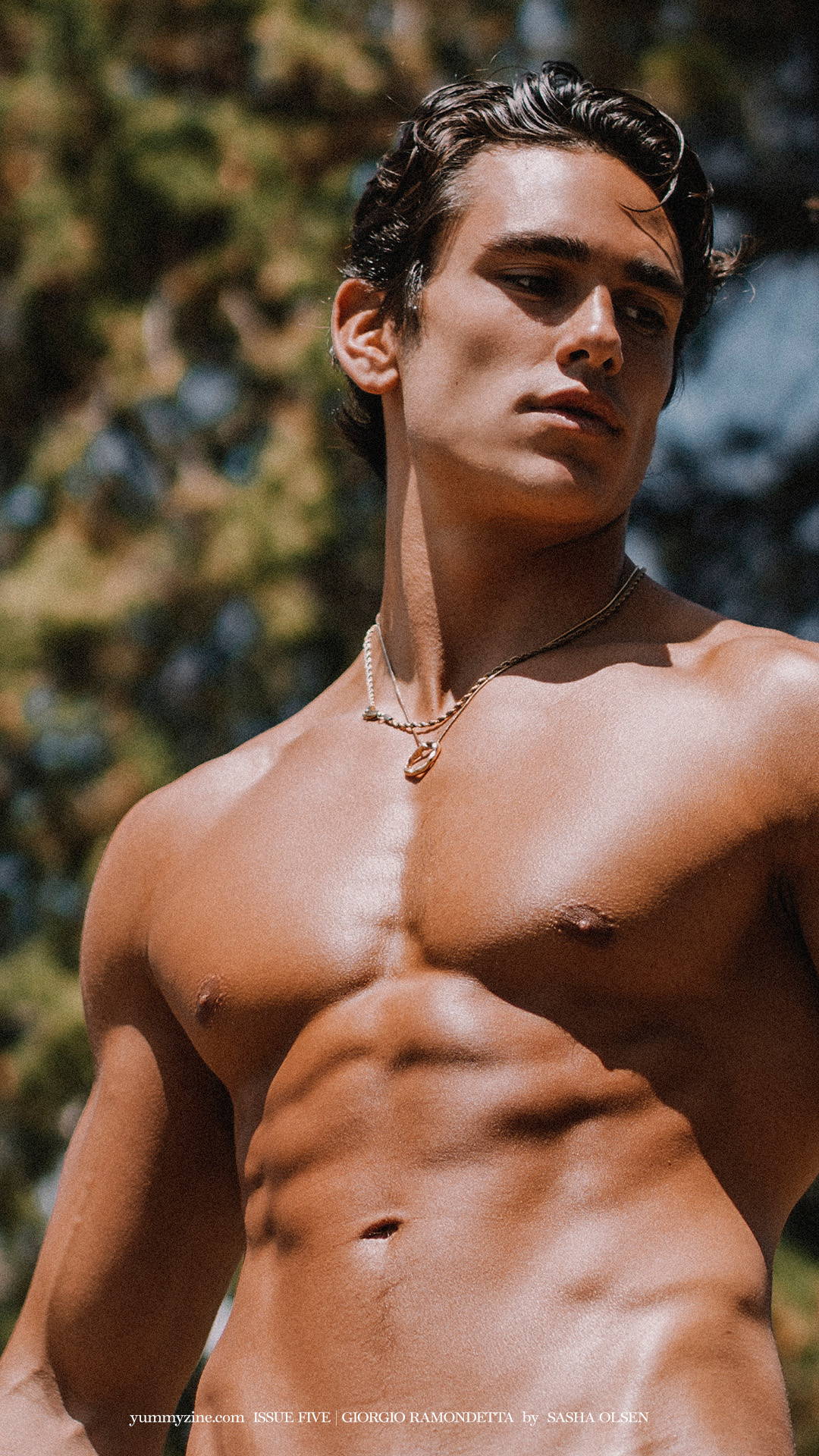 The above image is cropped, the full image is available only inside Yummy 5
AGE. You started gaining some popularity after you appeared in Yummy if I'm not mistaken. How did that affect your career? Did it open doors for you?
GR: Yummy was definitely a trampoline for my career because after publishing the photos, I began gaining a lot of followers and popularity on my social media profiles. Big companies and agencies started seeing me so it was really easy for me to get jobs and sign with agencies after doing this big project with Yummy. I met a lot of important people from the industry thanks to this project, so I'm really thankful for this opportunity they gave me.
AGE. I've seen that you are now working with very important brands like Armani, DSQUARED2, and many others. What's it like working with such important fashion houses and how do you feel about it?
GR: Well, I loved these two brands since I was like fifteen and I always dress in Armani. A lot of people told me: 'Giorgio, your face is so Armani, you should do it' Every family member and friend told me that, but I never believed it, I thought it was impossible, I really never expected it to happen. However, after doing Yummy the first job offer that I received was from Armani so it was unreal for me. It was totally unexpected and I was extremely happy. It's the type of happiness you don't always get to experience in life I think, it was something different and I couldn't believe it. After doing these jobs I had a really strange feeling because I saw myself everywhere: on their websites, both from Armani and DSQUARED2, on their Instagram accounts, in some of their physical stores… It was just amazing. Every time I work with these kinds of companies I always get the same happiness and excitement as if it always were the first time.
AGE. How do you feel when you're naked? What does nudity mean to you?
GR: I always felt confident with my body. I've never had problems showing my body to other people, fully naked too. I have always known that my body is cute and I have never had any trouble showing it. But some problems did occur when I showed my body to other people in pictures because it was something that I never did before my shooting with Yummy, but after doing it with them, things changed. Right now I feel super confident shooting fully naked. For this, I need to thank Giampaolo because the directions he gave me during the shoot were perfect. He makes me feel really confident when I shoot with him. I was sure about what I was doing while I shot with him, and I think the photographer in these types of projects plays a very important role.
AGE. How do you keep looking so gorgeous? Any beauty or training secrets we should know about?
GR: I love to take care of my skin with a lot of products. This is one of the reasons why I will open a company of skin care products next year. I am working on it, I'm talking with chemists, and companies and I really hope I can open my own skincare brand next year! Then I also work out every day, I never skip a day. I have my routine which I love doing.
AGE. Would you consider yourself a passionate and naughty person when it comes to sexual interaction?
GR: Yes, I am a really passionate guy. I love to start slowly and go hard when needed, but I don't like to force sexual interaction. I want to feel good but what I desire the most is that my partner feels better than me.
AGE. What makes you feel sexy? How do you act when you feel that way? What do you usually do?
GR: I have to thank all the people that follow me because before I wasn't so confident and I wasn't so sure about my sexy part but a lot of people, followers and fans, remind me every day. Their daily compliments have helped me become more confident, so I think that's the main reason. To me, to have magnetic eyes is very important to be sexy, because to know how to look can be really sexy from my point of view. Just looking at a person in their eyes and having that connection and understanding what you feel about each other with just one look is incredible. Another important thing for me is to be well dressed because it's the first thing you see. Confidence is also important but not too much because if you exceed your confidence, that could decrease your ability to look sexy. A lot of people don't like that super confident guy I think, you also need to be shy at some point. That's also cute and sexy.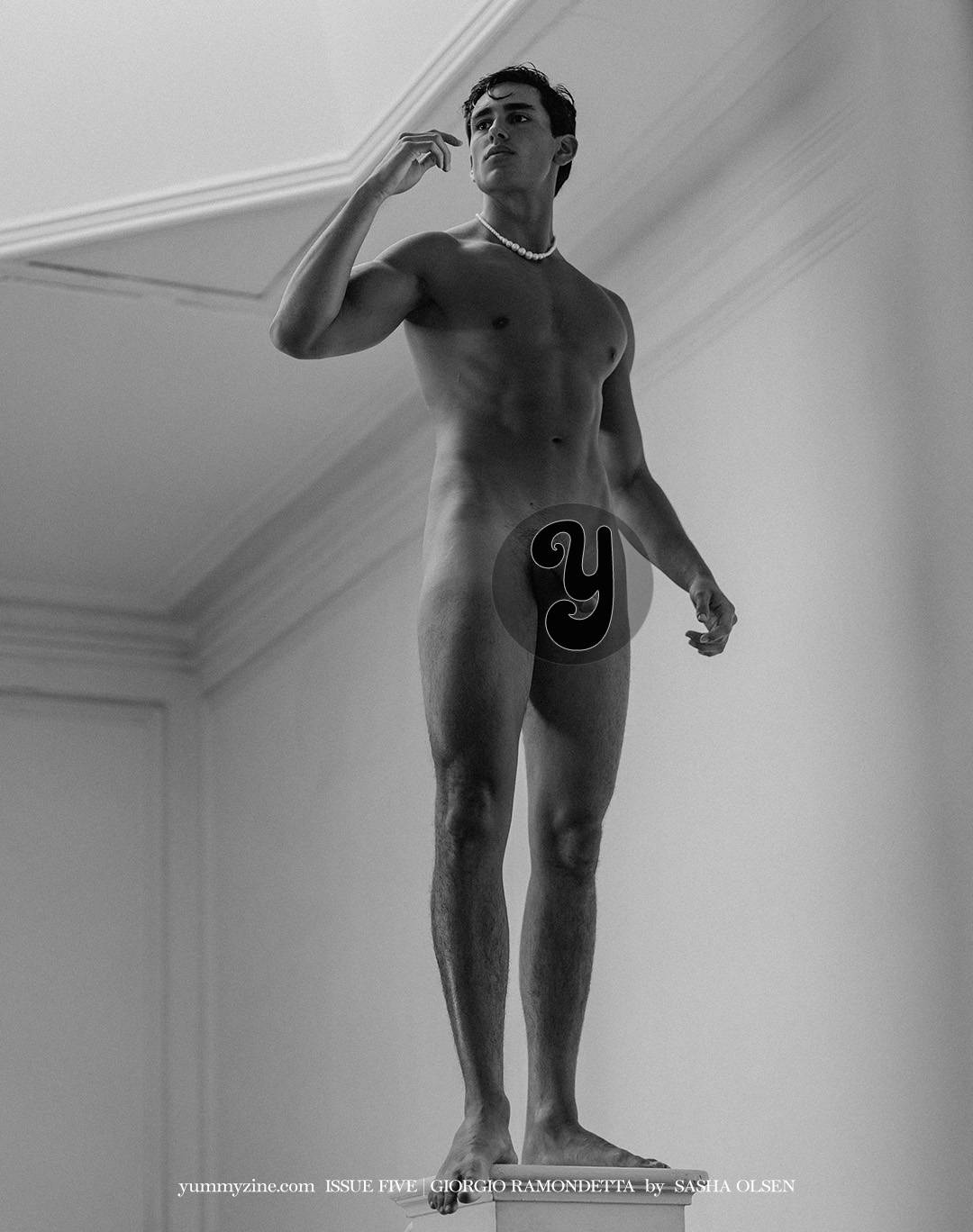 The above image is cropped, the full image is available only inside Yummy 5
AGE. Which is your biggest dream or fantasy?
GR: My biggest fantasy is to become an actor. I really love cinema and I would love to be an actor. I'll probably start taking acting lessons soon. I know it's hard to achieve but I'll work hard for it.
AGE. If we were to look in some hidden places, for example in your camera roll, what could we find?
GR: It could sound weird but I usually record a lot of videos of what I'm doing for my future self, so I have a lot of personal vlogs in which I talk about my ideas, what I want to become, and how I feel. I keep all my feelings in those videos, good and bad moments, so that's why I don't make them public. Besides that, I don't have anything else relevant. I don't have porn haha.
AGE. To conclude, how do you see yourself in a couple of years from now, both professionally and personally?
GR: As soon as I finish my dentistry degree, my main goal would be to have my own dental clinic. I think having my own clinic would also allow me to continue my career as a fashion model because I think that working as a model while working for someone else in a clinic eight hours a day is really hard to combine with other jobs, in my case modeling. And as I said before, I'm also working to open my own skincare company. This year changed a lot of things about my life, so I think I'll move to a city where I can work as a model and continue studying for a master's degree. During my first year after graduating, I will focus more on working as a model and I hope that I get more modeling jobs because it's hard getting them while studying here in Portugal because I'm not 'in the place' so unfortunately, I'm not working constantly. I do get some projects but I usually have to fly to other cities like Milan to work for just two days and come back to Portugal.
My ambition in life is to become a successful person. I want to be happy, doing everything that's in the reach of my hand, accomplishing my goals, and inspiring people too. I really love giving advice to people, and helping them achieve their goals and anything they might need, so I hope I become a good role model for people around me. Personally, I want to stay humble, I will work on myself to do so and stay hungry for more because what I want to reach are personal successes and inspiring people.
We offer the free ZINE on a first come first served basis, once our stock has gone, it's gone. So order fast to avoid dissapointment. Terms Apply.
Photographed by Sasha Olsen exclusively for Yummy 5
Interview by Adrian Gomis Exposito (AGE)