Born and raised on the coast of Brazil, between Natal and Tibau do Sul, and moving to Biarritz, France when he was eleven, João Oliveira Lamartine shares with Yummy all about his origins and growing up surrounded by art and water sports, how he got scouted to pursue a full-time modeling career and his passions. João also shares how natural it feels for him to be naked and some yummy topics as well.


Photostory by Sasha Olsen interview by Adrian Gomis Exposito

The images is cropped / made safe for online purposes, full images available inside Yummy Issue Six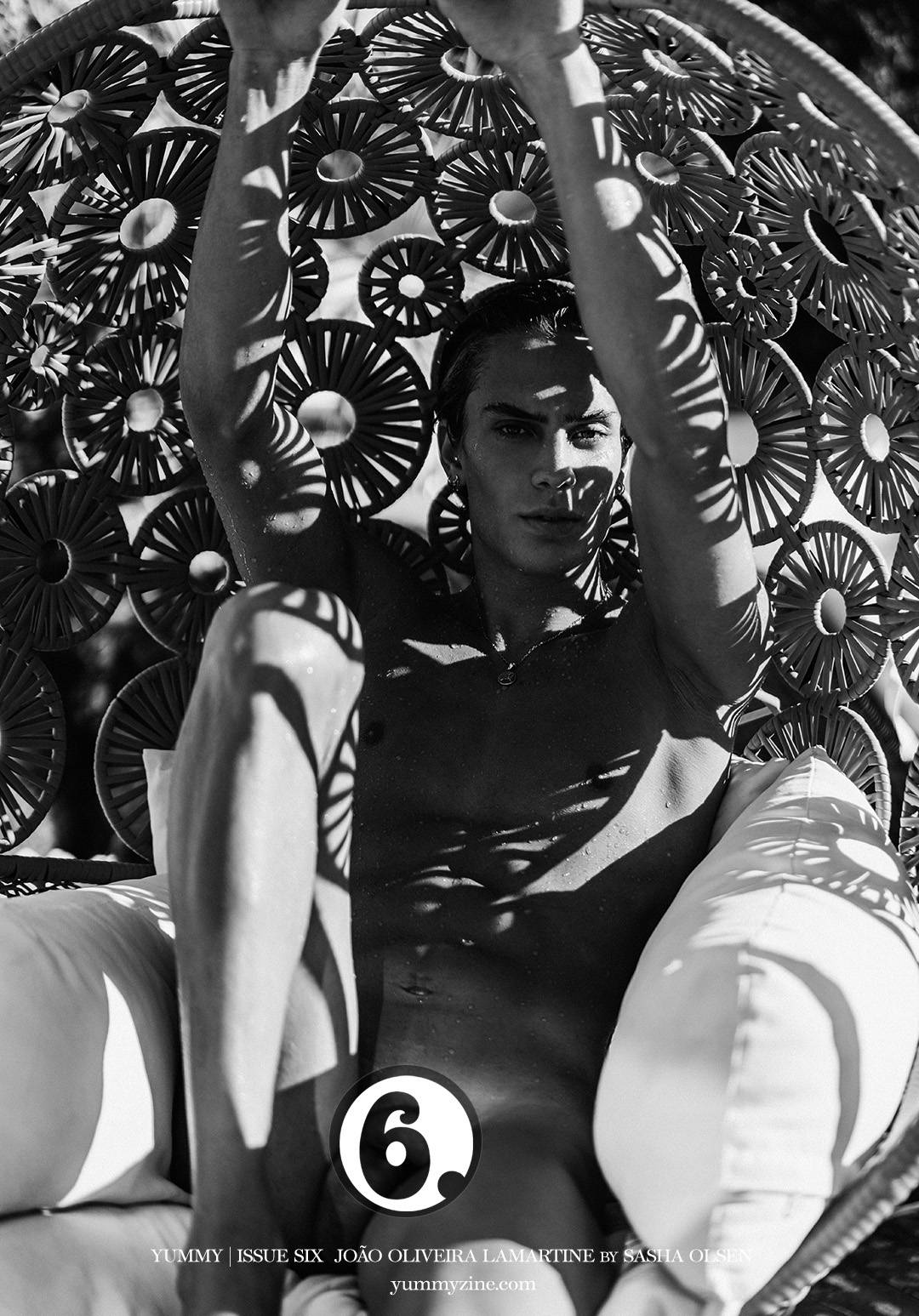 Hi João, nice to meet you! To begin with, could you shortly introduce yourself so that we can know more about you?
The pleasure is mine! I was born and raised in Brazil, between Natal and Tibau do Sul, two beautiful coastal towns. At the age of 11, I moved to Biarritz, France with my parents, where I grew up as a teenager. I've always lived by the seaside, and that's where I built my passion for the beach and its universe.
As you said, you were born in Brasil close to the sea and moved to France, so you must have a deep connection with the sea. Do you practice surfing or any water sports? How does the presence of the ocean influence your life and passions?
I learned to surf with my stepdad and I'm a certificated lifesaver. Water sports have always been my favorite activity even though I rarely get the chance to do them nowadays with all the traveling.
I've also noticed that music and art play an important role in your life as you grew up surrounded by them. Can you talk a little bit more about it and how do you think these forms of art ended up shaping who you are?
I became someone very sensitive to art, especially music, which I'm extremely grateful for. I feel like for the past few decades we've been losing a lot of the artistic and creative side to focus on money-making which results in a loss of quality and authenticity.
I've heard you were scouted to be a model in a very unexpected way when you were working at an ice cream stand. Can you tell us that story and how you decided to be a full-time model?
Right after the first lockdown, I decided to spend my summer in Hossegor, a surf town in the south of France. My summer job was gonna be selling ice cream and after my second day working there, I was approached by this lady that also lived there at the time, and she became my agent. We took some digitals and one or two weeks later I was flying to Istanbul for my first modeling trip.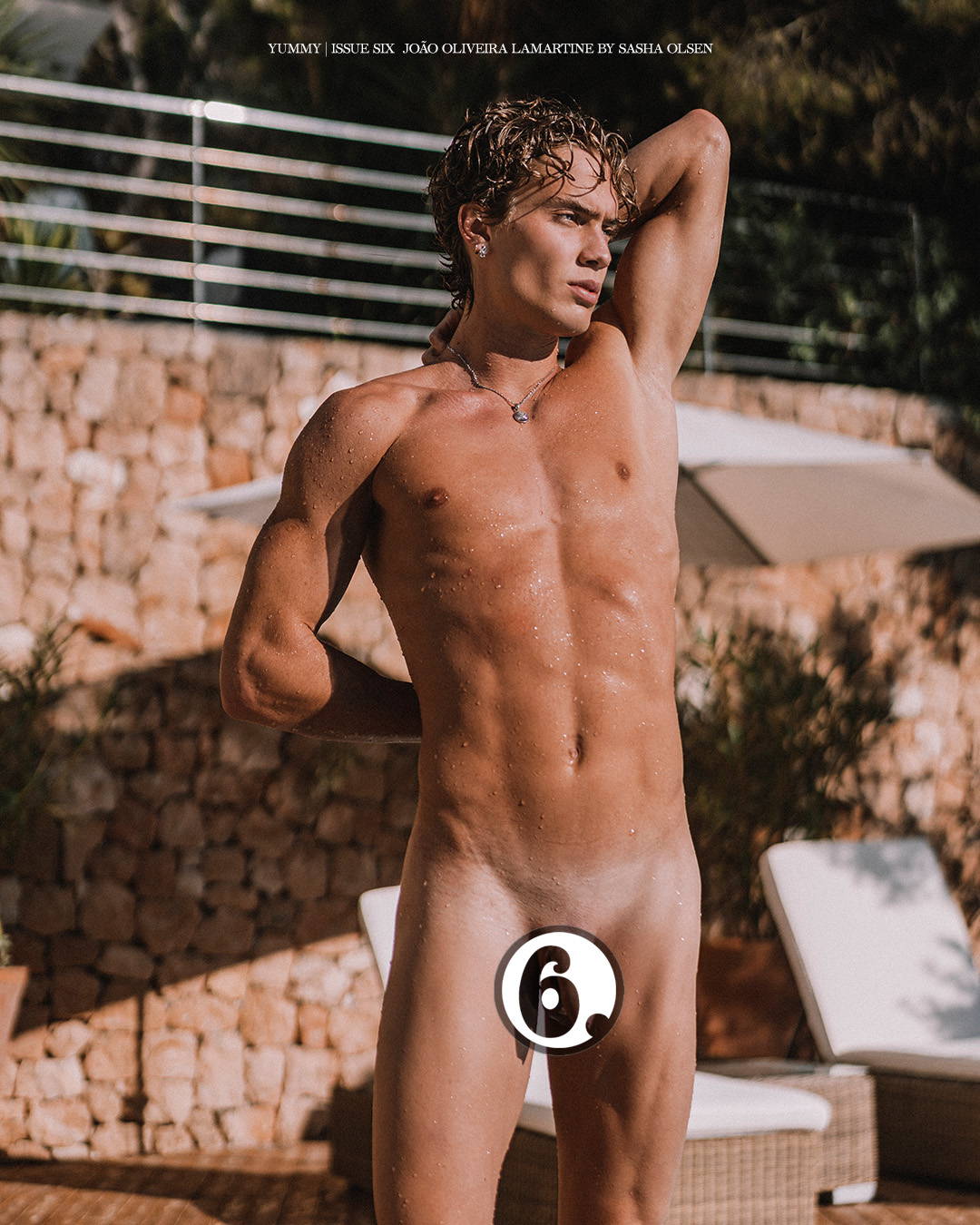 I have seen you have been in some different countries working as a model. Which one did you like to work in the most and which markets you would still like to experience?
I had a lot of fun working in Germany, I love Berlin even without the ocean haha. I would like to experience the fashion markets like Milan for example, I've only been there a couple of days but I'm looking forward to going back to spend some more time.
What is the biggest advice you have for anyone who would like to start modeling?
To be patient and confident - that's probably what everyone would say. It can happen very fast for some and slower for others.
I really need to ask you about your beauty secrets. How do you keep your skin so smooth, your hair so healthy and your body looking so good? Do you follow any specific beauty or workout routines?
I eat pretty clean, with no restrictions - just real and fresh food. I don't really have routines for my workouts, it really depends on what I want to do, but I just try to avoid machines and opt for more dynamic exercises with bars, kettlebells, etc. I only use one product for my hair and I try to keep my skin as clean as possible by exfoliating, cleaning and moisturizing it properly.
How do you feel about nudity? Was this a new experience for you and were you comfortable shooting completely nude?
Nudity feels very natural to me, I've always felt very comfortable with that. It was one of the first times I shot naked and I didn't feel uncomfortable at any point.
What's your best memory of being naked? Do you enjoy being naked outdoors, for example in nature or at the beach?
I will just say it's a memory from Athens. I enjoy being naked and tanning at the beach and by the pool.
Also, still on this topic, your photos for Yummy 6 look incredible especially because it was shot in a beautiful big villa in Ibiza. How was shooting with the super-talented Sasha Olsen in this specific location?
Thank you! It was magical - Sasha and Huw did an amazing job, both made me feel super comfortable. The villa was amazing and the view was breathtaking. Ibiza is a lovely island. I really loved shooting with Sasha and I wouldn't hesitate to shoot with him again!
What do you think your best asset is and why?
I think we should ask those who will get the magazine and see what they think haha.
Handsome guys like you surely also have pretty interesting lives on the wilder side, so I would like to spice up the conversation by asking you what the word 'yummy' means to you.
In that way, 'yummy' would mean to me that feeling you get when seeing someone you truly desire, so much you'd easily take a bite haha.
Do you usually sleep naked?
I only sleep naked.
If we were looking at your hidden camera roll, what would we find?
A bunch of stuff you'd only see if you meet me.
What makes you feel desired or what turns you on? Do you consider yourself to be a more playful or more passionate person in bed?
Love is what makes me feel desired and turns me on the most, but I think the balance of passion and game is the best thing in bed.
Do you think models, in general, have a more interesting sex life than the rest of the people, maybe because of their gorgeous looks? What can you tell us about that from your own experience?
After having experienced both sides I have to say it's easier to be attracted to a model's look but in the end, I believe that we need a deeper connexion to sleep with someone, which is something that has nothing to do with the looks.
You surely have some interesting and sexy stories to tell. Can you tell us about some of the craziest or hottest experiences you ever had?
It reminds me of good memories, and the privacy of those is what makes them special to me.
It was really a pleasure to do this interview. To finish, I would like to ask you for something deeper. What is your biggest motto in life and dream?
My motto is to do everything with love – the more you give, the more you get, and living surrounded by love is everything I need to feel happy, as Lenny Kravitz says: we got to let love rule! My main goal is to one day, be able to live from my passions – there's a whole wide world of art and creation, and that's where I wanna be. It was a huge pleasure doing this interview, I had so much fun with Yummy!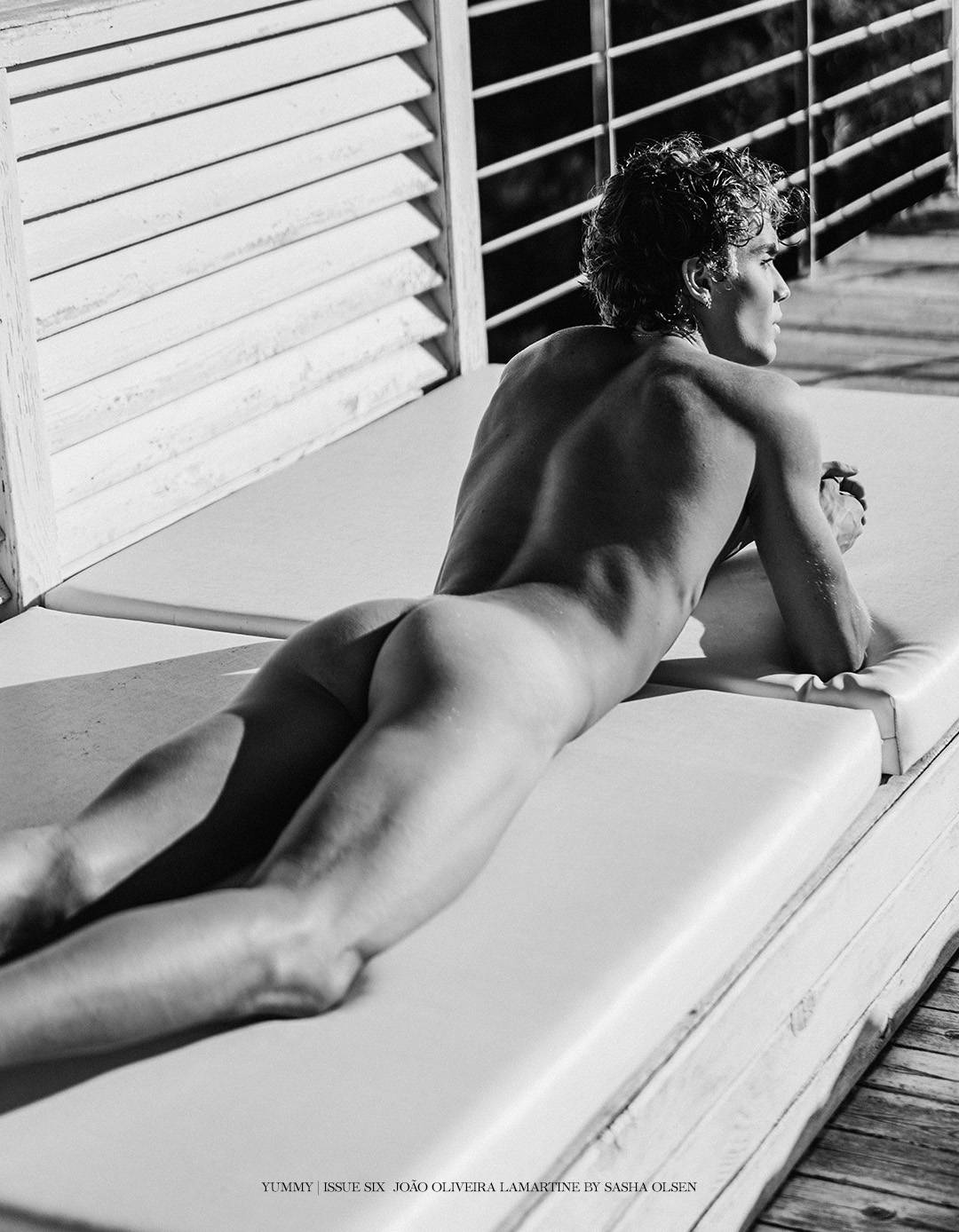 Photographed by Sasha Olsen exclusively for Yummy Issue Six

Interview by Adrian Gomis Exposito (AGE)