The handsome Brazilian model talks with Adrian Gomis Exposito about how is it like to be an international model and why he changed to a vegetarian way of life and other sexy topics like how important sex and being naked are for him and more.

Bartek Szmigulski (Smiggi) lensed the beautiful traits and incredible physique of Gabriel for Yummy Issue 5.

ADRIAN GOMIS EXPOSITO. I would like to start this interview by knowing you a little more. Could you tell me about yourself, some relevant information about you that we should know to begin to know you?
GABRIEL RICCIERI. That's a good way to start, I'm a very chill and simple guy. I've learned that happiness is found in the simple little things of life. I'm always looking for the things and people that will bring me good vibes, I love to be in contact with nature, to sit down and play music with friends, it's one of my favorite things I would say, anything related to this always puts me in a good mood.
AGE. I've seen that you are represented by a lot of agencies throughout the globe. What made you want to pursue a modeling career in the first place and how was that journey of becoming an international model? What's it like to be an international model?
RG: I wasn't very into fashion and I didn't know much about the modeling industry before I got into modeling, so it started when a scouter from an agency in Brazil got in touch with me, the agency gave me a free shooting to start with, told me things I had to change or improve in my body and from there started to plan an international career. What made me go for it at first was the opportunity of traveling and getting to see different cultures, but after seeing and starting to enjoy the work more and more, it became really about work and what I can make out of it.
Being an international model isn't always as easy as it seems, I'm really grateful for everything I've got and every place I've seen, the extraordinary people I've got to meet, and the lifestyle I have, but it also have the downside of being away from home, your family, close friends, lack of stability, always moving around, but overall it's really good and I wouldn't change all these experiences I've had for anything.
AGE. If I'm not mistaken, you're a vegetarian. Why did you decide to have this type of diet? What made you make the change and how do you feel about it?
RG: Basically, I started in order to have better health and a more natural diet. A friend started and told me all the benefits he was feeling on his body, like digestion, muscle recovery, and maintenance of a low-fat body. Back then, I was living with my ex-girlfriend who was vegetarian, so I wouldn't eat meat at home out of respect, just at restaurants, so I decided to give it a try and stop for good. I not only began feeling all the positive health benefits but as I was getting more into it and searching about the environmental impact of how the animal industry works. I wouldn't be able to go back to eating meat.
AGE. You're really handsome with a perfect physique. Do you follow any skincare or workout routines? Do you have any secrets?
RG: Appreciate the compliment. My facial routine is basically washing my face as soon as I wake up and before I sleep, and I also use a clay mask from time to time.
I don't really have a workout routine, it really depends on my schedule or where I am, that's why I always bring with me elastic bands, TRX, and my jump rope which is my favorite cardio. I try to work out at least 5-6 times a week, but sometimes I manage only 2 or 3, variating my workout between bodyweight workouts, HIIT and cardio, and lifting just from time to time.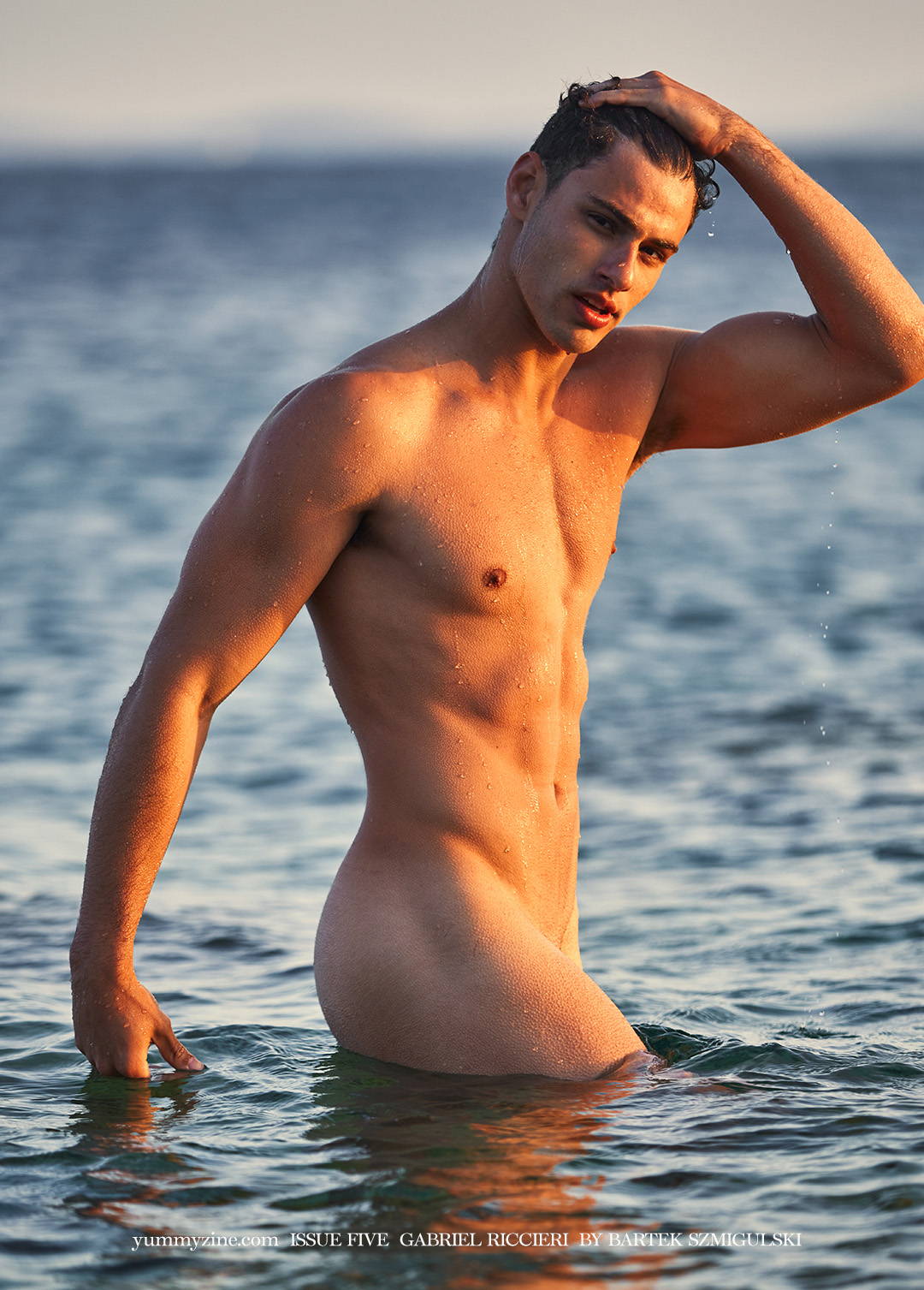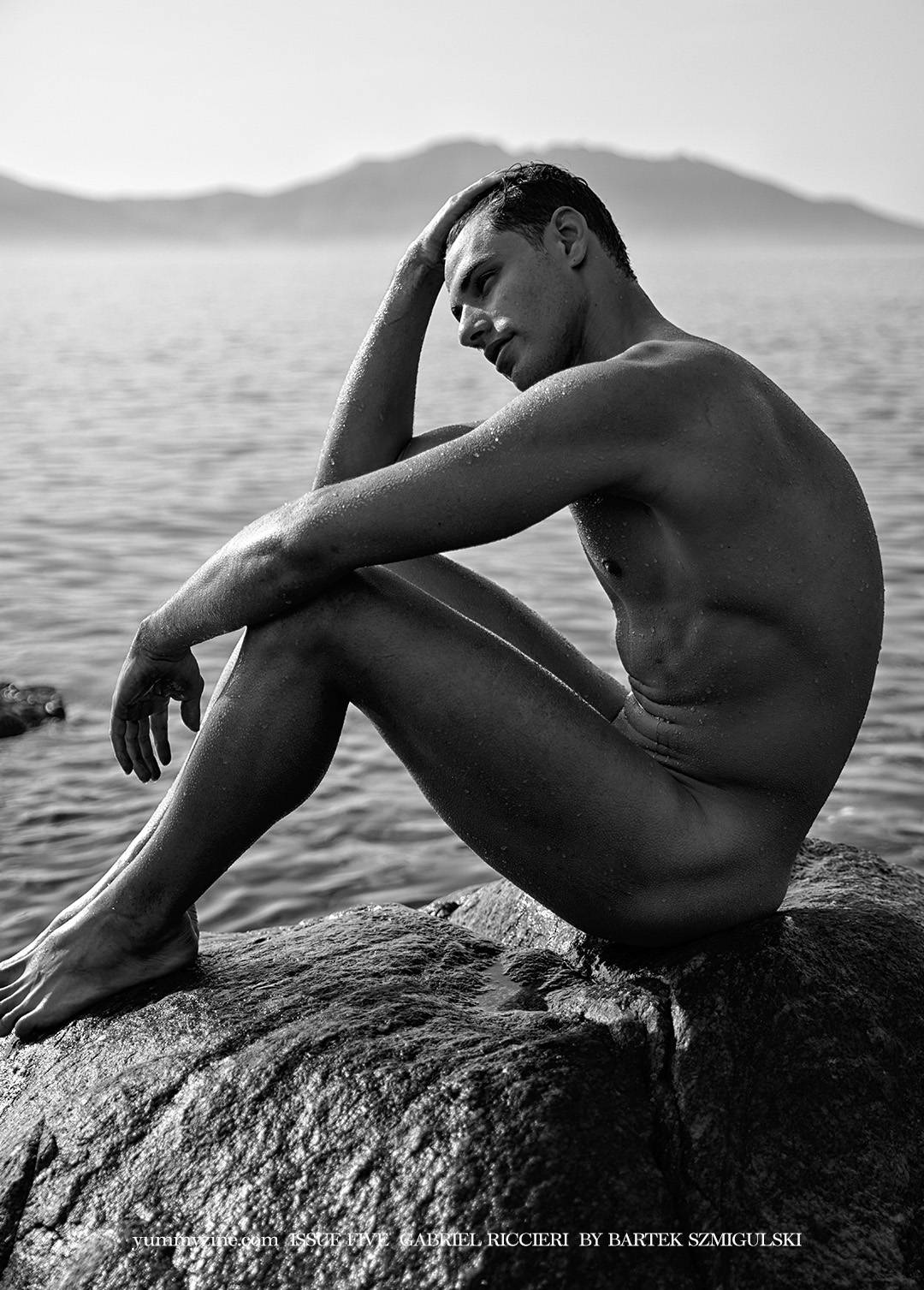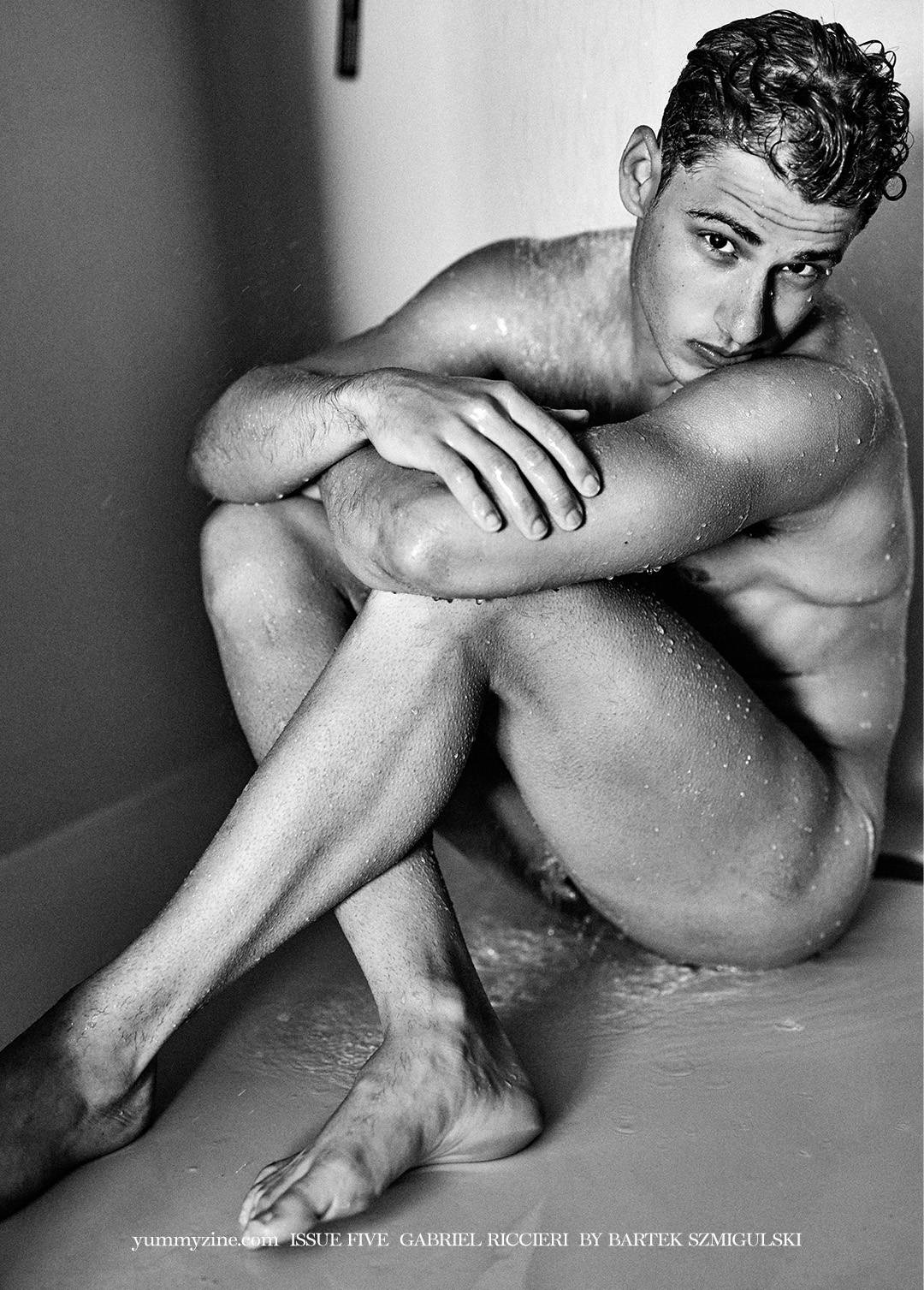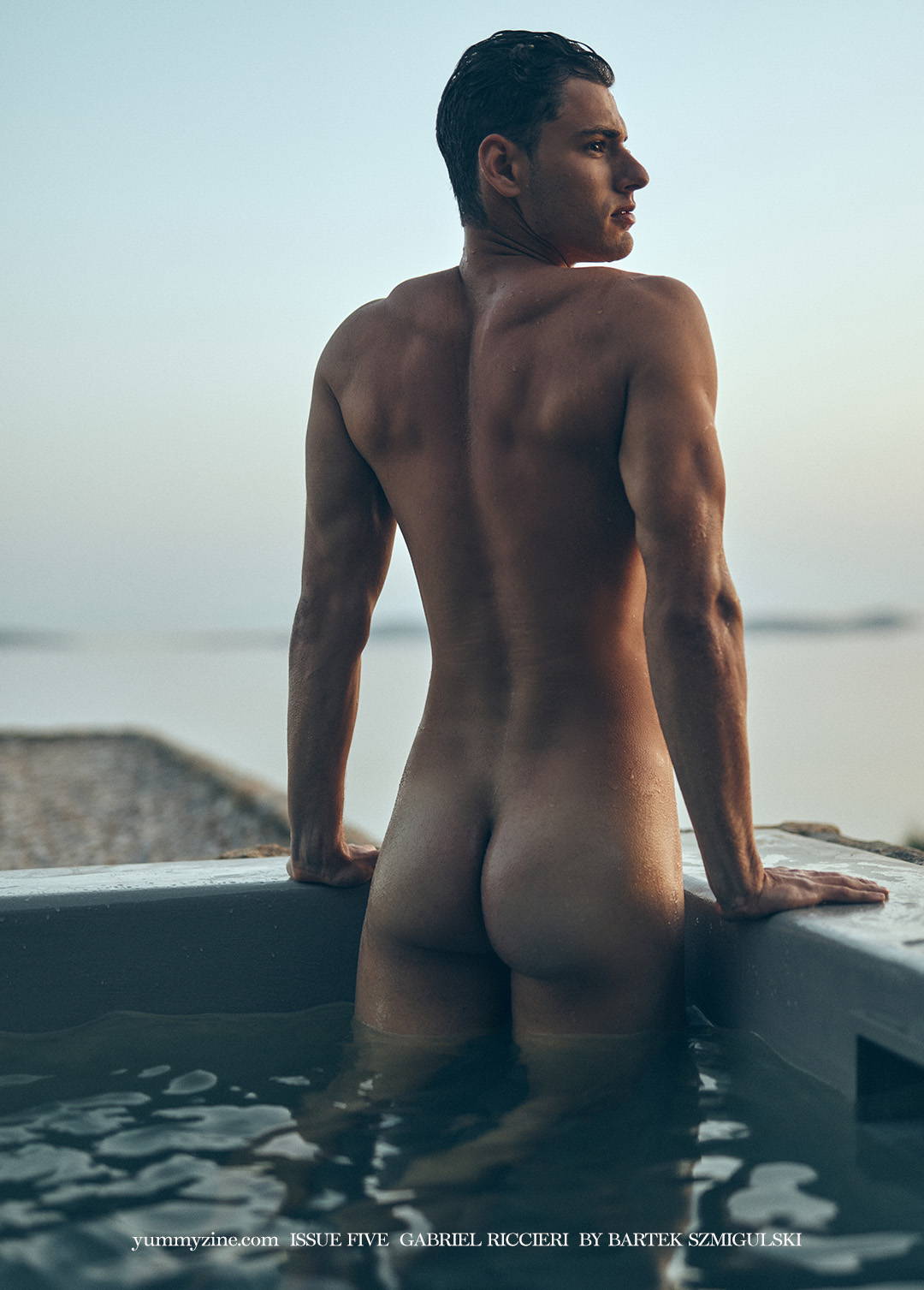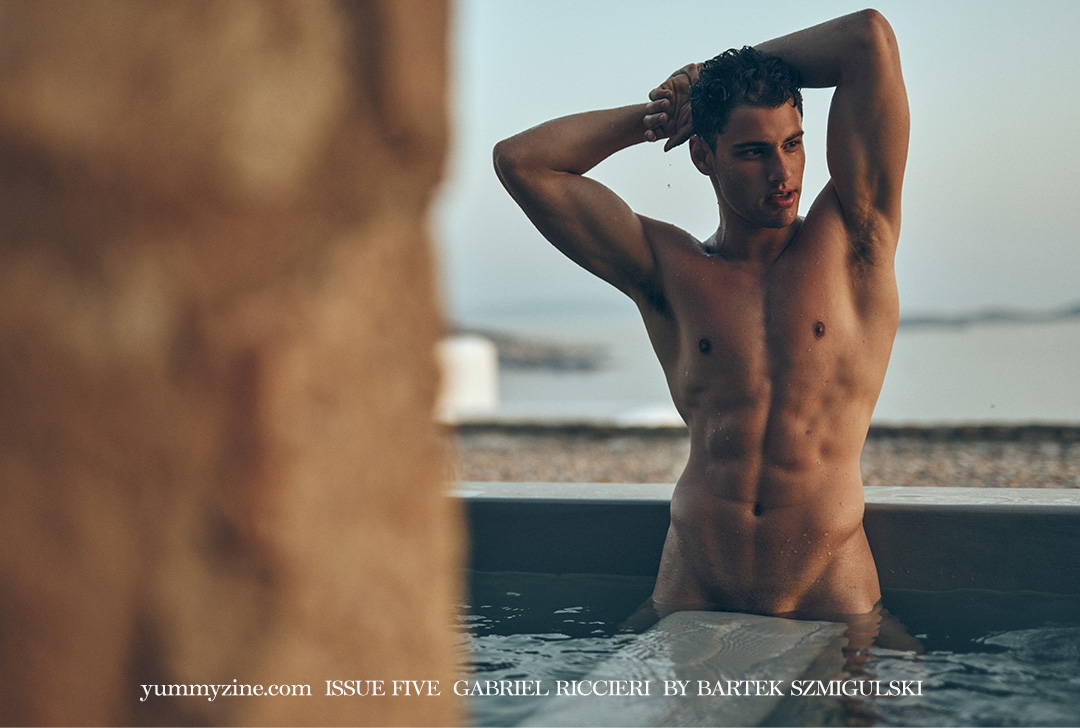 AGE. What type of ambitions and goals do you have in life? Would you say you're a determined person or how would you define yourself?
RG: I'm very determined and rational, always setting goals life-wise. I love investments and economics, and I really do believe these are the things that will help me reach my goals, which are basically to be able to choose where I want to be, whenever I want to be, and do whatever I want to do.
AGE. You appear in Yummy Issue 5. How was the experience of shooting for Yummy? Do you enjoy doing these types of photoshoots?
RG: I'm always good with sensual shootings. I guess it's a natural thing, but it was the first time I shot completely naked, but it went much better than I imagined. Bartek made it feel very natural and comfortable, so it wasn't awkward at all, but it's not something I pretend to do often. As it is something with more exposure and it's more intimate, I'm glad it was with a good team.
AGE. What does nudity mean to you? Have you always felt comfortable with it?
RG:I think shooting naked is a very delicate thing even tho it's something natural. It can be artistic, you can see a beauty in it if it's taken properly, and have some sort of teasing that makes you wish to see more, but it can also be just a sexual picture, that's why it's good to know who you are going to shoot it with beforehand.
AGE. I would also like to tap into your yummiest side. When would you say you feel the sexiest and how do you act? Would you consider yourself a playful and horny type of guy?
RG: There isn't enough space to talk about it but let's say I really like to take my time and enjoy the process, make the best out of it, no rush, in order to make the girl with me comfortable enough to enjoy it and to see them enjoying it when I enjoy the most as well, and I'm all the time up to it.
AGE. How important is sex to you? What does need to have a sexual encounter for you to consider it amazing?
RG: It's really important, and when you have a good connection with the person you are with, it makes it even better.
AGE. Do you enjoy watching porn? How do you usually enjoy yourself and what do you do when no one is watching?
RG: I don't really think porn is a healthy thing, from time to time it's alright, but I prefer to explore the real thing.
AGE. What do you find sexy about yourself and other people? What turns you on and what's your sex life like?
RG: I would say when someone gives a certain look and sightly smiles while you look in their eyes, or when a girl puts her hair behind the ear, gives that look and a slight smile, it's like you wanna get into the world behind that smile. I find it sexy if she is independent and self-motivated, and can do things on her own. It's like she is with you not because she needs you but because she genuinely wants to be with you. I'm attracted to a person with a strong character in general, of course, the body and look count, but that's secondary when they have those characteristics.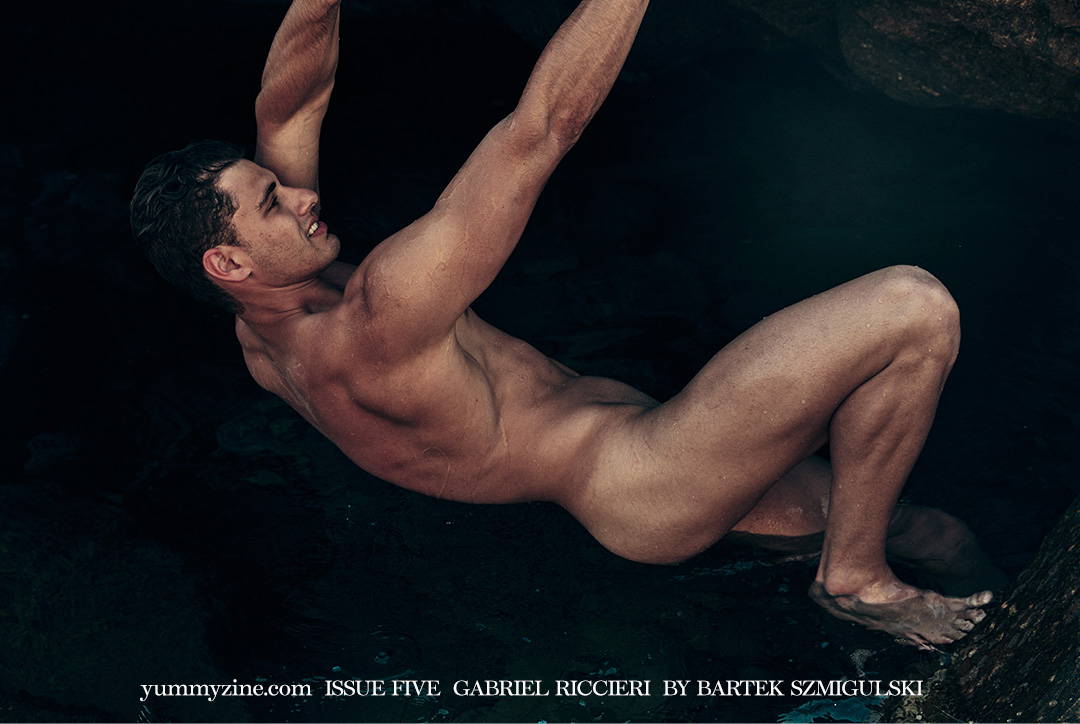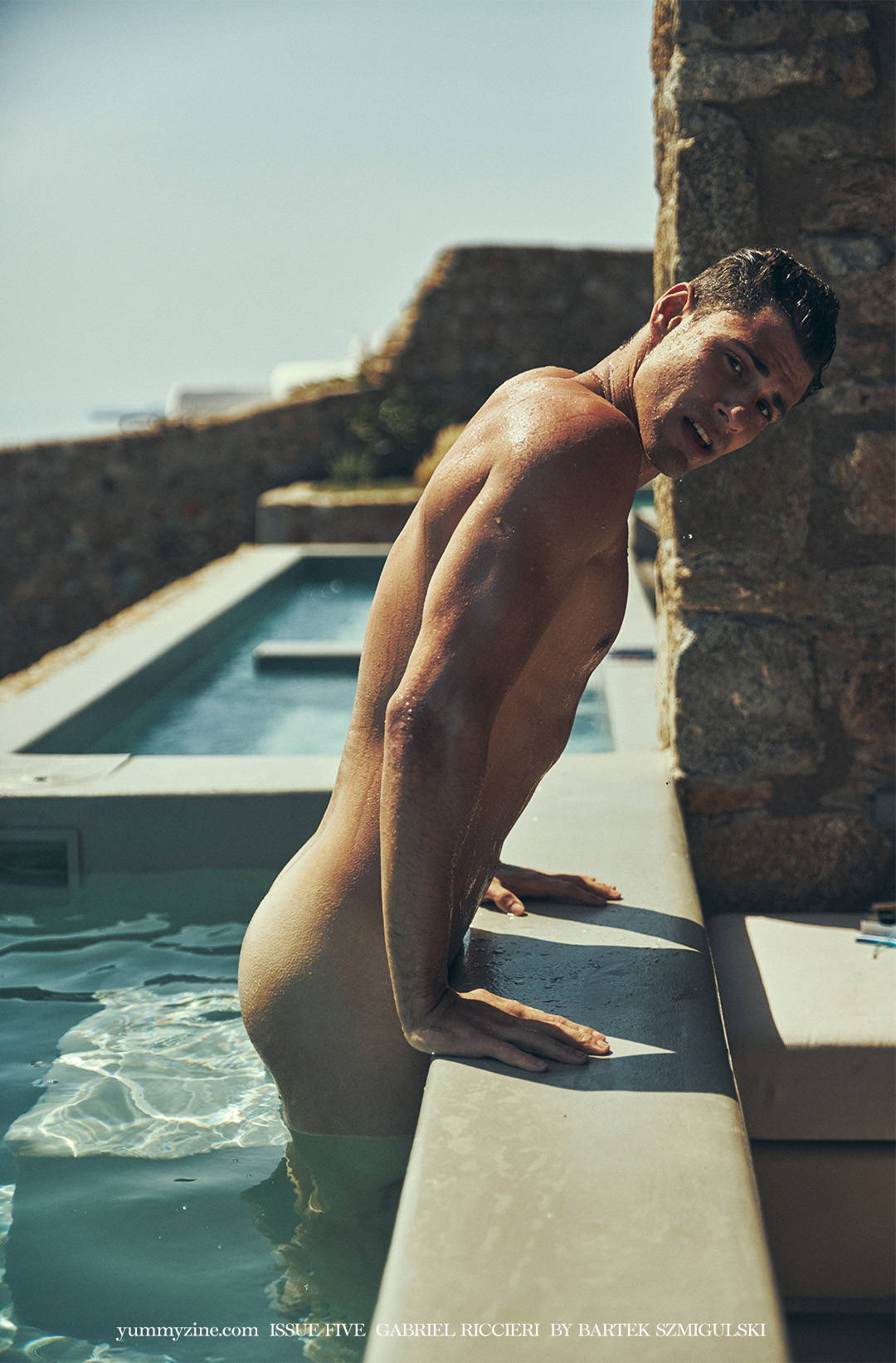 AGE. How do you see Yummy, both the magazine and the word? What meaning do you give them?
RG: I see Yummy as the first male nude magazine with a good concept behind it, it's not just about nudity, and the word speaks for itself I guess, something tasty or that you at least want to taste.
AGE. Which is your biggest dream or fantasy you would love to accomplish one day, professionally and personally?
RG: Personally, one day I wanna travel for while on a house trailer to wake up every day in a different place and have the freedom to do it without worries. Work-wise, I hope one day I could shoot with Armani. There are many other brands I would also like to work with but if I had to mention only one Armani would be it.
AGE. And to conclude, which has been the best piece of advice anyone has ever given you and how did it affect you in the development of your life?
RG: My dad always told me: "learn how to say no, it's very easy to say yes and go with the flow in order to be accepted. We are social animals, we want to belong to a group and sometimes we might say yes to things we don't really wanna do because we feel we need to belong there, especially under pressure, at work, or with our friends, but once you learn how to say no that's when you stop being a boy and become a man, the people who like you for you are going to like you no matter what. It doesn't matter what you do but if you can't peacefully put your head on the pillow at night it isn't worth the price."
ORDER YUMMY 5 NOW
comes with a free 60 page additional ZINE

We offer the free ZINE on a first come first served basis, once our stock has gone, it's gone. So order fast to avoid dissapointment. Terms Apply.
Photographed by Sasha Olsen in South Africa, exclusively for Yummy 5
Interview by Adrian Gomis Exposito (AGE)