In search of the Australian heat and ways to empower those around him, Macey Schamburg, personal trainer and model, sits down with Yummy to discuss life for Macey in its entirety. From his life down under to scratching under the surface of his sex life, the trainer shows us his cheekier side. Macey joins us in Yummyzine 4 following his shoot in the murky lakes of the Gold Coast.

The images are cropped/ made safe for online purposes, full images available inside Yummyzine Issue Three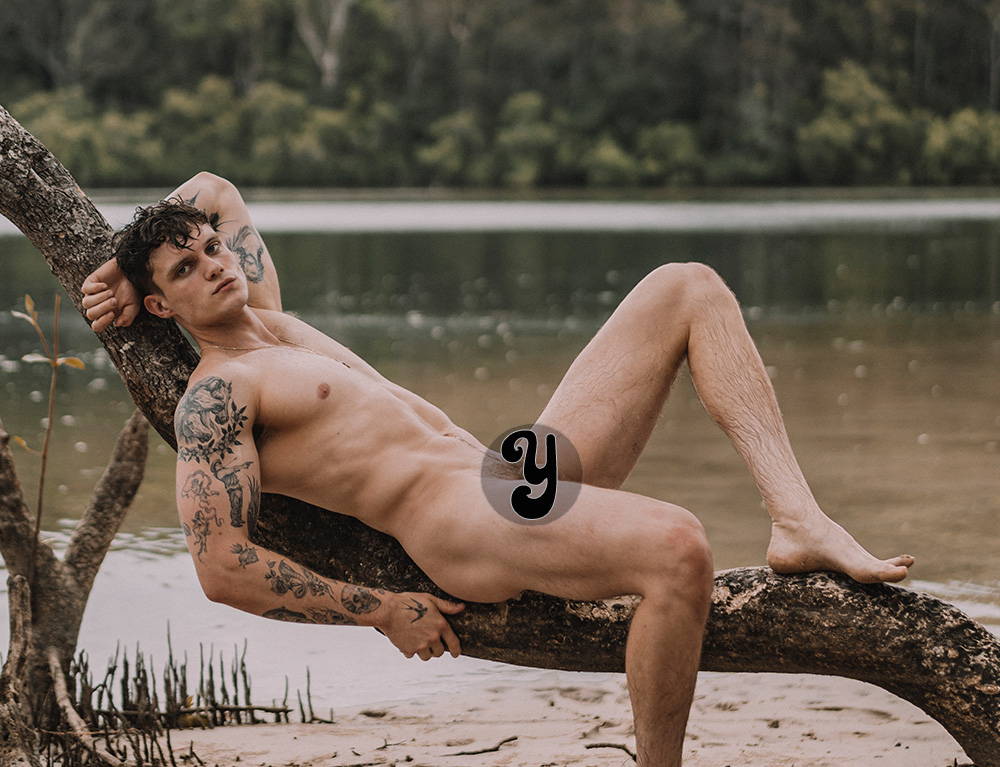 Photo story by SASHA OLSEN
Agent: Five Twenty @fivetwentymgt
B. JOHNSON. Hi Macey, thanks so much for sitting down with us today! How are you doing? What have you been up to?
MACEY SCHAMBURG. Hi there! Thanks for having me! I'm doing great, just soaking up the sunshine and enjoying life.
B.J. Could you tell us a little bit about your average day? What is the first thing that you do in the morning when you wake up?
M.S. In the morning, two things are non-negotiable for me: a cold shower and soaking up the morning sunlight. These essentials fuel my productivity and, of course, a cup of coffee adds the perfect touch.
B.J. So you are living in Australia at the moment, a country known for its hot weather, beautiful beaches and unique landscapes. How do you find living there? What is your favorite part?
M.S. Living in Australia is like living on a perpetual vacation. The weather is hot, the beaches are stunning, and the landscapes are straight out of a postcard. It's paradise! My favorite part, though? The laid-back vibes and friendly folks.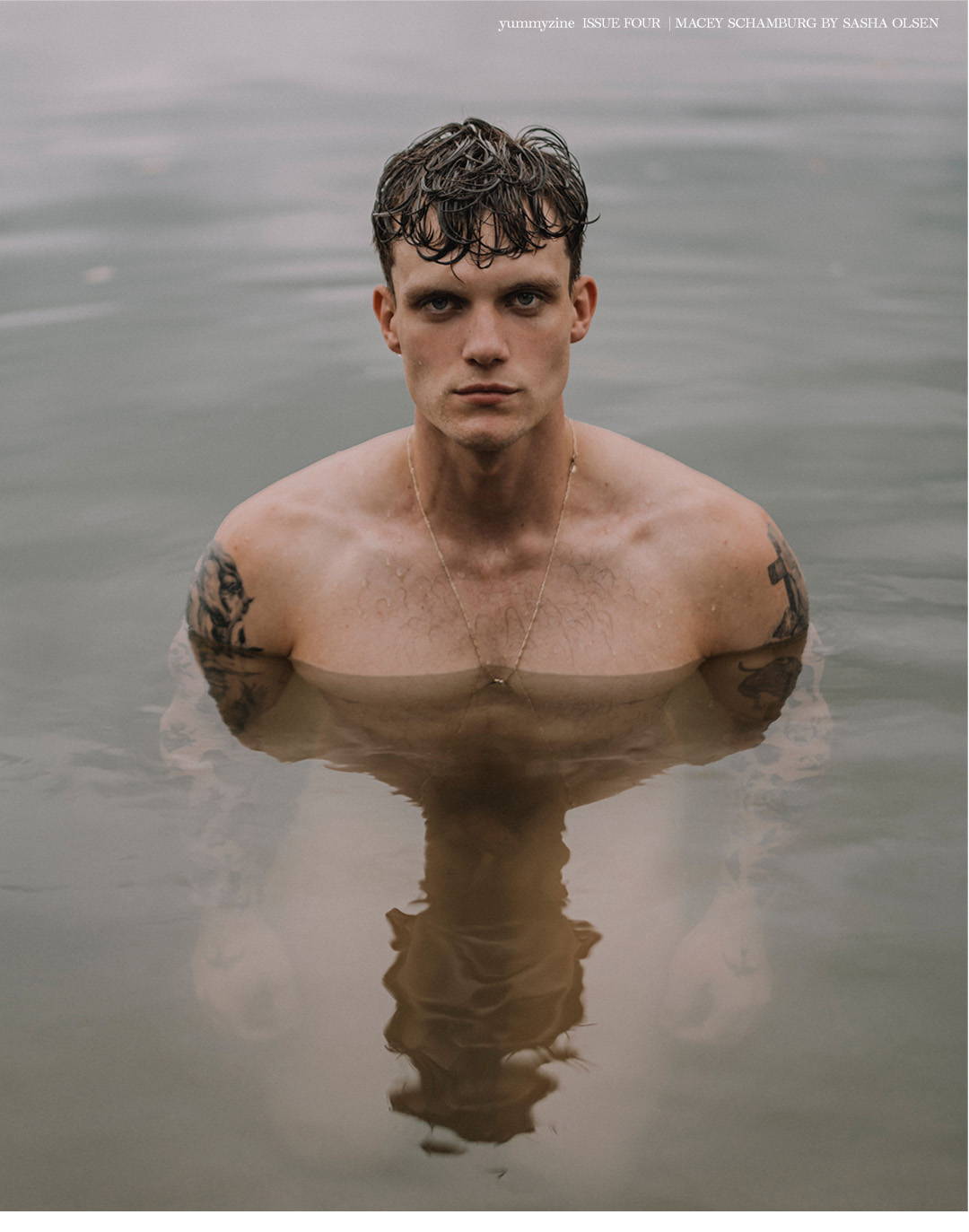 B.J. You have begun a journey as a personal trainer and nutritionist, clearly health is quite an important part of your life? What do you think drove you into this career?
M.S. Health and fitness are my true passions. I wanted a career that allowed me to empower others to take control of their well-being. Plus, let's be real, I get to wear workout gear all day long! [Laughs]
B.J. Clearly your physical wellbeing is something you care about deeply - you can tell by the images shot for this issue. What is your favorite part of your body and why?
M.S. Picking a favorite part of my body is tough, but if I had to decide, I'd go with my arms. My tattoos make me feel like I'm strolling around with my very own art gallery.
B.J. When you are not working out or training with clients, what can we find you doing? What is a day for Macey outside of physical exercise?
M.S. I'm all about that beach life and hiking adventures! But you know what else I adore? Just kicking back, watching a great movie, or whipping up a delicious meal at home. It's the perfect escape from my hectic schedule, allowing me to unwind and recharge in the coziest way possible. Balance is key.
B.J. I have heard that you have a rather obscure ongoing collection. Can you tell me about this hobby? How did it start?
M.S. Ah, my little secret hobby! [Laughs] I'm an avid collector of Australian coins. It all started when I found a shiny 50-cent coin on the beach one day, and it ignited a passion for seeking out those hidden treasures. You never know, one day those coins might make me a fortune.
B.J. From your shoot with Sasha, you stripped off and went nude for the camera. Are you someone that is comfortable with nudity? Did you grow up in an environment where nudity was encouraged?
M.S. Well, I'm quite comfortable in my own skin. Growing up in Australia, we have a bit of a conservative side when it comes to nudity. However, I must admit, I'm no stranger to a cheeky game of strip poker or two! [Laughs]
B.J. Talking of the shoot with Sasha, how was it? Tell us about your experience.
M.S. Working with Sasha was an incredible experience. He has this unique ability to capture the raw essence of a person, both inside and out. The shoot pushed me out of my comfort zone, but I embraced it fully. It was liberating and empowering to embrace my body and showcase its natural beauty.
We shot on such a beautiful afternoon and enjoyed dinner together after where we talked about our lives and experiences from our different parts of the world. He really is an amazing soul.
B.J. If you don't mind, let's dive a little deeper. Can you tell us about what sex means to you? Is it an important part of your life and routine?
M.S. Sex is a beautiful expression of intimacy and connection for me. It's an important part of life, but it's not the only thing that defines me. I believe in a balanced approach to wellness, both physically and emotionally.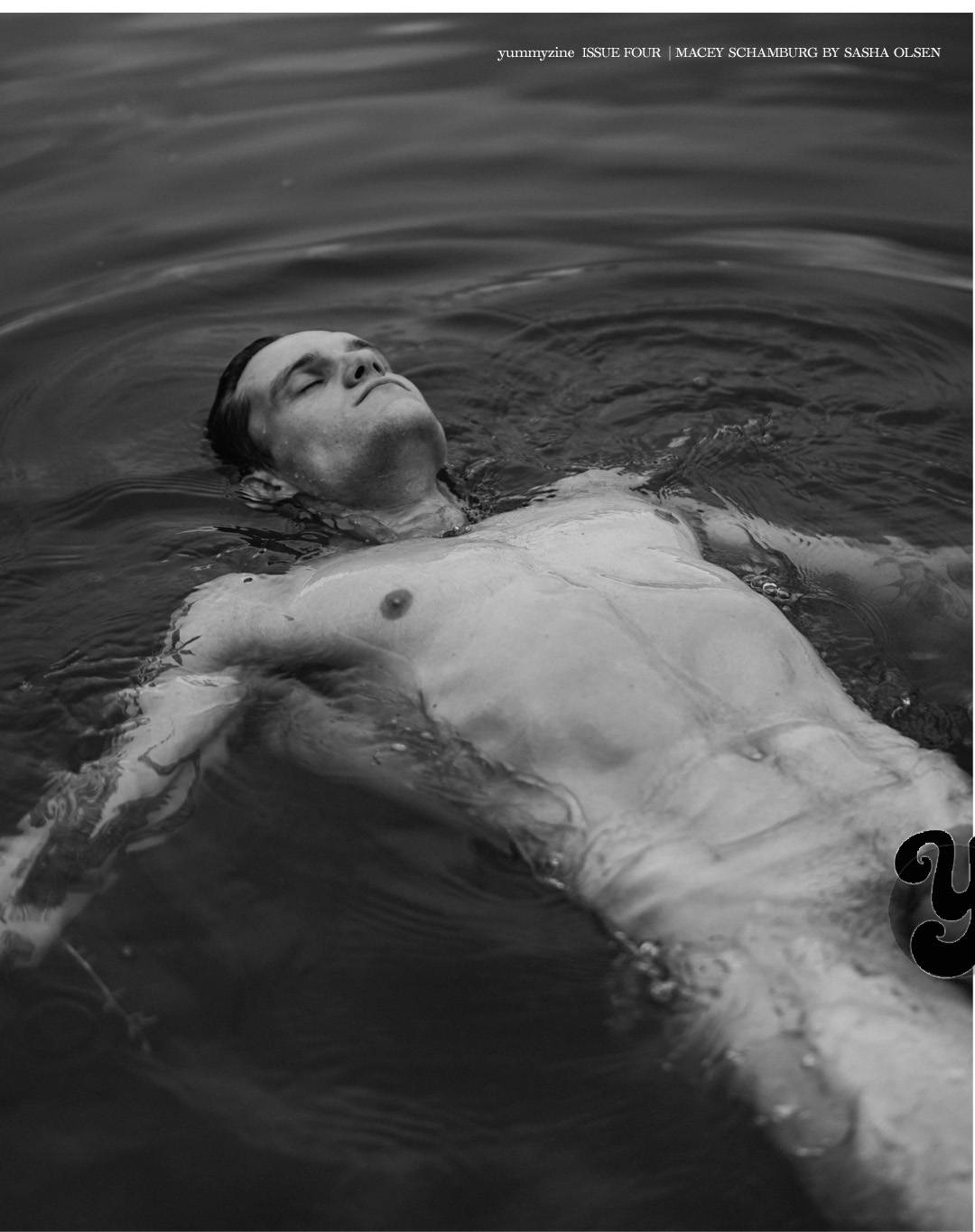 B.J. Working out and training physically, does it exhaust you? Do you have time for sex in your busy physical schedule?
M.S. Exhausted? Never! [Laughs] Working out actually boosts my energy and invigorates me for whatever life throws my way. As for finding time for sex in my busy schedule, well, let's just say I have a knack for multitasking. [Laughs]
B.J. The nature and emotion that is drawn out of sex is different for everyone. Some, for example, are more dominating and like control while others prefer to be led. Where do you sit on this spectrum? Is Macey assertive in the bedroom?
M.S. Ah, when it comes to bedroom dynamics, I love taking charge but don't mind experimenting here and there. Variety is the spice of life, after all!
B.J. There are all kinds of tales and stories that people have of their wildest experience of intimacy. Whether a short burst of unexpected passion or a drawn out lustful encounter, could you tell us about yours? Does anything come to mind immediately?
M.S. There's a few wild experiences that come to mind but I'm not the one to kiss and tell. I could get in a bit of trouble for that…[laughs]
B.J. Talking about preferences, you are straight but have you ever experimented outside of this? / would you ever?
M.S. I have not experimented outside of this but who knows what the future holds…
B.J. We are already half way through 2023 but have a fair bit of time before the end of the year. What can we expect from Macey for the rest of 2023? Any goals?
M.S. For the rest of 2023, you can expect me to continue spreading the message of health and wellness. I'll be whipping people into shape, sharing nutrition tips, and inspiring others to live their best lives. Oh, and of course, I'll be hitting the beach and collecting more coins along the way. Stay tuned for all the exciting things to come!
YUMMYZINE ISSUE 4 PRINTS IN JUNE 2023 AND SHIPS EARLY JULY 2023. GET YOURS NOW