Brazilian model and Love Island USA star, Felipe Gomes sits down with Yummy to tell us how his life led to this moment and the relationship he has with his more dominant side.

Love Island USA star Felipe Gomes sits down with Yummy to discuss his latest feature in Yummyzine 4. The actor and model opens up about the pathway that brought him to this moment, hints at his sexual tendencies and what we can expect from him in the future.

The images are cropped/ made safe for online purposes, full images available inside Yummyzine Issue Three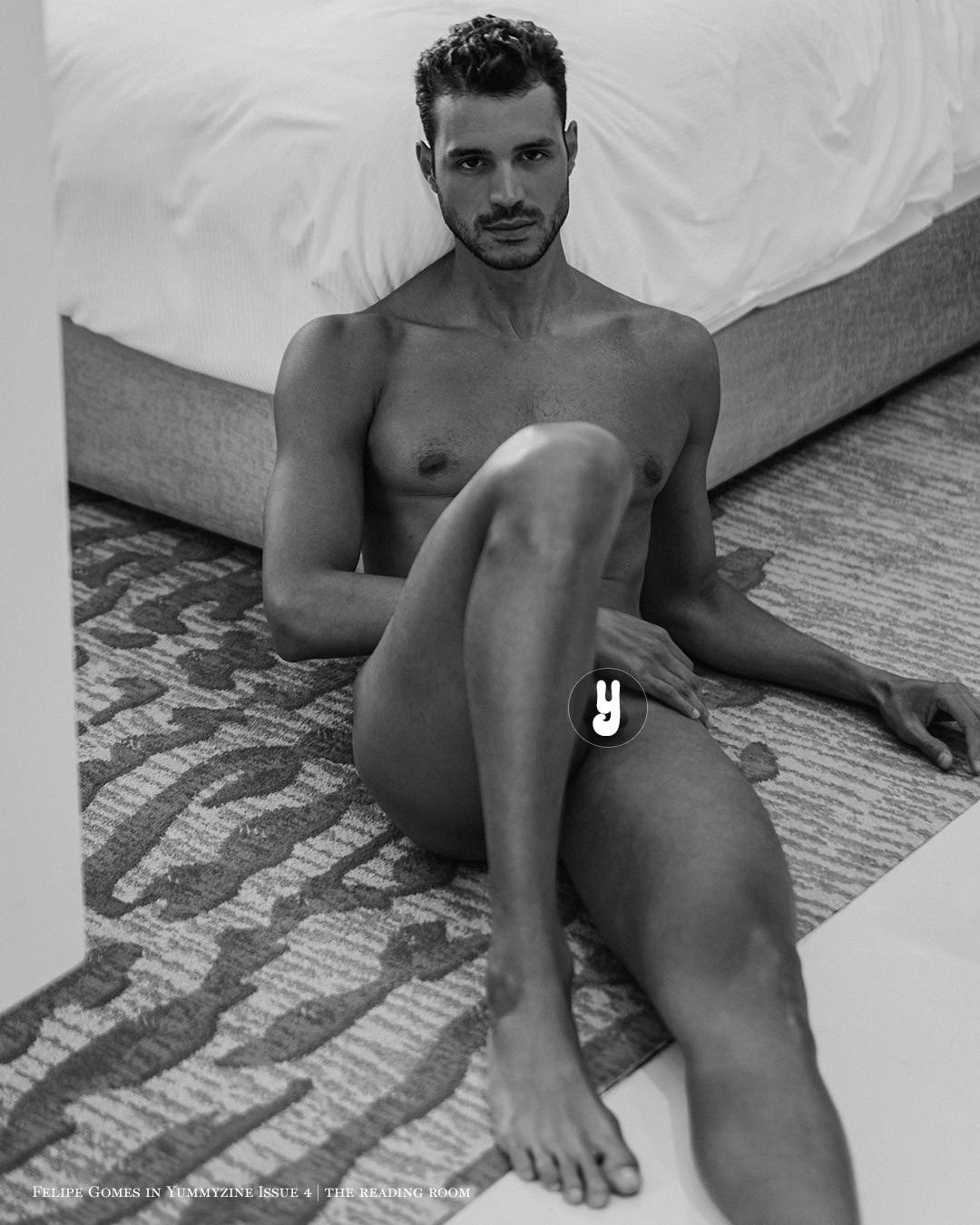 Photo story by SASHA OLSEN
Agent: Onway Model Management
B. JOHNSON. Hey Felipe! Before we start, can you tell me your best way to end the week? What do you like to do on a Friday evening?
FELIPE GOMES. The best way to end my week it's going for dinner, having some great wine and enjoying it with my friends, definitely.
B.J. So, you grew up in Brazil but now your work takes you all over the world. Are you always drawn back to Brazil or do you enjoy being away?
F.G. I really enjoy traveling around the world. But, whenever I can, I want to be back there – I love Brazil!
B.J. When you were younger there, you started a lot of sport with dreams of actually taking soccer to a professional level. How much does sport play a role in your current life? Your body is well sculpted so I would say that sport is still a part of your routine!
F.G. Sport is my first passion in life. I love doing some kind of physical activity and I see that it helps me a lot – both physically and mentally! Sport and my daily therapy really keep me going and motivated.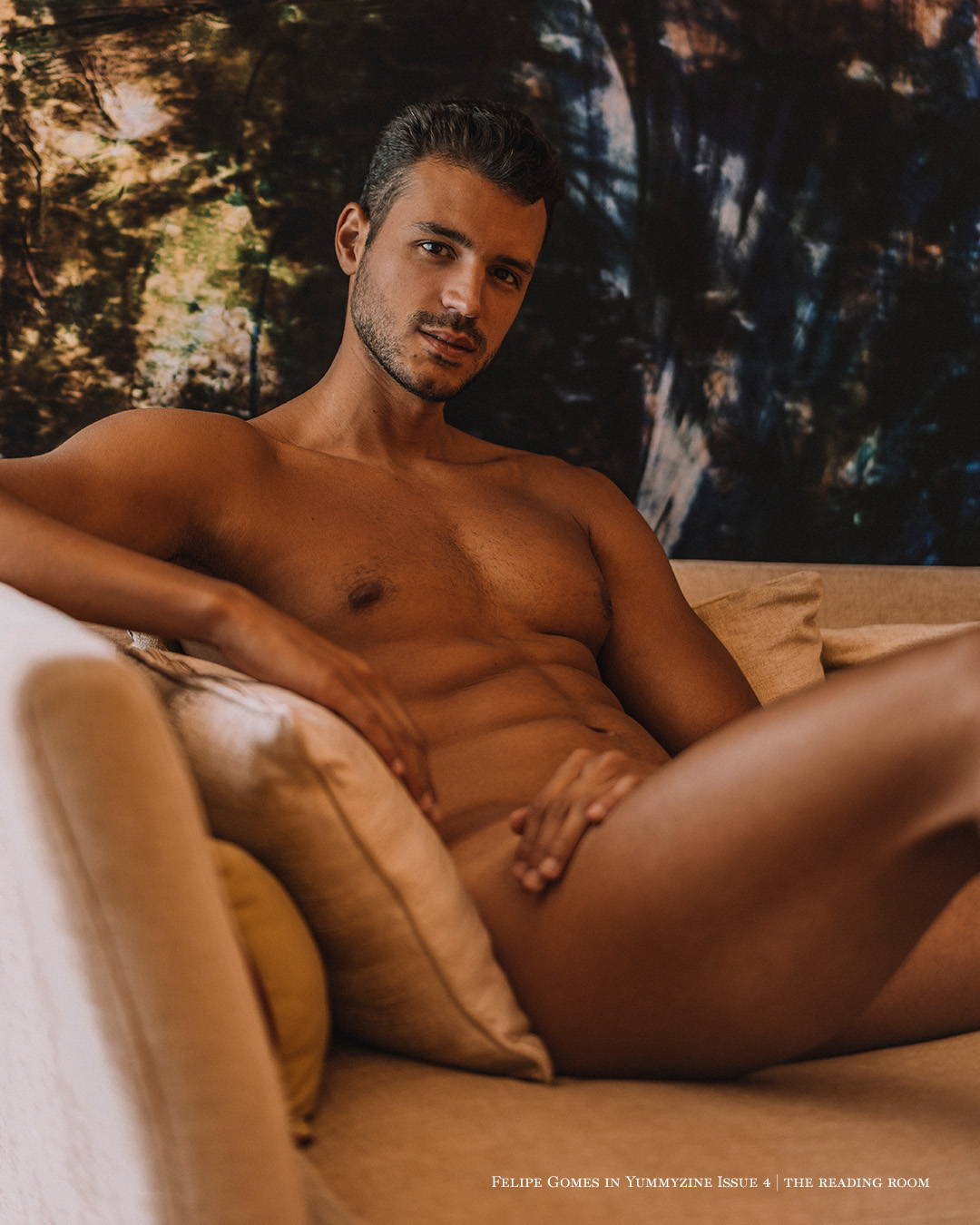 B.J. You have spoken about the growth that you have seen in yourself as time has gone on, as you have reflected back to who you once were. Why do you think this has come about? Could you tell us a little bit about the areas you have grown in?
F.G. I can see that when we leave our comfort zone – which is one that involves being close to family and friends – we begin to learn more about ourselves as everything is up to us. We discover new things and we mature. I can say that today I have more focus on my goals and I enjoy every moment of my life. I dedicate myself to being only with the people that I like.
B.J. As I mentioned, you now travel internationally with work as a model - in fact, you have been doing it for 9 years now. Can you tell me how you entered the field? Where did you start?
F.G. My cousin always worked with events and always told me to try a modeling career. After finishing college, I decided to do some research on what it was like to be a model. I prepared myself and did some test shoots in São Paulo and, after a while, I ended up getting a contract for the Philippines and from there it all worked out!
B.J. For someone that is wanting to enter the industry, but unsure about where to start or getting nervous about the journey ahead - what would you recommend?
F.G.  For those who want to start, I can say that they have to believe in the potential they have and make the best of it! Watch videos about models and modeling, look at campaigns and go looking for the best way to make it work!
B.J. Let's talk about passions. You expressed that modeling is something that you have sought out for yourself, with quite the journey into it. Why did you feel so drawn to it? What about modeling makes it not only work, but also a passion?
F.G. In fashion, I can discover myself more as a person and grow as well. The way that we work in different places and travel makes me so happy. We don't have a set routine and I like to work that way. I see that fashion makes you connect more with your feelings and that's fantastic for me.
B.J. But you initially studied Business Management at University. How much do you incorporate that learning into your current life? It is quite different to the life you seem to be leading now.
F.G. I use a lot of what I learned to manage my finances and expenses. Because my job doesn't have salaries, we have to think about the future all of the time.
B.J. Your career took a huge turn when you entered the villa on Love Island USA. How was that experience? Did it have a huge effect on areas of your life?
F.G. Entering the villa was very interesting because I always wanted to see what it was like to be on the other side of the television – and it was fantastic! I liked it a lot, and there wasn't much of a difference after leaving the villa. Some people recognized me in places and that feeling was very good and rewarding knowing that I carved out that space for myself.
B.J. Love Island USA is a show with global recognition. Was it strange to have the whole world suddenly watching your every move?
F.G. To be honest, when I entered the villa, I wasn't thinking about the cameras or what was going on outside. I preferred to focus on what was happening there so that I could enjoy every moment.
B.J. Talking of exposure, you went fully nude in this shoot with Sasha Olsen. How was that experience for you? Are you someone that is comfortable with nudity?
F.G. The shoot with Sasha went very smoothly because we had already talked about how the photos would look to get an idea of what was coming. Sasha made me very comfortable for the shoot which helps a lot in total nude sessions! [Laughs]. I feel comfortable in sensual photos and I like it too.
B.J. How do you think your fans are going to react when they see the printed images in their hands? I mean, I am sure that no one is going to object!
F.G. I don't know what their reactions will be, but I hope they like the photos! [Laughs] I see Yummy as an important magazine and it's been growing a lot – so I'm happy to be part of it!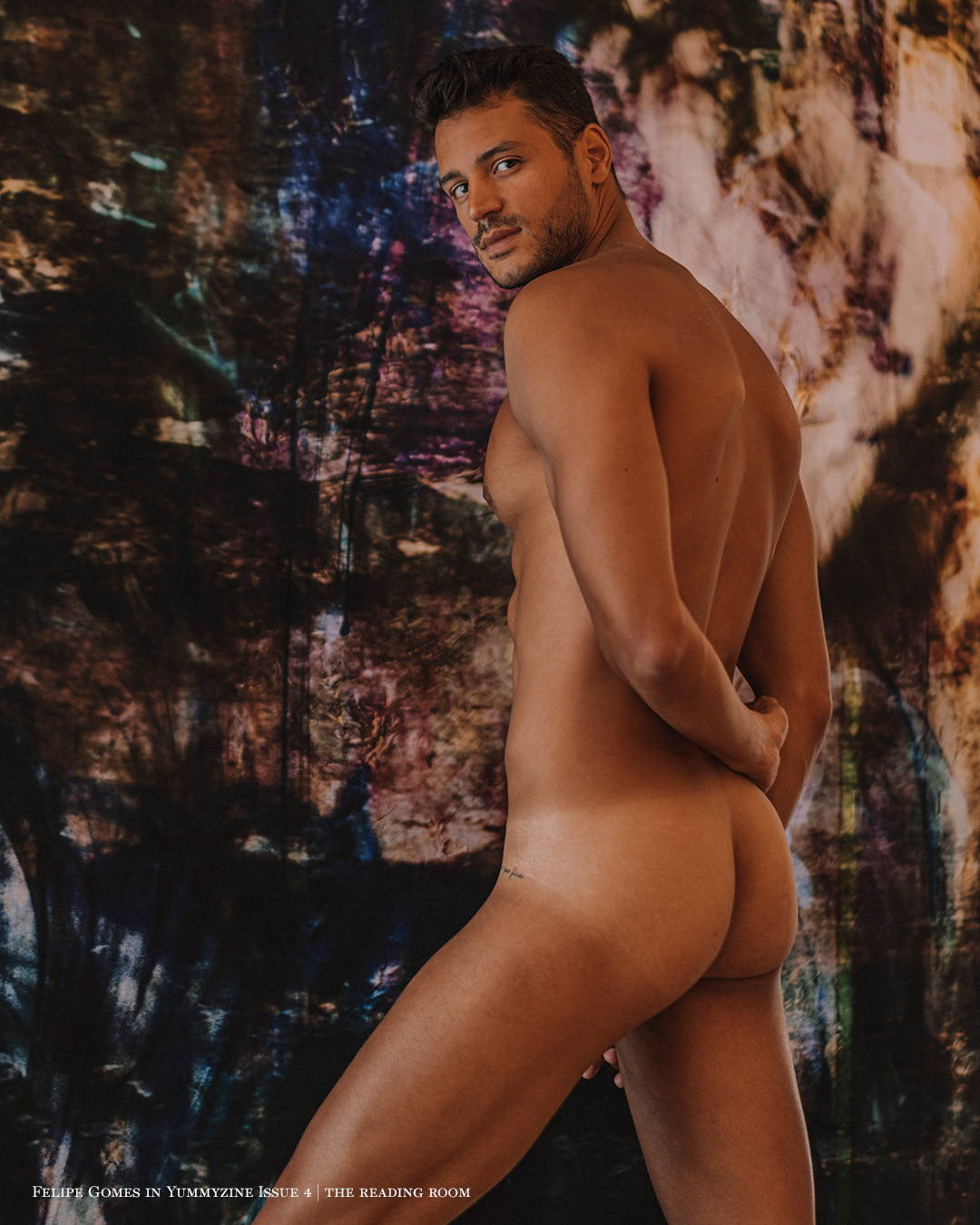 B.J. The images and the narrative behind it seems quite innocent and tamed - maybe a beauty reserved? Is there a more dominating side to Felipe?
F.G. I have a dominating side too but for the photos I really like to look more shy and innocent [laughs]. I like sensual shoots in this way – the look dominates more than the poses.
B.J. On that same tangent, with physical intimacy and sex - are you someone who likes to be in control? Or can you release control to someone else?
F.G. I like that things flow naturally between 4 walls. Dominating and being dominated is part of my sensuality.
B.J. We assume from Love Island that you are straight (heterosexual), have you ever had experiences with guys at all? Would you ever?
F.G. Yes, I'm heterosexual. I've never had experiences only with men but I've had moments with friends and women together – but not only with men. Today, I can say that I don't want to be in a relationship only with men, but I can't guarantee 100% because we never know tomorrow! [Laughs] For now, I'm happy with women [laughs].
B.J. Finally, tell us about your next career moves. Where will we see you in a few months time!
F.G. I have plans to study theater and open other doors for my career while continuing to do my best with the obstacles that life brings. I hope that soon I will be on the covers of magazines, who knows!I hope you enjoyed the photos and I am looking forward to seeing you soon.
FIN
YUMMYZINE ISSUE 4 SHIPS IMMEDIATELY