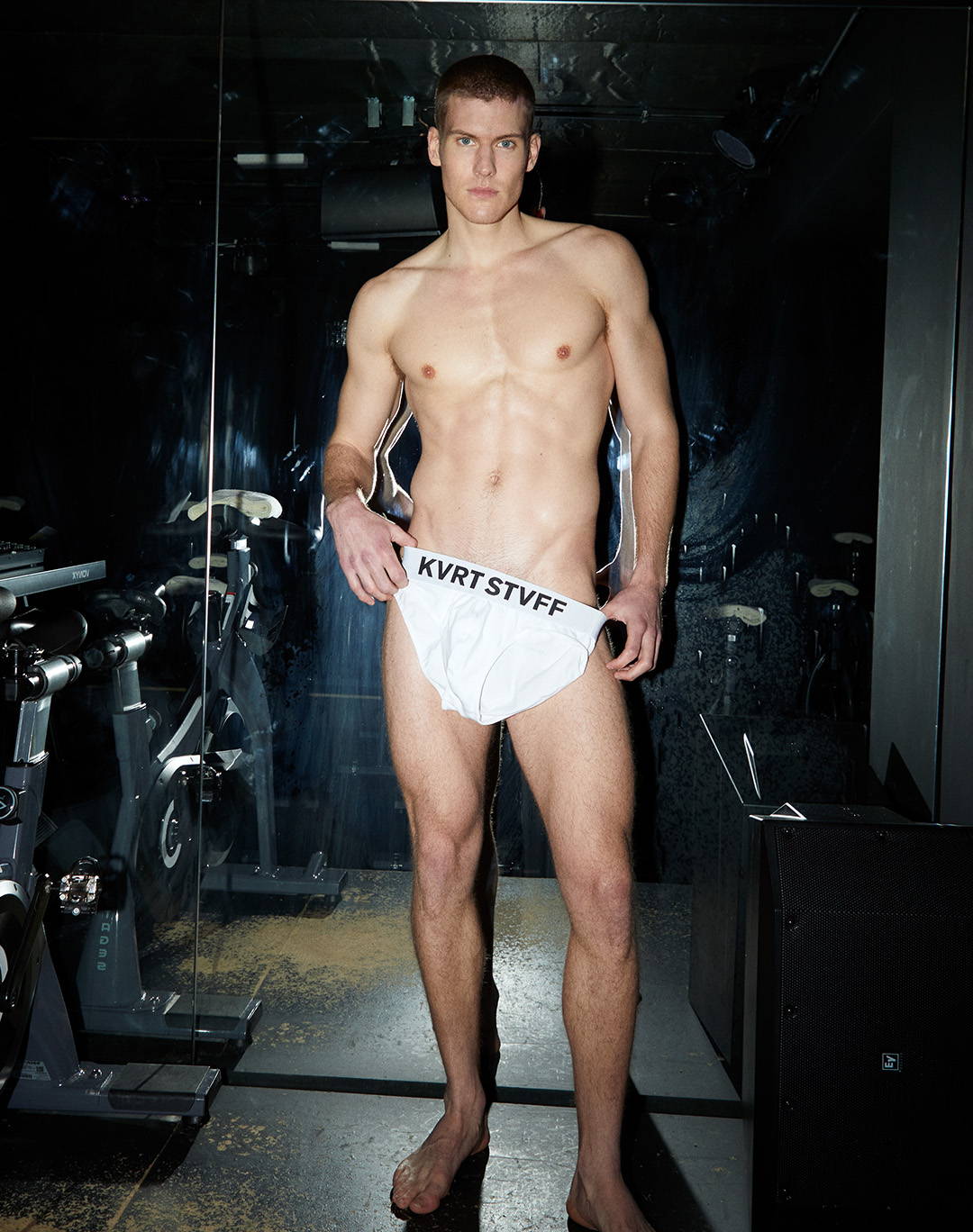 Arguably, the sexiest brand that we've come across in quite some time is KVRT STVFF, a line of underwear and assorted athletic inspired gear that has captured an audience of men who have no shame in showing off who they are….and all they've worked towards. Their products have garnered a global fan club of sorts, for those men who like to be seen (and look good) when they're in the gym….or anywhere else. Here, exclusively for Yummy, we talk to the anonymous founders behind KVRT STVFF about their new collection, the power of wanting to 'improve', and why, feeling comfortable and safe in their designs is the icing on the oh so sexy cake.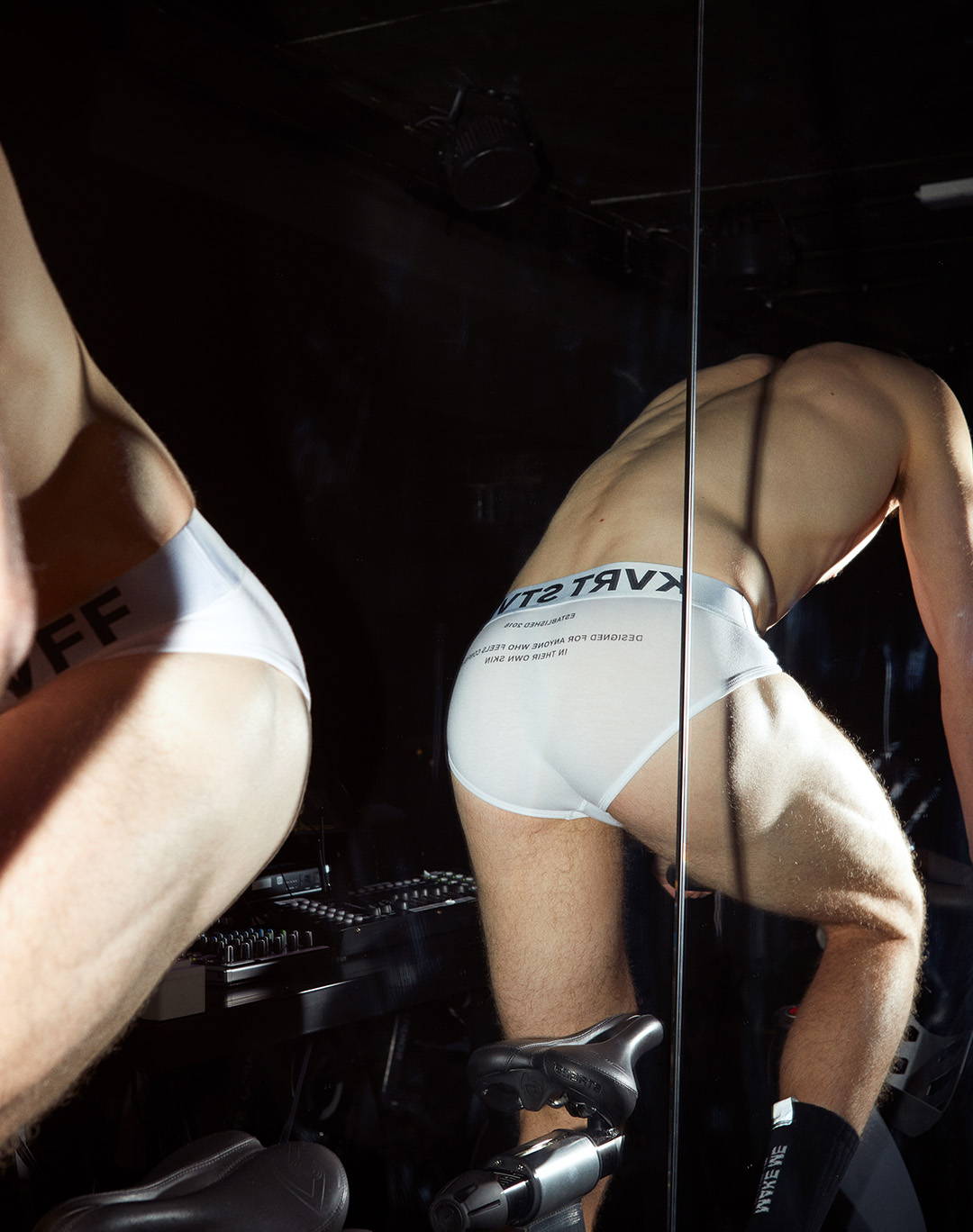 What's the inspiration behind your latest collection? Can you tell me a little bit about the concept?
Our latest collection is inspired by vintage references, while our logo connects all the items in the collection reinforcing our message "Designed for anyone who feels confident in their own skin" - all of this, without losing our usual treatment of sports aesthetics from a simple and sexy perspective.
To develop this new collection, we compiled a number of photographs showing different post-workout styles. These styles have led us to create THE LOGO COLLECTION completely in cotton, with more relaxed volumes in the sweatshirts and shorts, with boxier t-shirts, and with back-stitched pipings in the underwear that provide a final look of vintage aesthetics.
At the same time, this contrasts more contemporary elements such as the elastics, with a jacquard KVRT STVFF logo, and the black and white reflective prints that help us depict the iconic look of our brand.
You have some new suitability missions that are really changing the back end of your product. Can you elaborate?
Sustainability for KVRT STVFF means creating high-end items that our customers value and can enjoy for a long time.
We want to be proud of our products - high quality, how they look, and how they are made and used.
Our goal is to create a business that is restorative and regenerative by design, striving to incorporate as many circular materials as possible into our collections. Each material in our collection has specific characteristics and is chosen based on the desired look and performance. We are consistently increasing the share of recycled fibres in our collections.
This respect for our product and its materials is reflected in everything we do; from our design constructions, quality assurance processes, sales support to customers, and reuse and recycling strategies.
We design collections that are built to last and want to enable our customers to take care of their garments to maintain the quality.
Also, the KVRT STVFF packaging reflects our sustainability goals. We want our packaging to be as sustainable as our collections. We only use plastic when strictly necessary - and this plastic is reusable, recycled and compostable. Even our swimwear pouches, bags and security tags are made of recycled plastic and are also compostable.
You often take elements of 'vintage' and make them new. When it comes to how you've reworked the logo, what's new for KVRT?
While we always remain loyal to our essence and values, we believe that everything can be improved. This eagerness to improve makes us take constant action so that nothing new equals any previous stuff. This is something we've wanted to reflect in our brand values since the day we created KVRT STVFF with the motto "ANYONE WHO IS PROUD OF THEIR OWN GOALS AND CONFIDENT IN THEMSELVES", and it's something in which we still believe today. We think that our new logo better reflects KVRT STVFF's clearness and conviction that nothing and nobody are less than anything or anyone.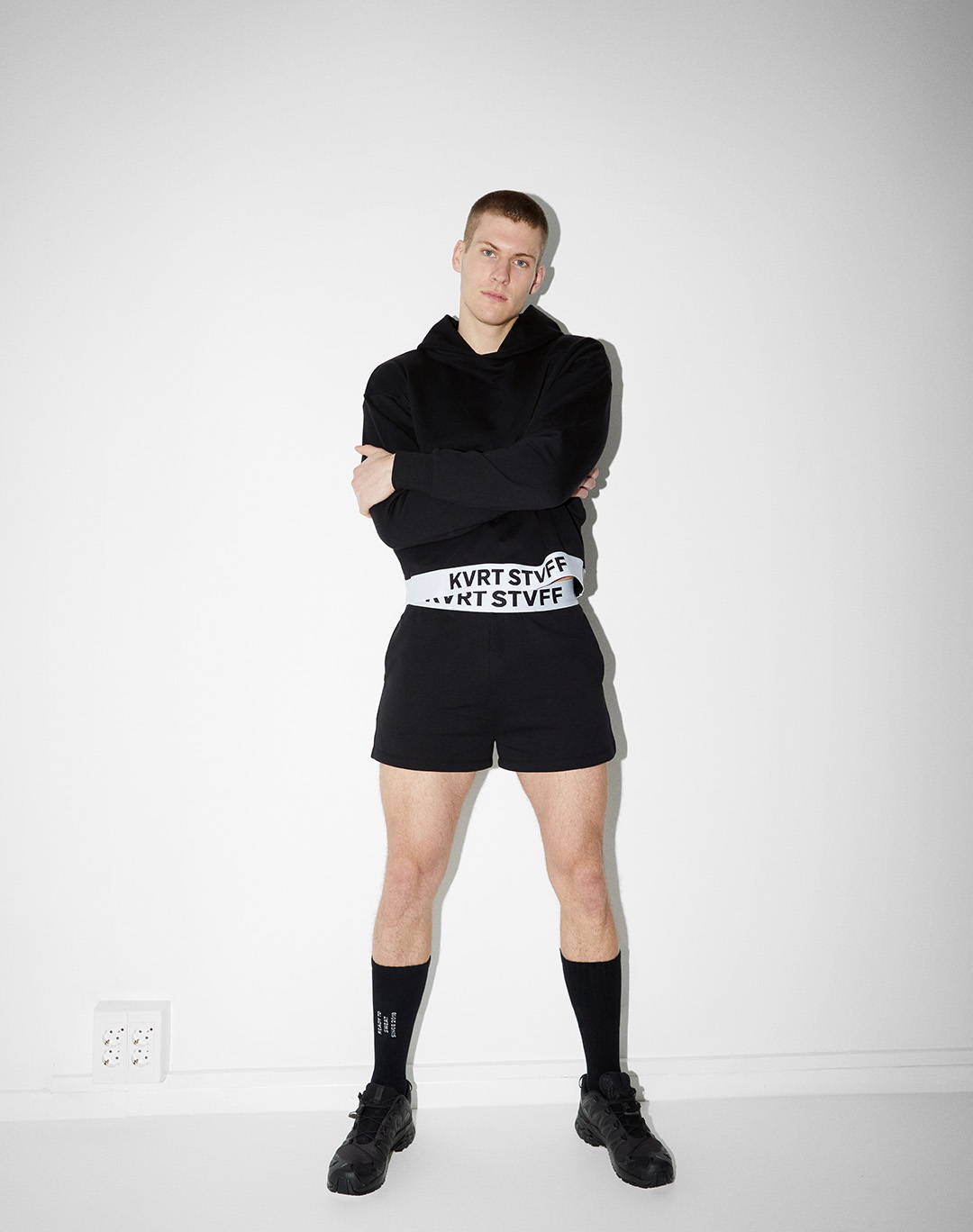 The message, "designed for anyone who feels confident in their own skin" - how do you continue to deliver on this mission?
This is something that is now intrinsic to KVRT STVFF. Whenever we design or create a new collection, we think about this so that anybody wearing our designs will feel confident about themselves. The patterns and outlines are thoroughly thought of and examined to be not only comfortable but to also highlight the best features of whoever will wear our designs, making this person feel more empowered and stronger.
At the same time, we've also expanded our sizing range and we are committed to showing more diversity in our campaigns as a way to better showcase our values. And we'll keep on working on this - without a doubt.
What is it about the world of athletics and sports that is so crucial to the KVRT brand?
It has always been a very inspiring world for us. We collect aesthetic references from many vintage bodybuilder magazines and beefcake from all periods in time, and at the same time the world of sports as a concept already encompasses many not-too-obvious-but-sexy elements such as sweat, physical contact, or energy release. These concepts help us communicate our brand message. Everybody associates these elements to sports and at the same time they're suggestive and seductive, so a very specific attraction is almost immediately generated.
Talk to me about what 'NO FEAR NO SHAME' means? Such a powerful statement. Why is this infused in the brand?
For us, it's always been crucial to communicate how important it is for KVRT STVFF that everybody feels comfortable and safe. This means not being afraid and not being ashamed of showing your own body, regardless of your body type. That's why, apart from creating designs that will make you feel good with yourself, we use no paddings or any added materials for that purpose.
What else are you working on that you're excited about/and can talk about?
We're super excited about many different projects that we're working on and that will happen at some point this year. However, the element of surprise is key for us, so we prefer to not disclose anything - we would love it if our followers would always be amazed by what we do.
Visit KVRT