Native from Tudela, Spain, Yummy Issue Six cover Ignacio Ondategui shares the interesting journey made from his hometown to Barcelona to become a professional model while studying Law and Business Administration, and shares his beautiful take on beauty, the requirements of the industry, and his position on health and fitness. We also get to know how he considers sex sacred and how he loves the most masculine side of himself.

Photo story by Bartek Szmigulski interviewed by Adrian Gomis Exposito
The images is cropped/ made safe for online purposes, full images available inside Yummyzine Issue 2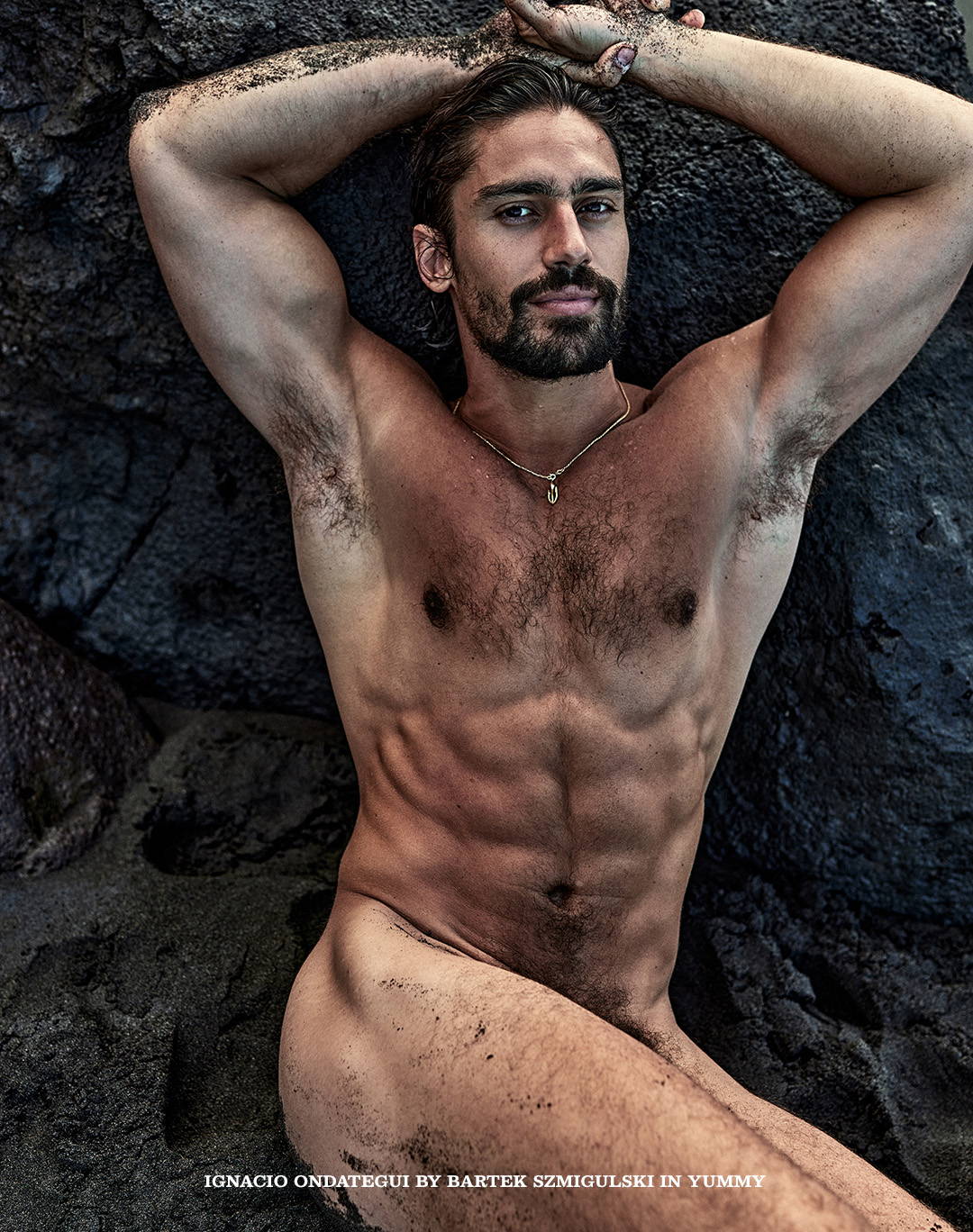 To begin with, I would love to know you better. Could you tell me about yourself, how was your childhood, how was it like growing up in Tudela, Spain, and how were your teenage years?
My childhood was great but demanding at the same time because, at the age of 12, I left home to move to a high-performance skiing facility in the Alps. I was attending competitions until I was 18 when I had to go to university.
Speaking of university, you studied Law and Business Administration. What led you to make this choice?
My family has a law firm, so I just did it to follow the family's tradition somehow.
You mentioned mingling fashion with your studies. When and how did you get into the fashion industry and how did you manage to do both things?
A friend of mine scouted me at a pub, to whom I'll send a copy of the magazine of course haha. He encouraged me to try it out, I signed with an agency in Barcelona and that's when my journey began around 2015. I was also living in New York for some time, and I would love to try modeling there as well.
What was it about modeling that caught your attention? Tell us about your story in the industry.
Masculinity, the cult of the body and health always caught my attention. I'm obsessed about how I'll look as time goes on. I consider that man cultivates himself with the years and gets better with time, and one of my goals is to reach old age by being healthy, physically and mentally. I consider body and mind to be a whole, and physical and mental strength go together. A healthy and nourished body says a lot about somebody: sacrifice, perseverance, willpower, patience… Professionally speaking, my goal has always been to be the face of a fragrance advertisement, and it still is. My inspiration is David Gandy, not so much for his body as I'd prefer Jason Morgan's, but for his masculinity.
You also mention you love fitness and health. Where does that interest come from and what motivates you about those topics? Do you follow a strict routine?
My interest in health has increased with time, as I want to look great not only at 28 but also when I'm 40 and 50 years old. If I ever have offspring, I would love them to have me as a referent in that aspect. Regarding routine, I work out five days a week, mostly strength and basics like squats, push-ups, shoulders, triceps, and so on. I have to work more on my cardio training as it's something that I don't enjoy that much. My diet, it's something that has also changed over the years as well. I've tried thousands of different options and lots of different diets. In the end, the best option is to carry on with the diet you can keep doing on a daily basis without it becoming an extra effort. What I am prioritizing now is schedules: when I eat, when I sleep, sunlight hours, etc. These are really important things.
Talking about the body, it is one of the most important parts and focuses of a professional model. How important is having a great physical appearance for a professional model and what's your position on this?
To be honest, I've never been satisfied with my body because it's not the same as what people see as what I see. It's true that fashion generates lots of insecurities, you see imperfections where you didn't see them before, but I guess that's part of the job. The importance of the body of a model depends a bit on what they focus on. In my case, I consider I focus on the cult of the body but in a natural way. However, if I did runways, it would be enough for me to be thin and with less muscular volume. In conclusion, it's up to each one of us, but I personally love curves.
I've seen you promote healthy lifestyle habits in your socials. Why do you think it's important to do this and how do you do it?
I believe that there's a lot of information on the Internet and people don't know what to pay attention to, and I've always considered that's important to promulgate with examples. Every time I read something I first think about how is that person selling that idea or product. I think we've grown apart from nature, the sun, and food without labels. We now live a lot indoors and a fitness body cannot just focus on what I eat and what I work out. As I said before, sun, sleep, and surroundings influence a lot, and there's evidence about that.
You posed for Yummy Six in Tenerife with Bartek Szmigulski to create a breathtaking story. How was this experience? Tell us about this adventure.  
I have a real appreciation for Bartek because it was with him that I did one of my first books in London. I remember back then we were both starting in this industry, so getting to work with him again after so many years, knowing what he's achieving, it's priceless to me. From the day I shot with him, I knew he was going to be among the best photographers out there. In fact, I still have some photos from them in my current book. For me, he's the best and I hope he knows the esteem I have for him.
What does it feel to be one of Yummy Issue Six's covers? How did you receive the news and what does it mean for you?
I already worked with Huw and Bartke for Man About Town. When Huw proposed I pose for the cover of Yummy, I honestly didn't think about it, I just went for it. It's like when someone knows how to recognize the efforts you make and reward you for that. That's what Yummy has been for me, a reward for the efforts and sacrifices I've made. Yummy is also a top magazine now and working with the team has been very easy and comfortable as I feel it's something really close to me, it's working with people you trust.
Now I'd like to ask you a few yummy questions. What does the word yummy mean to you?
I think about something sweet and delicious but delicate and soft at the same time, nothing rude.
What time of the day or what situations make you feel super sexy and attractive? What makes you feel better than ever?
Feeling masculine is what I like the most. This doesn't mean I don't respect other types of beauty, more feminine or any other type, but I work for that and that's what I promote about myself. What makes me feel better is growing a beard, combing my hair fresh out of the shower, putting on a great pair of shoes, after having worked out, feeling my shirt and pants ripping a bit after doing squats… there are some clients who get mad for that haha.  
Regarding intimacy, which is the key factor for an incredibly romantic moment for you? What needs to happen to make a night really special?
I believe that any moment with the person you love is enough, whether it's with a coffee, having breakfast, or going out for a walk. What I value the most about someone is their time and that their actions and words coincide.
How important are passion and sex for you? Do you think they are essential in a relationship or in anyone's life? What value do you give them?
More and more, I consider sex as something sacred, and that's why I think really carefully about whom I do it. I only have it with the person I consider my partner or couple, I'm very old-fashioned in that way. Casual sex is really trendy right now, but it's not for me. I believe sex is key in a relatinoship becasue it's what differentiates friendship from a love relationship.
You have thousands of followers and lots of likes on your Instagram. Do you usually receive DMs with compliments? How do you take those comments?
The truth is I usually get a lot of comments and messages from people of the same gender, and 80% of my followers are men. I'll take it as a compliment. I don't know why, but it seems like females don't find me as attractive as men do.
Lastly, how do you see your future as a model and personally?
I've always considered fashion as a sporadic job that has to be combined with another more steady job. My idea is to have a steady job, either as a lawyer or working for the government, and do some fashion jobs when I have the chance. I feel like with the years, I'll work more because, as I was saying, my bet is masculinity and time, which in this case I have on my side.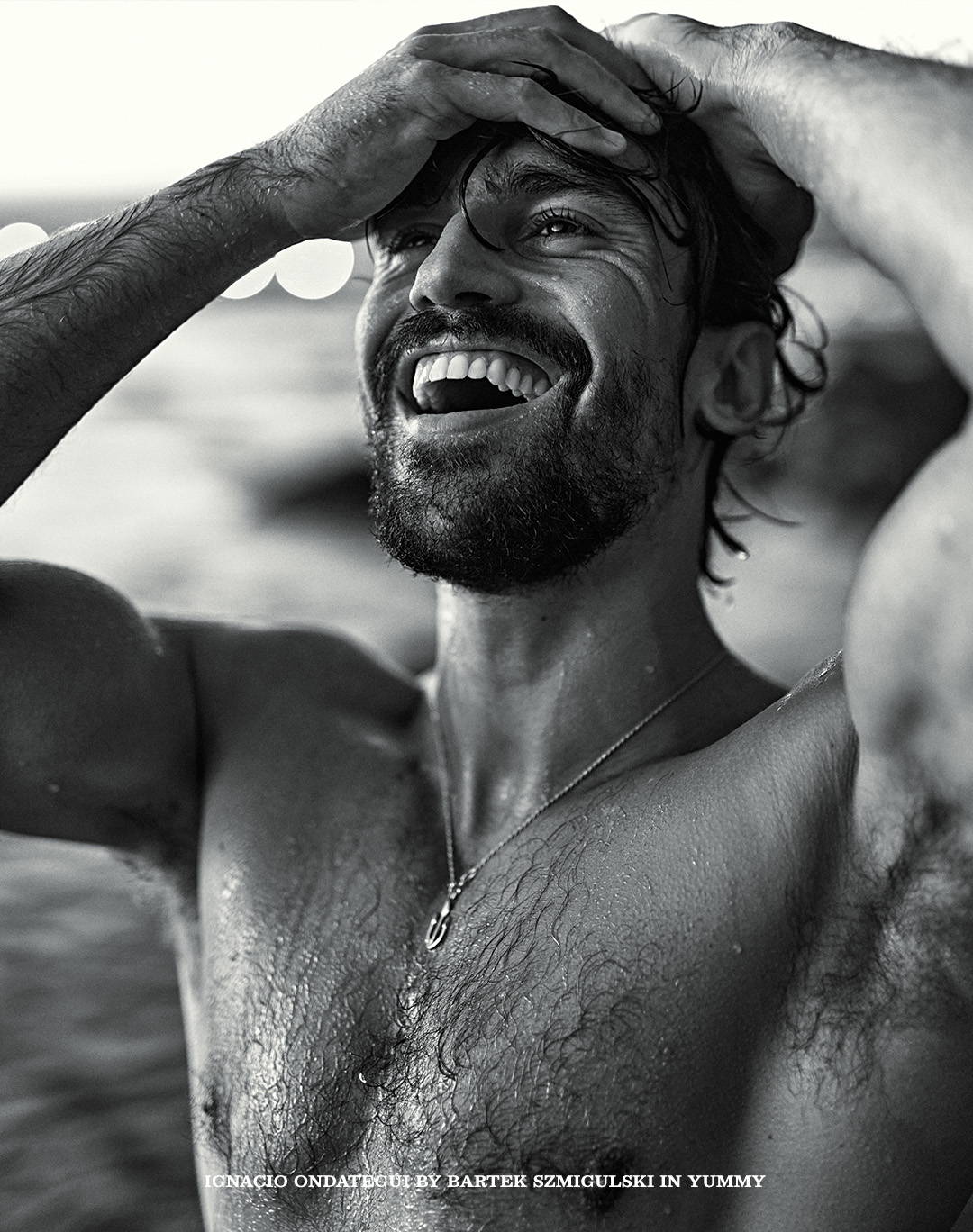 Photographed by Bartek Szmigulski exclusively for Yummy Issue Six

Interview by Adrian Gomis Exposito (AGE)