Yummy chats with Igor Amanajás, a Brazilian-Portuguese actor, model, and performer now living in Bali for his P.h.D. studies in Balinese Dance and drama who got to shoot a lovely story for Yummyzine Issue Three with Sasha Olsen. Amanajás talks about the origins of his passion, his free identity, and his coming out story and, of course, we tap into his yummiest side.

Photo story by Sasha Olsen interviewed by Adrian Gomis Exposito
The images is cropped/ made safe for online purposes, full images available inside Yummyzine Issue 2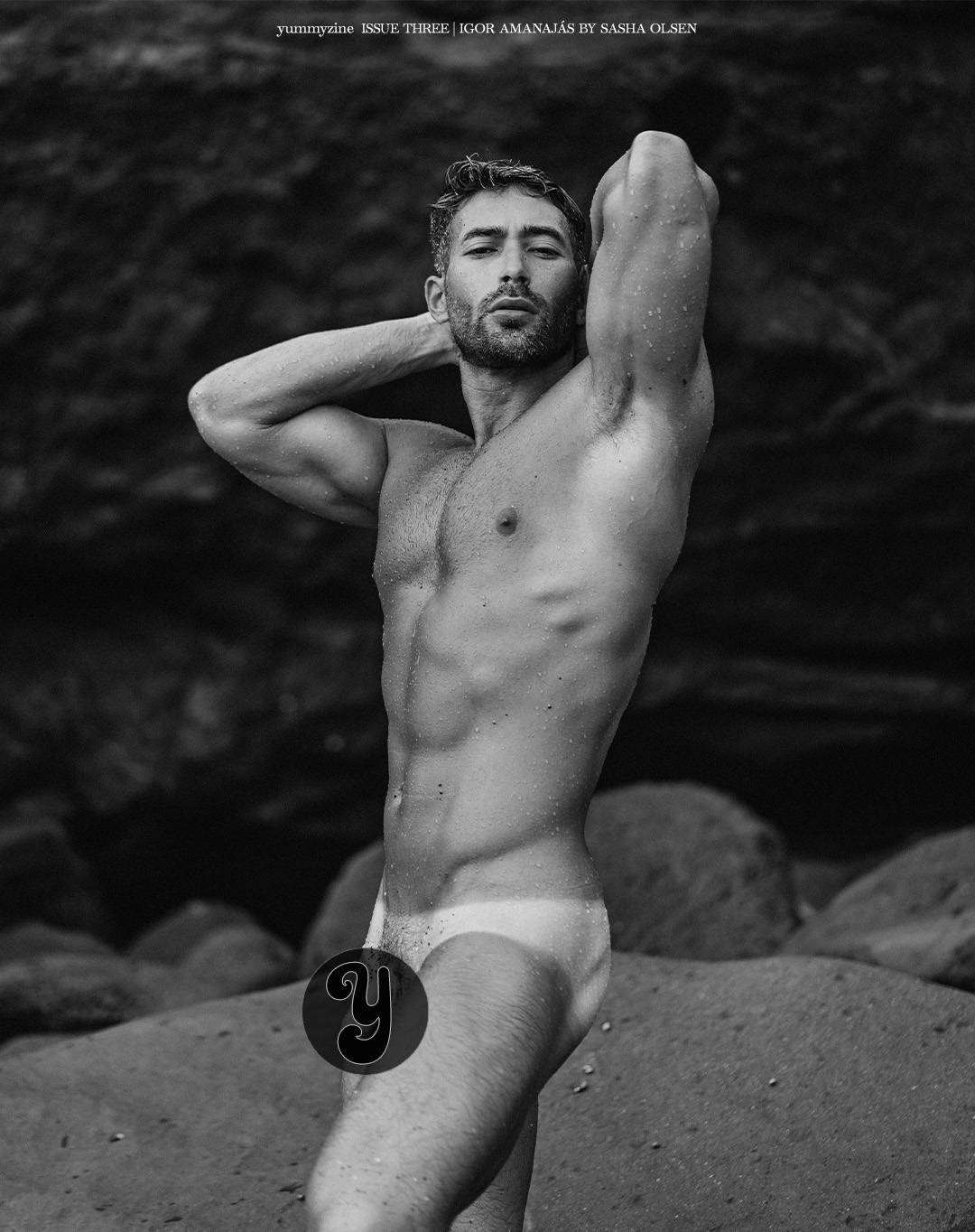 Hi Igor! It's a pleasure chatting with you! First off, how are you? Where are you at the moment and how are you feeling?
I'm doing great, thanks for inviting me to participate in this interview. I've been living in Bali for three and a half years now and, to be honest, I couldn't imagine a better place to be. I love this island, the culture, the food... I feel like I'm blessed to live in such a beautiful and magical place. I'm happy here because I get to do what I love and I know that I've made some great friends. At the moment I'm busy with rehearsals, publishing articles, and photo shoots, but being busy is good. As my grandmother used to say: an empty mind is the devil's house.
Could you tell us about yourself? Were you raised in Brazil? How were your childhood and teenage years?
I'm Brazilian-Portuguese, born and raised until I was seventeen in the Amazon region of the country. I'm from Belém do Pará, way up north in Brazil, near the equator line. My childhood was amazing because I have the best parents in the world—I know everyone says that, but in my case it's true. I was an only child until I was ten years old when my sister was born—who recently got accepted into a veterinary medicine master's program. Part of my childhood was spent in the big city, and part of it was spent on a small island an hour away from the capital—which is similar to Bali, of course, all relative. I grew up on the beach, walking barefoot, scraping my shins on the rocks, jumping over walls… I had a happy childhood, I suppose. Then, when I was 17, I left home to go to university.
You've been working as a professional actor and model for more than fifteen years. How did you start in these industries, and what encouraged you to pursue careers like these?
I've always wanted to be an actor. I never imagined myself doing anything else. I guess it was written in destiny. The Balinese people call it dharma, that is, your duty to the universe. I was accepted into a university in the city of Campinas, in São Paulo state. There I graduated in theater as an actor. Then I went to study realistic interpretation at the Strasberg Institute in New York, but there I also ended up studying mime, viewpoints, Suzuki, neutral masks, and other artistic training techniques. Then I went to Italy for an artistic residency with a mask maker, where I studied mask carving and improvisation with the characters of commedia dell'arte. I then found Balinese dances and fell in love. I began my training in 2011 and in 2016 I completed my masters in Balinese mask theater, topeng. The modeling career always followed parallelly but gained more strength over time. I think the two careers complement each other, they require different skills, but they can talk to each other.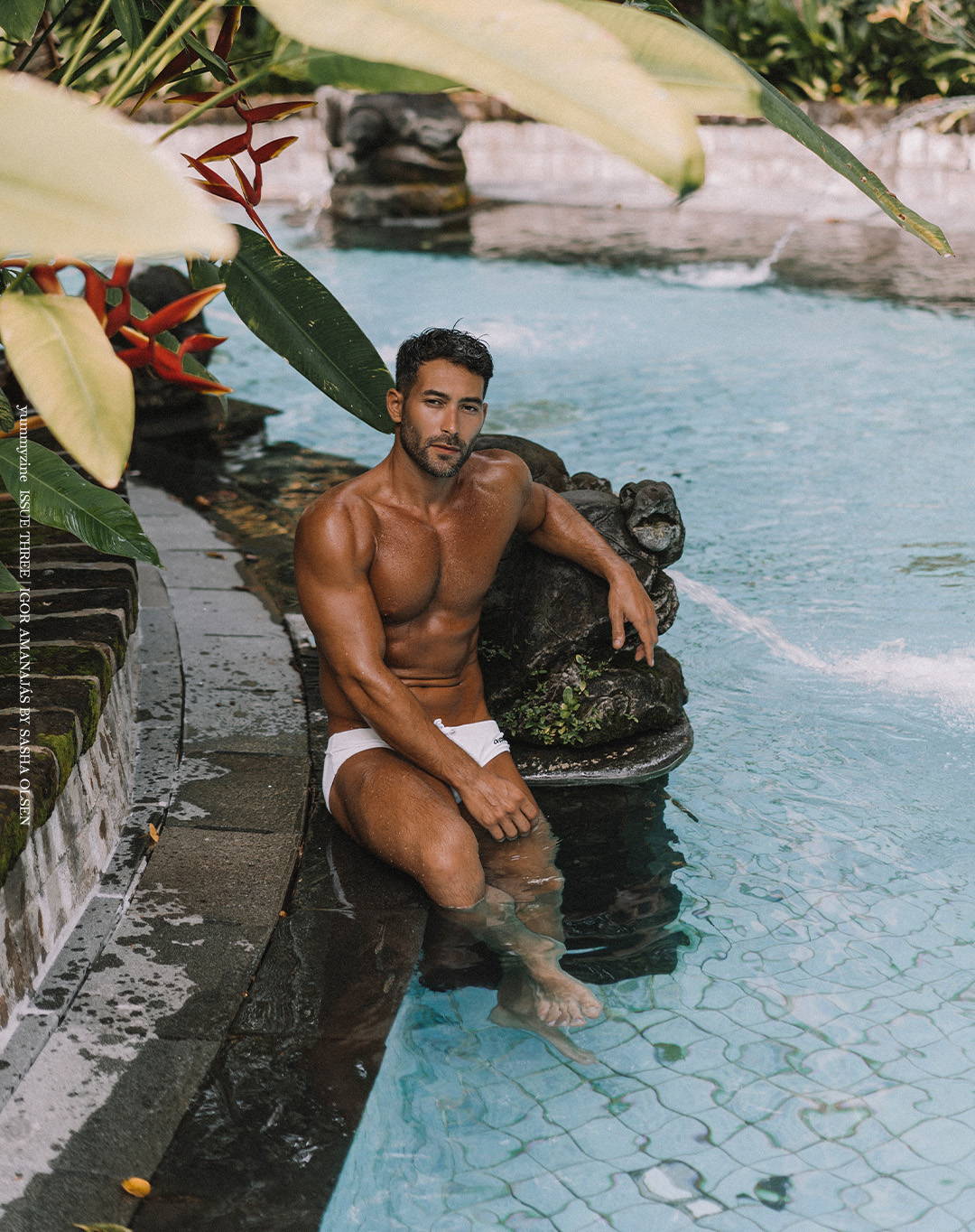 I believe you're doing a Ph.D. in Balinese Dance and drama. Tell me about this fascinating topic and what led you to study this specific matter. How's your time in Bali been?
Yes, I am currently in the last year of my Ph.D. research and I plan to obtain the title in November of this year. Well, my current research is about creating choreographies of characters from Amazonian mythology within the rules and aesthetics of traditional Balinese dances. These are four independent solos that figure five characters. Each one of these solos is composed with a mask, and costume and is accompanied by an orchestra (called gamelan) composed of gongs and metallophones with 30 musicians. Everything is already ready. I intend to present it soon to the Balinese people because what interests me is knowing their opinions about these new creations that are an attempt to hybridize cultures. It is a project about interculturality, crossing cultural borders. I owe a great deal to the Balinese artists who collaborated with me on this project and especially to my masters and teachers who taught me everything I know.
Do you also practice traditional Balinese dances and similar performances? What are they like and why are they so special to you?
I often perform in temples during ceremonies. Well, the Balinese dances are also part of the Hindu ritual, so some are sacred. I usually dance with my master's family. I don't know how to answer why they are special to me, maybe because I identify with the culture. Maybe it's my dharma, as we talked before or maybe I was Balinese in past lives, who knows? I've always been attracted to masks since early on in my training as an actor. What took me to Bali first were the masks, so I guess they're my first love on the island. There's a side of me as an actor that loves a challenge. When I see an impossible technique, my will is to unravel the mysteries until I discover how those actors interpret, move, or dance that way.
From Brazil, you mentioned moving to New York and Italy to keep studying, and you're now in Bali. How have these contrasting cities and cultures influenced you?
I think I keep a little bit of each place I've lived in me. Mainly, the studies and knowledge that I was able to acquire in each place, I think these are the ones that marked my passage through these cities. These experiences, both in the field of arts and in relationships, surely formed what I am today. Each place is different, and I believe that the experiences they offer us are also unique. Among all the places I have been able to live, Bali is certainly the one that made me mature and develop, both as an artist and as a human being. Bali is an amazing and unique place that cannot be compared to anywhere else!
You did an incredible shoot with Sasha Olsen in more than one stunning location in Bali. How was this experience for you?
Thank you very much, but I guess the photos are good because the photographer is good. It was an amazing experience! Sasha is such a great guy and we had some really interesting conversations about religion, politics, and art while we were shooting. The work just flowed naturally and we ended up shooting for two days. The second day was at the beach which is my natural habitat. I love being in nature so it was an added bonus to be able to work there too!
I believe this wasn't your first naked shoot but it is the first published one where you go full frontal, right? What does nudity mean to you?
Yes, this is my first time and I confess that it took me some time to accept. It wasn't for fear of nudity, as I'm part of the theatrical environment—the body is my work tool. In fact, I've done several artworks involving nudity. For me, it comes naturally; I've participated in plays in which I was completely naked in front of the public. As an artist, I see the body with a more poetic eye, I suppose: I see human beings in their natural form, with their imperfections and qualities. And besides, a body is just a body, a vehicle for something much bigger, our essence, which some call the soul.
Representation in yummy is also very important and we are very proud to have openly gay models in our issues. Could you tell us a bit about how your coming out story was?
It was something natural, I was at university, studying theater, and you know, artists are freer, less prejudiced... so it was something that happened spontaneously, without crises, without doubts. Here again, I come to talk about destiny and, in the end, it's something completely normal. So I've always looked at it that way. I also never thought I should justify myself on any aspect that constitutes me as a human being. I know that many don't have the same experience as me, they go through more rocky paths, and that makes me sad because we shouldn't still live in a society that criminalizes someone's right to simply be who they are.
On to the yummy questions, what does come to your mind when you think about the word yummy?
Well, when I hear the word yummy I think of very tasty food, like a good Taurus, inevitably my thoughts invariably go to food.
It's undeniable that your body is a work of art because it is simply perfect. Do you get many compliments from strangers, especially on social media? What was the sauciest DM you have ever received?
Thank you very much. It takes a lot of work to maintain. As I said, I'm a Taurus, and I'm always hungry. It's always nice when I receive affection from the public, whether it's for the physical preparation, or the dances. It's a reward for the daily effort, it's a little affection in the soul that makes me fight more and more for my goals. But there are some manifestations of affection that extrapolate a little. I've already received a marriage proposal, and a travel offer, I just haven't been offered one million dollars, so I'm still waiting.
What is the meaning that sex has to you? Do you consider yourself a very sexually crazy person (in a good sense) or more on the romantic side?
It's definitely part of my trait to be romantic. But with maturity, we learn that being romantic doesn't mean being a fool, so we end up selecting the few who can receive our trust and love. And then sex takes on another connotation, it becomes a meeting, a shared sensory experience. But of course, there are phases in life. By the time I was twenty, I had a different mind, new experiences, and youth. Nowadays I think I am a person who values ​​partnership much more than friendship in a relationship. This translates into the sexual experience and enhances it.
You seem a very sensitive and spiritual person. Do you see sex as a connection between souls and a way of sharing energies with another person or do you see it as a primal instinct? Have you ever had any "elevated" sex experiences?
This is exactly what I was talking about. I am not a spiritual person originally, but since Bali came into my life I have been forced to interact more with this aspect that was somewhat neglected. Nowadays I am more in touch with this spiritual side of me and I believe that this reflects in all other aspects of life, including relationships. Sexual intercourse can be both an instinct and a transcendental experience, it all depends on who you're with. Personally, I have never had a heightened experience, but I have had unforgettable experiences and forgettable ones.
To conclude, which has been the best piece of advice anyone has ever given you?
That's an easy one! The best advice is always the one that comes from our mother. Since I was very young my mother always told me "work with whatever you want, but be the best at what you do and do it from the heart." This advice I try to follow this every day.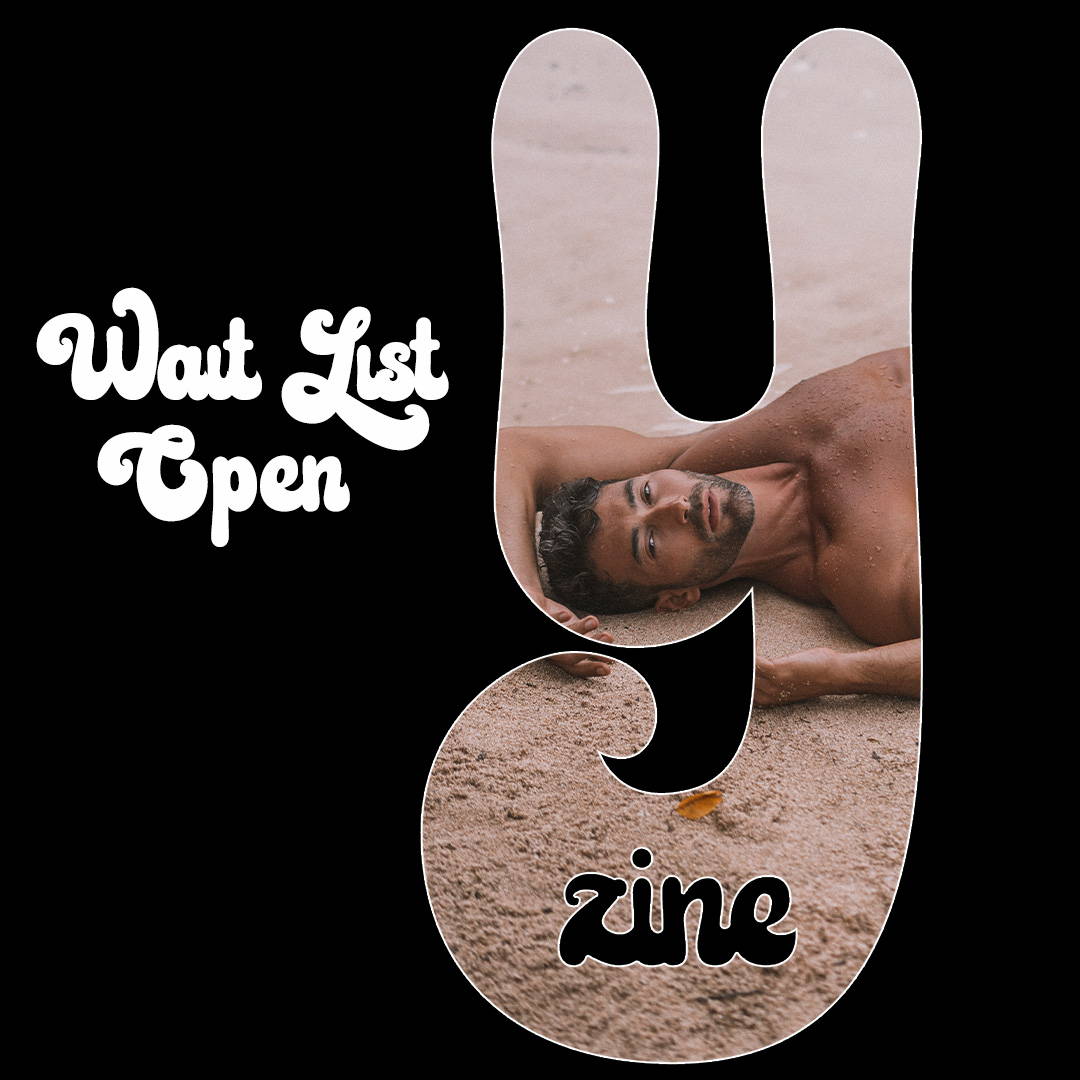 Photographed by Sasha Olsen exclusively for Yummy Issue Six

Interview by Adrian Gomis Exposito (AGE)