Photographed by Sasha Olsen on a beautiful beach in Portugal, the couple of passionate lovers Nick Van Calck and Andres Leman look stunningly perfect with their flawlessly sculpted bodies and the incredible connection they have. We had the pleasure of chatting with Nick and Andres to know them better, finding out how they manage their relationship while living apart, their interests and healthy lifestyles, and of course how yummy and passionate their relationship is.

Photostory by Sasha Olsen interview by Adrian Gomis Exposito

The images is cropped/ made safe for online purposes, full images available inside Yummyzine Issue 2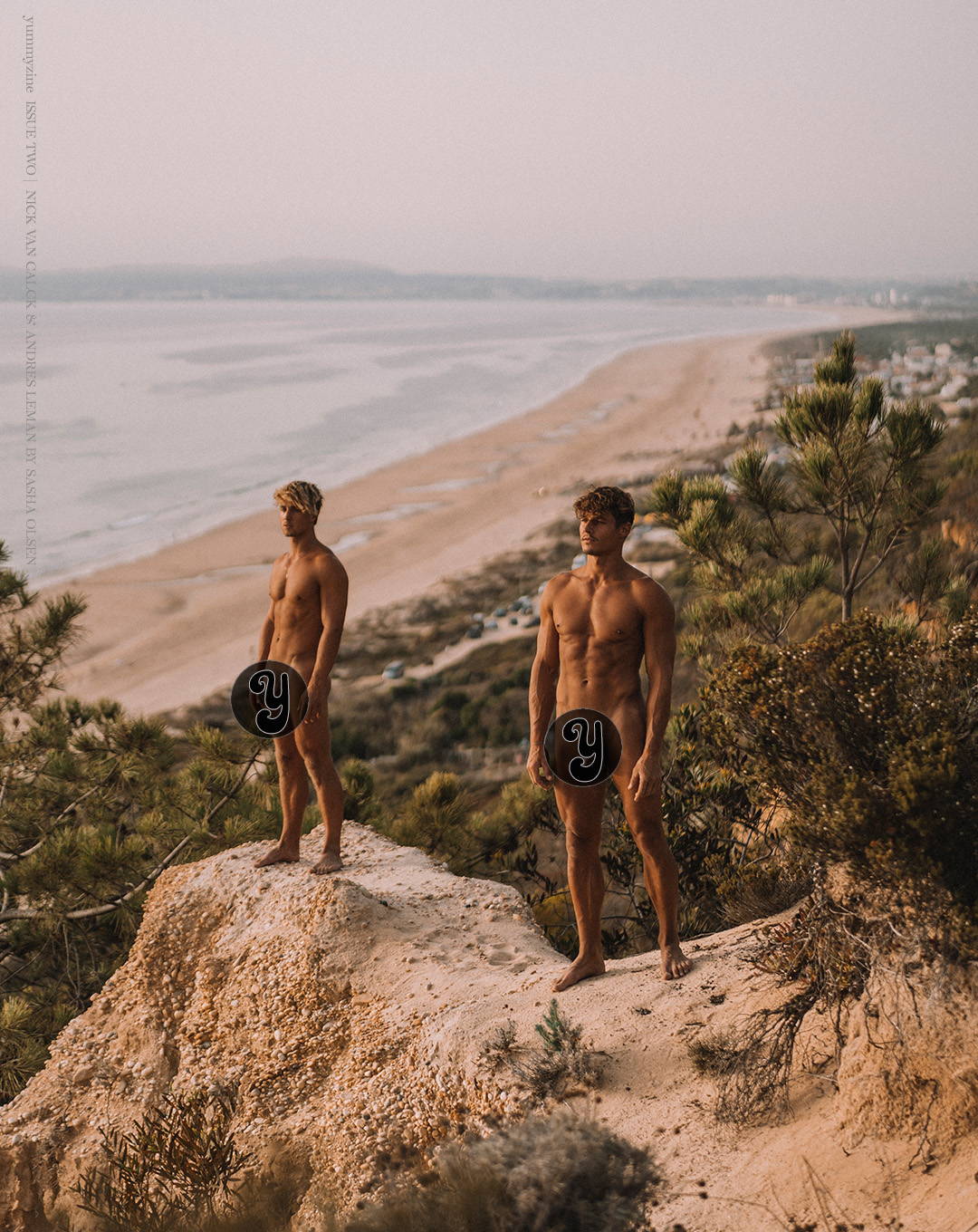 Hello Nick and Andres, it's a pleasure to chat with you! To begin with, could you present yourselves so that we can know a little bit about you?
Hey Adrian, it's lovely to chat with you as well.
Andres: I'm 34 years old, I'm from Belgium and I was born/raised in West Flanders, Izegem. I work as a landscaper, and I do landscape design. I come from a big family, we are 6 siblings and one of them is my twin brother. I love sports, discovering new things, and going on adventures while traveling. Music-wise, I like mainstream songs but I'm always down for a good techno/rave party.
Nick: I'm 26 years old, I'm from Belgium and I've always lived near the capital, Brussels, in Overijse. I work as an accountant manager for an advertising agency. I have a small family as my parents are both only children. I do have an older brother though. I love many sports like fitness, squash, rollerblading, skiing/snowboarding, etc. I have been traveling since I'm a kid with my parents, which made me love discovering new countries, especially the nature in them. Like Andres, I love a good rave, techno can get you to another dimension.
I believe you've been together for about 3 years now. How did you first meet and what's your relationship like at the moment?
A: We met through a common friend who introduced Nick to me. I was looking for another model that looked the opposite of me, meaning blond hair and blue eyes. I received some pictures of Nick and I thought he was handsome and perfect for the job. As I contacted him, it was obvious we would get along although the modeling didn't go through. Afterward, we kept talking and got to know each other. After a couple of weeks of chatting, we decided to meet.
N: It was unexpected that such a handsome man like Andres just appeared in my DMs. I didn't believe he was real at first, but after some chatting and calls, I was hooked and wanted to meet up. We changed a lot in these past years, we got to know each other better, during good and bad moments. We went through a lot, but I wouldn't say we have a common relationship. After almost three years of relationship, we were able to establish a strong bond allowing us to grow together. We still have a lot to figure out, but we are positive we will find a common ground. We are in a good place, still looking for the better in each other.
You don't live together yet, right? How do you keep your bond and your relationship strong while living apart?
At first, it felt right to see each other only during weekends as it was new. We wanted to take things slow before being totally committed to each other. When we made our relationship official, we agreed on being open to conversation and taking the time to communicate. It's important to talk on a daily basis and share all kinds of information from each other's day. You need to include your partner in everything you do, or at least make him aware of your doings. At first, that wasn't well established, which created some tension between us, but we are on the same page now, which makes it pleasant. Seeing each other only during weekends makes the reunion intense and memorable as we miss each other. In the beginning, we were seeking the right balance to make each other happy and feel loved, while not being with each other. You get to know each other better and each other's needs, interests, values, and much more. As an individual, you always work to reach your goals and dreams. You want to grow and become the better version of yourself. There is nothing more beautiful than seeing your other half grow and love itself. Communication is truly key and feeling valued in what you do or say. It's a simple thing like a call, a simple "I miss you", "I love you", or "Are you ok?". Life goes by quickly, don't let time slip through your fingers. We have our own schedules and social lives. It's important to put your thoughts in words and always express your feelings towards each other. Unsaid thoughts have no value as you're the only one aware of them. Luckily, when you find your other half, all these things happen naturally as love will always end up bringing out your true feelings.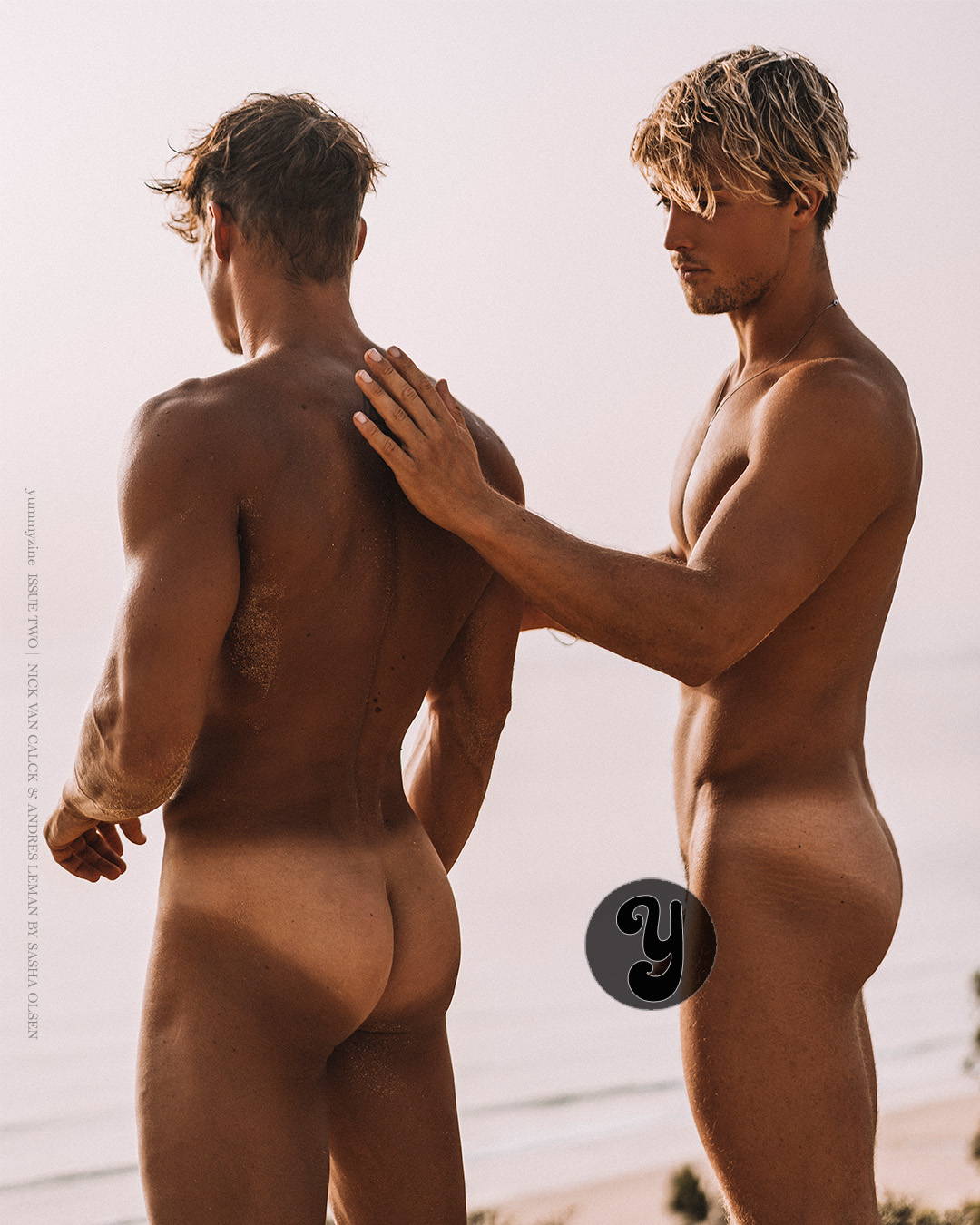 You say you love traveling, working out, and raving/techno. How's your day in your life with all these interests? Do you travel often?
N: Before starting my first job, I got the chance to travel a lot, especially with my parents. I had the opportunity to study abroad – I spent 1 year in California, 4 months in Bali, and 5 months in Spain – which developed, even more, my passion for traveling. My workplace allows me to work remotely, which gives me the chance to spend some weeks or weekends abroad even when I can't take days off. I think being able to combine work and leisure is something to cherish. I enjoy every moment of it. Daily, I try to go to the gym in the morning or at lunch as the gyms are crowded in the afternoon. My workplace offers pilates and yoga courses during lunch, and I try to participate as often as possible. I also play squash once a week. As you can tell, I have an active and healthy lifestyle, which requires a lot of sleep. We go to raves once or twice a month, not more as it is intense for our bodies.  
A: Growing up in a big family, traveling was not a priority for my parents. We were super happy to go to the seaside or even enjoy a simple activity in a park. We had our joy and occupation in our family. Of course, we had little trips to other countries, and it was always an entertaining adventure. Once I turned 19, I volunteered to go live for two years in Montreal, Canada. While helping people over there, I focused on learning English and Chinese Mandarin. It helped me to become independent and shape my own wants to do the things I desire. You would be surprised how many life lessons you learn by just listening and looking around you. I had the privilege to get to know other cultures and people's values. As Montreal is international and full of students, it was very exciting. I even started my gym journey over there. I saw so many gyms and fit people I just wanted to become the fittest of them all. I can reflect on the best two years of my life in becoming the person I am today. which I am so grateful for. After that, I started a full-time job as a landscaper. I started studying landscape design as well. I kept my gym routine to a minimum of 4 times a week, swimming, squash, tennis… pretty much any sport. Being competitive is also one of the reasons Nick and I are a good match. We push each other to become stronger, and better, and be accountable to one another. Gym life is a rollercoaster of emotions. You go through ups and downs; dedication and consistency are the keys to success. In the end, we keep doing it for the endorphins we relieve and make us feel good about ourselves. I do like a good rave/techno party here and there or festivals. As I got to know Nick, he opened my eyes to travel more and the fact you can travel on a budget. If we have a long weekend or so, there is a big chance we are somewhere enjoying/discovering a new place.
Which are your secrets to being as gorgeous as you both are?
That's sweet of you to say, Adrian! First, we can thank our parents for making us who we are.
A: First, I need to thank my parents for their genes and the fact they taught us to take care of our bodies. I think it is very important to take care of yourself daily. However, accepting your body and the way you look is just as important. Nobody is more attractive than a happy and confident person who takes care of themselves. Although I have my "healthy lifestyle", sport, food, skin routine, and style, it will always be an adventure to discover who I'll become. You should make the changes to make you feel confident and comfortable at the same time.
N: My parents have great metabolism and genes. Sports and healthy food have always been part of my life, which helps me to take care of my body. We don't decide what we look like, but we can shape and define our style. Hair, clothing, and accessories make a good contribution to how we look. If you don't like how you look, keep searching until you feel comfortable in your skin.  
This shoot you have done for Yummy was done while you were traveling around the coast of Portugal in your red camper van when you met Sasha Olsen. How did that happen?
N: Sasha and I lived in Bali at the same time, and we met each other over there. We lost track of each other over the years but as we have a friend in common, we noticed each other again through social media. As I'm interested in photography and the male body, I started to follow his work on Instagram. He followed me back and we talked for a little about a photoshoot for a certain magazine. As we live in different countries, it was complicated to find a moment to make it happen. During our trip to Portugal, Sasha contacted me to plan a photoshoot as he was in the country. When we got back to Lisbon, we planned that amazing photoshoot. It was a pleasure and an honor to be part of it, especially as a couple.
A: To me, this was a total surprise. I did see the magazine on Instagram, and I saw some models having content with Yummyzine. Nick talked to me about the opportunity and how coincidentally everything suited the time, schedule, and place. I saw Sasha's work and I was very impressed by it. The fact we could model together as a couple was just as nice and convincing for me to accept this opportunity.
In fact, your shoot was the first time ever Yummy photographed a real-life couple. Was this your first experience shooting fully naked and together? How was the experience between you two during the shoot?  
N: It is such an honor to pose as a couple. We had the opportunity to shoot together, always with clothes on. This is our first naked shoot, solo as in a duo. We are not used to posing fully naked, so it was a challenge. Feeling comfortable fully naked in front of someone who photographs you can be intimidating, especially knowing others will see the result. What convinced us? Sasha's beautiful work. The quality of the pictures in Yummyzine seemed to be a perfect first experience.
A: Portugal was actually a very good preparation to be comfortable with yourself and the fact you can be naked on many beaches. A lot of people don't mind being naked over here to tan and enjoy the ocean. Yes, it was my first experience, and I am happy I did it. The shoot itself was just exciting and a bit crazy. We laughed and had fun doing this together. It just proves that our connection and relationship are unique.
I saw your lovely images at a beautiful beach in which your connection as a couple is palpable and really sexy. Which do you think are the key factors of a successful and passionate relationship?
N: The advantage of being in a relationship for a photo shoot is that we can be ourselves. We didn't need to act or pretend; we were like we usually are. We are very playful and silly and we can be childish together. The key factors for a healthy relationship are honesty, communication, humor, respect, and open-mindedness. Life is too short to be serious all the time. Self-deprecation and teasing each other keep our relationship amusing.
A: I think we are lucky to have found each other. We connected on so many levels it was so confronting and exciting. At first, I thought he was a very attractive and handsome man. There was something about him I couldn't place, and I was intrigued to know him better. After that, I got to know him better and agreed with his values. It's a true blessing to have such a person in your life. You need to stand by each other in everything. By this I mean: do stupid things together, laugh, have serious talks, be mad at each other, cry… Allow yourself to feel what you feel and share those feelings with one another. Be open-minded and willing to change for the better, and keep in mind you should never take the other one for granted!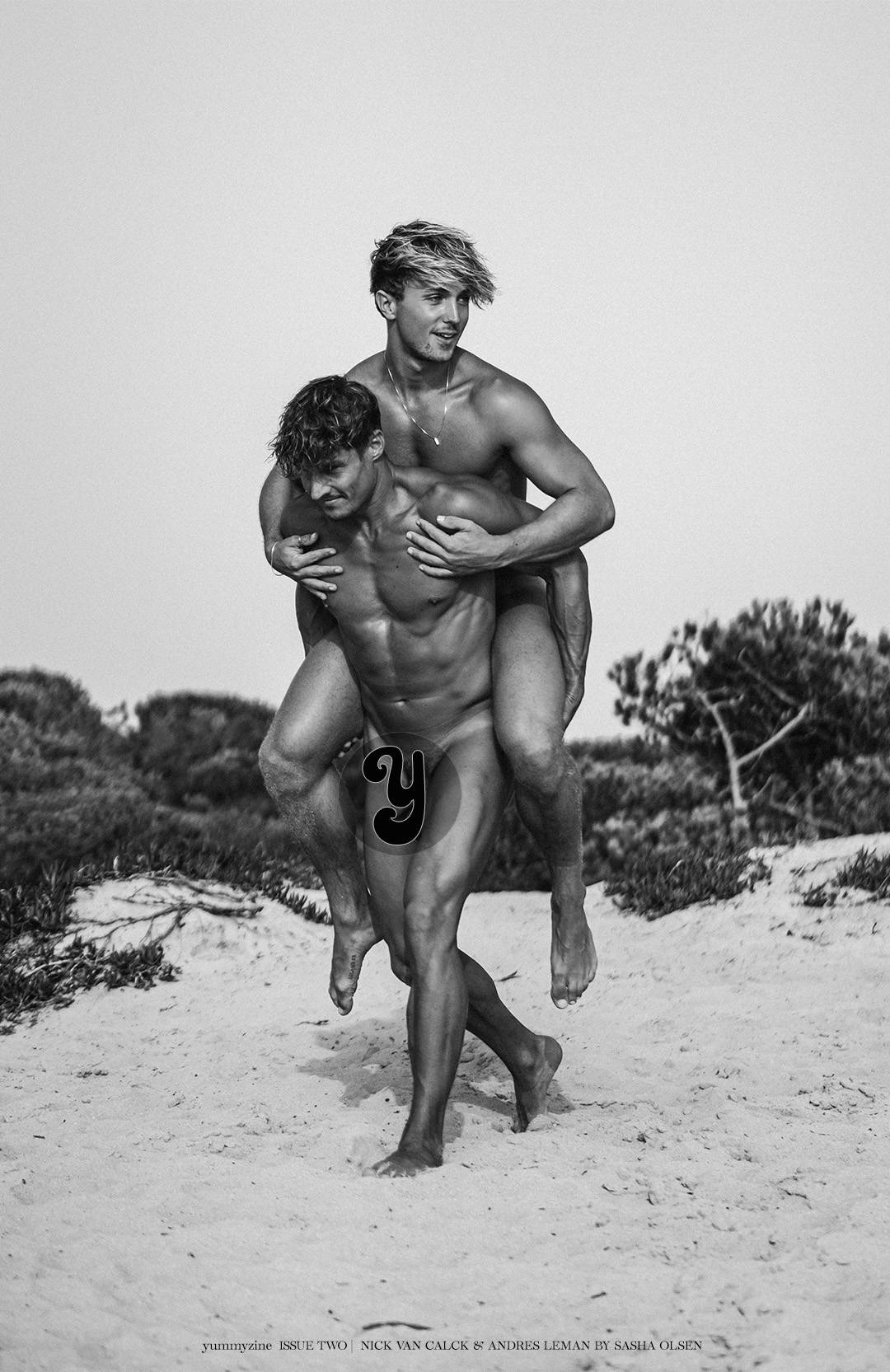 Could you name the feature you like the most about each other? What made you fall in love with each other and what keeps you both connected?
N: How could I only name one feature, did you look at him? He has been sculpted by the gods. At first glance, if I remember correctly, his eyes caught my attention. The greenish color and the depth of his look convinced my heart. From the moment he cares about someone, he will do anything for that person. This feeling of importance and safety makes you feel desired. I'm so happy to be able to say I feel at home with him, wherever we are. We still invest a lot of time in each other by working on keeping the spark alive. I must say, his arms are the part of his body I adore. When we walk side by side, I mostly hold his bicep instead of his hand haha. It feels comfortable and safe. The same thing when we hug, it's so calming to feel large arms around you.
A: Where do I even begin? Honestly, there are so many things I can mention. At first, I thought he was so attractive in every single way. His eyes, his fit body, from the way he talks to the way he acts. Even now, when I see him, he still does something to me. Nick really shows his affection by holding hands, small kisses, and a little touch, and that makes you feel so loved. His body is amazing and as I like a good chest, well… he has one. I like holding his body and having my arms around his chest. In my opinion, falling in love is one of the most beautiful things a person can experience. It comes along with insecurities and vulnerability, that's the beauty of it. Those emotions are so pure and not everyone deserves to see that side of you. When I look at him, the only thing I can see is adventure, excitement, walking hand in hand, and handling life together. I choose him every single day and I act upon that. Don't get bored with each other and discover things together.
From your point of view, which would you say are the most attractive features of men?
N: In general, I love a muscular body. I have been shaping mine for 8 years now. Aesthetically, a well-trained body is attractive but the discipline and commitment behind it make it even more attractive. The lines and definition are so intriguing, the human body is full of different features. From my point of view, face-wise, a beautiful smile is attractive. Humor matters a lot to me, so a beautiful smile must come with it. Body-wise, a well-shaped chest and glutes are very appealing. Naked or fully dressed, both are eye-catching. Another important feature is the voice.
A: I think the human body in general is an amazing art form. Never the same and yet all beautiful in their own way. It is just amazing how we can form our bodies in the way we want them to be sculpted. Not saying that we can change everything, but we can achieve many things with our bodies. I love a muscular body with definition, from a good V line to a good chest.
I want to spice up the conversation a little bit by asking you a couple of yummy questions. First, what comes to your mind when you think about the word yummy?
N: Well. When I look at Andres, I think yummy. I want to do yummy things to him if you know what I mean. Undressing, grabbing, touching, smelling, feeling, tasting… you want it all when you love someone.
A: Yummy means everything that is appealing to you or even attracts you. No matter where you are, be yummy to your yummy!
As a couple, how important is sex in your relationship? What do you do to keep the fun and excitement?
N: The advantage of dating someone for a long time is to know what the other one likes. With the years, you know where to go to please the other one. What matters to keep the excitement is the way you get there. Don't always rush to reach the orgasm, although a quick one can happen. Take the time to tease each other, to make the other one desire you. Don't skip the foreplay and the cuddles. It's important to build up and to keep surprising each other. Plus, don't hesitate to try something new occasionally.
A: Sex is an important aspect of a relationship. There is nothing purer than to connect with your partner sexually. Sex doesn't have to be boring or taken too seriously, just live the moment. Good sex comes from both sides. When you desire, you want to be desired. From soft kisses to licking to wild sex, the initiative is so important to discover each other and never hold back.  
What do you enjoy doing the most in bed? Name your favorite games, positions, or anything you enjoy doing. Do you enjoy having fun all around the house and other places perhaps?
N: From soft to hard, from vanilla to chocolate sex, every situation is different, and every moment should be unique. The mood we are in depends on a lot of the kind of sex we will have. A rough session making the other one moan and sweat can end with soft cuddles. Using a massage candle to initiate the session is always a good idea. Choking and making the other one begging for more will take you to a different kind of high. The empty Portuguese beaches were a great place to explore some outdoor sex, as well as being in a van for two weeks.
A: I like to be pleased and desired in bed. Sex should never be the same and you should work for it to keep it that way. Changing positions, and trying new stuff, it's all part of it. A big yes for having sex anywhere; in the car, going out, kitchen, garden, and wherever you want. It makes it extra exciting for each other. I love to kiss and receive kisses. From showering together to massages to teasing one another.
Do you have any turn-ons, kinks, or fantasies? If so, could you name a few?
N: The best way to get me turned on is with some good kissing and foreplay. Being blindfolded while getting a massage will wake up my senses. Whispering in my ears will make my whole body tingle.
A: Someone who wears a good cologne is such a turn-on. We all know that good foreplay is the key to amazing sex. Giving attention in all senses will lift the lust and desire within you. From kisses on the neck to a hard grab and whispering words are all things I can appreciate.
Which has been the best experience you've lived together?
N: If I could only remember one moment, I'd pick one that happened during one of our trips. We went hiking in the Pyrenees with our tents on our backs and decided to spend the night in the mountains. We went to bed with a clear blue sky, it was such a quiet evening. To enjoy and relax fully, we smoked a little before going to bed. A little later, a storm started. The rain and wind were so strong we thought we wouldn't make it through the night. The adrenaline made us start making out and it turned into a wild night. We were lucky enough that the storm calmed down and our tent was intact. This is one of the reasons I'm all for adventures. Nature will awaken feelings you will hardly get at home.
A: We were in the south of France and there was a big hailstorm. Trees were falling on the road. The hail pieces were so big, I was scared it would damage the roof of my car. We couldn't take the roads we were supposed to take. This made the trip to our Airbnb a lot more intense. At one point we had to step out of the car to help a girl out. She was stuck because a branch made the road unavailable. We moved the branch while the rain, hail, and lightning were striking. Luckily it didn't last too long, and we were safe and sound at the Airbnb. This is the kind of adrenaline you envy repeatedly.

To conclude, which are your future plans as a couple? Do you have any shared goals or life plans?  
N: As we still live 120km away from each other, we are figuring out a place to live together. Our workplaces are on opposite sides of the country, which doesn't make it easy. I think we still need to figure out where and what the ideal future will look like. I know for sure traveling and staying active will be part of our future. Career-wise, we might make a change, we are thinking about it. To be confirmed, soon or later.  
A: At this point, we are seeking to find a middle point to live together. As mentioned, we do live far from each other, which also means that there is a big chance I will change my job. We both have the desire to keep discovering the world and new things. Live in the moment and make the best memories to treasure in your heart.
Photographed by Sasha Olsen exclusively for Yummyzine Issue 2
Interview by Adrian Gomis Exposito (AGE)