Born in Newcastle and spending his high school years living on a farm in Cumbria, Kevin McDaid has always been a dreamer. He moved to London at the age of 18 to become a pop star becoming a member of the boy band V. Inspired by the work of David Lachappelle, McDaid's passion for photography began once his boy band era was over, getting to photograph pop stars instead of being one. Modeling and coaching came after, making him a really multidisciplinary man with a lot of talents. Kevin McDaid talks with Yummy about his passions, his various pathways, and how he loves the feeling of freedom when being naked at the beach.

Photo story by Bartek Szmigulski interviewed by Adrian Gomis Exposito
The images is cropped/ made safe for online purposes, full images available inside Yummy Issue Six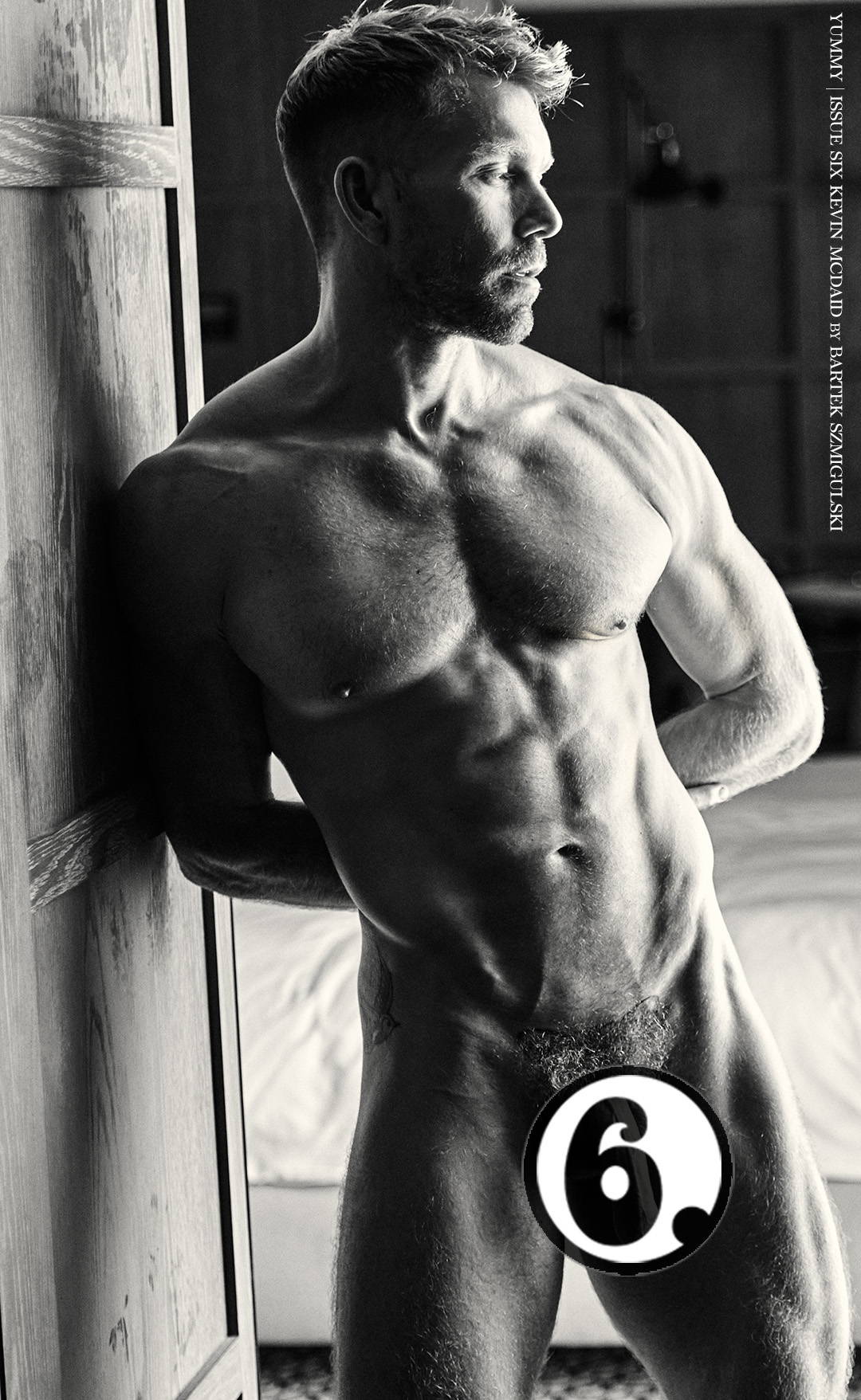 Hi Kevin, it's a pleasure meeting you! How are you feeling? Could you tell us about yourself to break the ice?
Well, it's lush to meet you too. I'm feeling full of hope right now. I'm excited about the possibilities of my future. Life is offering me so many great things and I'm feeling confident enough to explore them all.
You were born in Newcastle but spent your high school years living on a farm in Cumbria. How's the farming lifestyle and how did it shape you? Do you think it made you into the person you are today?
I wish I had appreciated how incredible that really was, to be living amongst fields, rivers, and wildlife every day and everything it had to offer. The highlight for me was definitely being surrounded by so many animals and learning how to nurture them, that is definitely something I took with me into adult life.
Not only that, but then you moved to London at the age of 18 for a very interesting reason. How was that change from living on a farm to a big city? How did you feel?
I was ready to explode. The bright lights of London were always calling. I used to watch Eurotrash and I wanted to experience everything I possibly could. I always say, try everything twice.
You moved to London at 18 because you were part of a boy band called V with a few top-10 hits. Tell us about how you made it into music and into this boy band, the experience you had, and more about this, please.
I was a dreamer growing up. I wanted to escape the life I was in. Home and school weren't always the happiest places for me and so watching these pop stars on TV transported me to a different world. I wanted that! And part of me deep down knew I could do it. So I did. I'm proud that I get to say I performed on the Top of the Pops, the very show that started that fantasy for me.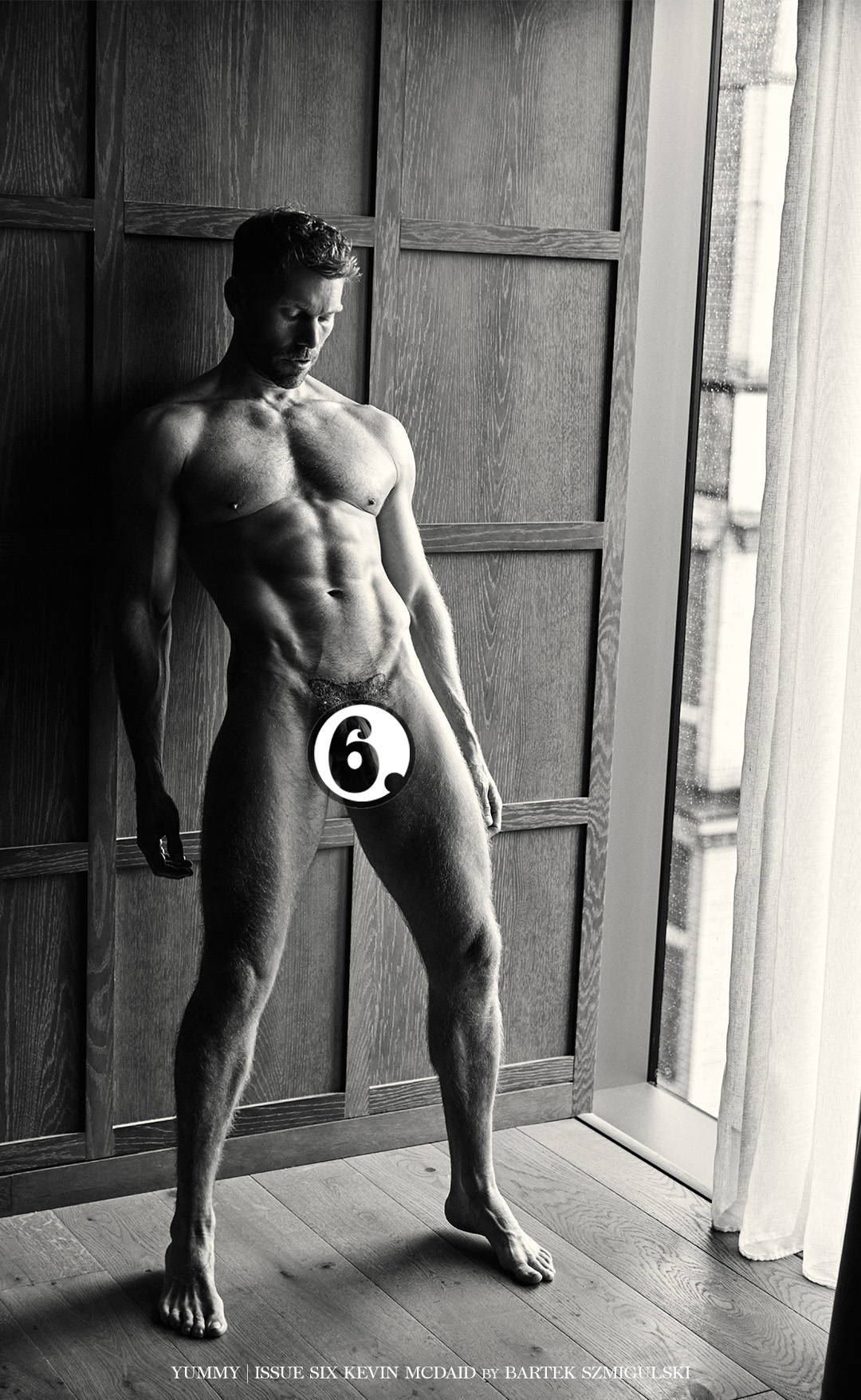 Once you left that boy band era behind, did you keep going with your music career? How did you become a celebrity portrait photographer?
I was so jaded at 21 years old from being dropped by my label. It took the joy out of singing for me. Shit got real but I was still a dreamer. I would look through photographs of David Lachappelle and my new fantasy began. I wanted to be part of creating something beautiful and flawless. Instead of being a pop star, I was photographing them.
It seems like you've done it all. Why did you decide to become a model after your experience in music and photography? How did you get into the modeling industry and what motivated you?
Ultimately, I'm an exhibitionist but there's a duplicity that comes with that because I can also be crippled by insecurity. I've always enjoyed creating imagery and so being in front of the camera was also part of that. I just love the environment of photoshoots and all that comes with them.
You're also a coach and a plant lover. What else can Kevin McDaid do? Tell us about your passions.
Yes, being a plant lover is an understatement, [more like] borderline obsession although the only thing stopping me from buying more is I don't have space. I love to cook, and I love to eat too so I guess that's probably what started that. I have so much energy and passion for so many things. I don't sit still for long.
How was your shooting with Bartek Szmigulski for Yummy Issue Six? Did you enjoy the experience? The images came out beautifully, so I guess you might have enjoyed it!
Thank you for saying that. I think Bartek is a fantastic photographer. He knows exactly how to shoot guys beautifully. He's got a kind and energetic energy and I think we were a good team.
I'd like to ask you a couple of yummy questions now. First off, what does the word yummy mean to you?
Something naughty. Something exciting. Something fun.
You say you don't like tan lines, so you spend as much time naked on the beach as possible. Are you a big fan of nudity? How does it make you feel and how much do you enjoy being naked?
Being naked is my most comfortable state, not because my body has anything to do with it. It's freeing. I love to be naked at the beach, it's liberating. I feel free and at my happiest.
Your body seems to be sculpted by the gods. When you're naked at the beach or just going on a normal day walking down the street, do you draw people's attention or receive any compliments? Maybe via social media and DMs?
That's kind of you to say. I'm more and more comfortable in my own skin the older I get. Everyone loves a compliment but the way I feel now is that I want to be able to compliment myself. I've never been very good at that but I definitely get some interesting things sent to my DMs.
Lastly, with all we've talked about, what else is in store for Kevin? What do you see yourself doing in the future and how do you hope to be in a few years, both personally and professionally? 
The most exciting thing is about to happen to me. I'm about to open a plant shop in Clapham. It's called Jekyll + Wild and it will be opening really soon. I'm going to spend my days surrounded by things I love. I'm excited to take this leap of faith. My next chapter begins. You'll have to come and see me!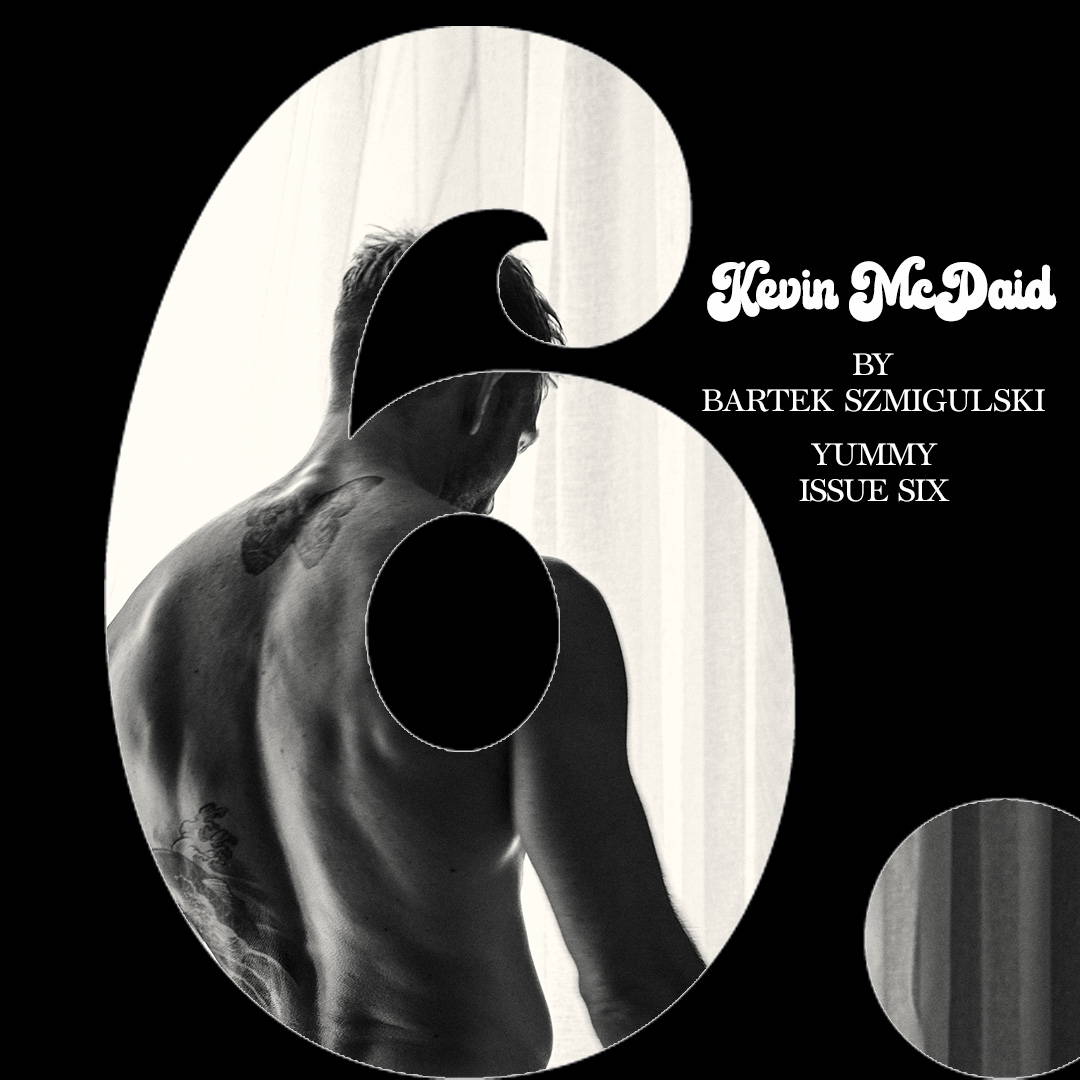 Photographed by Bartek Szmigulski exclusively for Yummy Issue Six

Interview by Adrian Gomis Exposito (AGE)