In this exclusive interview, we delve into the fascinating world of Felix R., a multifaceted individual, currently working as a teacher, whose life is a captivating blend of art, aesthetics, and personal exploration. Felix, who shot a wonderful story with Sasha Olsen for Yummyzine 5, opens up about his journey from the picturesque landscapes of Bavaria to the allure of international travel. He candidly discusses his passions, inspirations, and dreams, providing an intimate glimpse into his life and the philosophies that drive him. Join us as we explore the mind and experiences of Felix, a true connoisseur of life's delights, while we also get the chance to jump into his yummy and sexiest side.

The images are cropped/ made safe for online purposes, full images available inside Yummyzine Issue Three

Photo story by

Sasha Olsen, interview by Adrian Gomis Exposito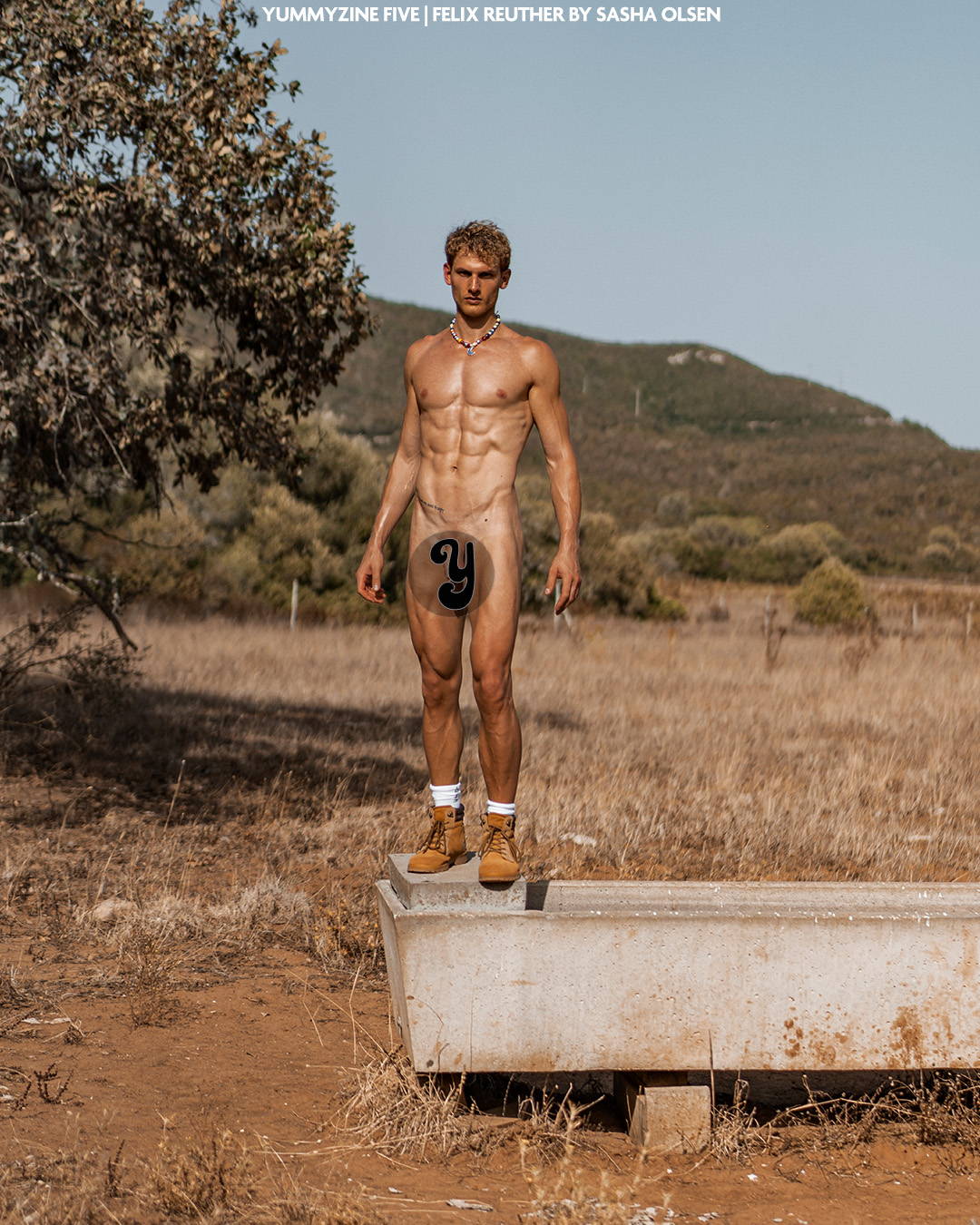 ADRIAN GOMIS EXPOSITO. Hi Felix! How amazing it is to chat with you! How are you?
FELIX R.
Hey! Yeah, communication these days is more important than ever – especially about the interesting things in life. Well, the new school year has started, so there is a lot to prepare. But I'm good. Actually, we still have summer in Germany so I'm enjoying the fabulous weather to get the best tan on my body!
A.G.E. Can you tell us more about your background and your upbringing? What do you enjoy the most about your hometown and what brings back good childhood memories for you? 
F.R.
I was born in the south of Germany in the state of "Bavaria." I have a twin sister and a cute little Pomeranian called Kylo. I was pretty bad at school. When I was about 19, I changed my attitude and went back to school to get the qualification for university. Afterwards, I worked as an au pair in Marseille because I love the French language, and then I studied to become a teacher in Augsburg. I finished in 2021 and now I work as a teacher. I love the lakes and mountains in Bavaria. I spent my childhood mostly on soccer fields because I loved playing soccer. I wanted to be as good as Oliver Kahn or Manuel Neuer - they were my role models when I was young. When I was 25, I stopped playing soccer because I wanted to discover the world's diversity and the male aesthetics, especially of my own body.
A.G.E. You mentioned being interested in male aesthetics and regarded it as your contribution to art. What do you mean by this? Can you tell us more about this topic and why you like it?

F.R.
Well, when I was young, I only cared about playing football. As I got older, I discovered the beauty of Greek gods and statues. I was fascinated while reading about the literature from that old time, so I was captivated by the beauty of human bodies combined with literature. I wanted to achieve the same physique, so I was highly motivated to look like a Greek statue. I love the aesthetics of bodies. It's fascinating that our bodies can be shaped so distinctly. For me, art and aesthetics are always part of literature because reading can help your mind get a clear vision of what you can see. This topic is a vast field and I'm even more obsessed the more I think about it.
A.G.E. Living in Bavaria, known for its natural beauty and culture, I wonder, how has your environment influenced your creative work and personal interests?

F.R.
My parents showed me the beauty of nature and how to treat the environment. It all comes back to you; if you are friendly to your environment, the environment will be friendly to you. I'm thankful for that education, but my journey into creative work in nudity and aesthetics was self-discovered. I think that's an important point: You have to discover things by yourself. By doing this, you can have a free mind to find what you love or don't. Your parents may help you but, in the end, you're responsible for yourself and that's the point.
A.G.E. You mentioned that you stopped playing soccer to focus on aesthetics and fitness. What fitness routine do you follow and how has it become a significant part of your life? What's your favourite part of fitness?

F.R.
There's no secret to fitness. I do intermittent fasting to maintain a healthy body. I regularly go to the gym after school (4-5 times maximum; rest days are crucial for building muscles), and I try to eat clean. That means I always combine carbs with proteins, veggies, and fat. Every body works differently so you need to try what works best for your body. I can eat carbs a lot without gaining weight, but other people gain too much when eating carbs. That's just the beauty of nature because everyone is different. Otherwise, it would be pretty boring on Earth.
A.G.E. As a teacher, how do you incorporate your passion for aesthetics and sports into your work with students? Are there any specific projects or activities you've introduced to inspire them?

F.R.
I'm a role model every single day when I stand in front of the students. They ask me about nutrition and I give them an honest answer. Of course, they can eat sweets and junk food; I also used to eat them when I was young. But I tell them that they have to know what's inside. Then, you have to decide for yourself what to eat. Of course, I try to inspire them during classes. In sports classes, it's very important to move. It doesn't matter which activities, but they have to enjoy moving and running around. That can be easily achieved with little games.
A.G.E. Travelling seems to be another one of your interests. Can you share some of your favourite travel destinations and how these experiences have shaped your perspective on life?

F.R.
There is a huge difference between travelling and going on vacations. Travelling is part of my personality. You can gain experiences and grow while doing it because you step out of your comfort zone, meet new people, encounter new mindsets, and immerse yourself in different cultures. That enriches your soul and changes your perspective on life. For me, every trip is valuable. It's an opportunity to learn and discover. I love Lisbon because Sasha lives there, and I'm thankful that he gave me the chance to explore the beauty of this city. I also love Marseille because I lived there for a year. I adore the Mediterranean Sea and the way of life in the south of France. Greece is also a wonderful country with beautiful islands like Mykonos or Santorini. In general, I love Europe because there are so many different places and cultures in close proximity. As for the future, I'd love to visit the United States and Bali. Those are on my list.
A.G.E. The story you created with Sasha Olsen for Yummyzine 5 is stunning, hiking naked through the mountains. What was this experience like for you? Was this your first time shooting fully naked?

F.R.
It wasn't the first time I had been photographed naked. During my student years I worked as a nude model at university. However, this experience was unique because I had never hiked naked before. Sasha gave me the opportunity to do that while capturing some shots of me. It was incredible because we both discovered this beautiful place on Earth with a breathtaking view of Portugal's landscape.
A.G.E. The risk of getting caught usually serves as a way of experiencing funny anecdotes. Did something funny happen during the shoot or behind the scenes?
F.R. Well, on our way back down to the car, we got kind of lost. We couldn't find the same way we climbed up, so we felt kind of dumb. There was so much underbrush, which was super itchy on my naked body, haha.
A.G.E. What's the definition of the word "yummy" for you?
F.R. To be honest, and maybe a little bit innocent, for me, it means just delicious food, tasty food. In another way, it's also sexy to say. In more provocative thoughts, someone else can be "yummy" in a way of being sexy.
A.G.E. Let's spice up the conversation. Talking about getting caught, have you ever gotten caught naked or in the middle of something? Tell us about any crazy experience.
F.R. Well, I got caught while having sex at the cliffs. For me, it's super funny to see people's reactions. In that case, I thought I was alone with my girl, so I didn't expect to see someone else. It made the situation even more amusing!
A.G.E. Do you have any fantasies? What turns you on?
F.R. I like having sex in clubs in front of other people. It also turns me on to see people having sex beside me.
A.G.E. How important is sex to you? And, from your point of view, what makes sex a mind-blowing experience?
F.R. Sex is a way of expression, and it's essential for human connection. It doesn't mean the world to me, but it's a significant part of life. During sex, you can express feelings, thoughts, and fantasies, so it's a powerful way to free your mind and connect with someone on a deeper level.
A.G.E. Lastly, you mentioned having a dream of establishing your own luxury lingerie brand. What inspired this idea, and do you have any plans or steps you've already taken toward making it a reality? Tell us more about your dreams and hope for the future.
F.R.
To be honest, I don't want to work my whole life as a teacher. For the moment, it's fine but I'm looking for other possibilities. I don't want to be a role model every day, and the school system in Germany is not very modern so it's hard to make education more progressive. I have a friend who has already set up underwear brands and I want to collaborate with him. However, before I do that, I need to finish my second state examination to have the option to work as a teacher whenever I want. It's my personal safety net because teachers are in demand for the next few centuries. My hope for the future is that the war in Ukraine will stop. Humans have to work together, not against each other. Make love, not war.

If you are new to Yummy, all our upcoming photo books are bought on Waitlist, we collect orders together and then print the issue. We print Yummy twice a year. Summer and Winter.
The benefits of buying on the waitlist:
Secure your copy at a lower price

Secure your place in line, when shipping

The sooner you sign up, the faster your order comes once printed
Ships worldwide, be the first to see.
Packaging, is secure, heavy-duty, with NO branding on the outside. Specially designed to be low-key and discreet, but capable of shipping this super heavy, thick photobook.
YUMMYZINE ISSUE 5. GET ON THE WAITIST TODAY