In the pages of Yummyzine 5, we embark on a captivating journey with Tommy Laurens, a remarkable individual whose life story is as vibrant as the colours of a summer sunset. Photographed by the talented Robert Hookey, Tommy's interview reveals the intricacies of his life, from his childhood in the charming south of France to his current adventures in the vibrant city of Sydney. Along the way, we discover his passion for his work as a marketing manager for an alluring underwear brand, his advocacy for mental health through the Anxiety Free Podcast, and his love for French pastries, singing, and dancing. Join us as we delve into the depths of Tommy's experiences, aspirations, and what it truly means to be one of the Yummy Boys.
TOMMY LAURES by

Robert Hookey @rob.pers, interview by Adrian Gomis Exposito @adriange_
The images are cropped/ made safe for online purposes, full images available inside Yummyzine Issue Five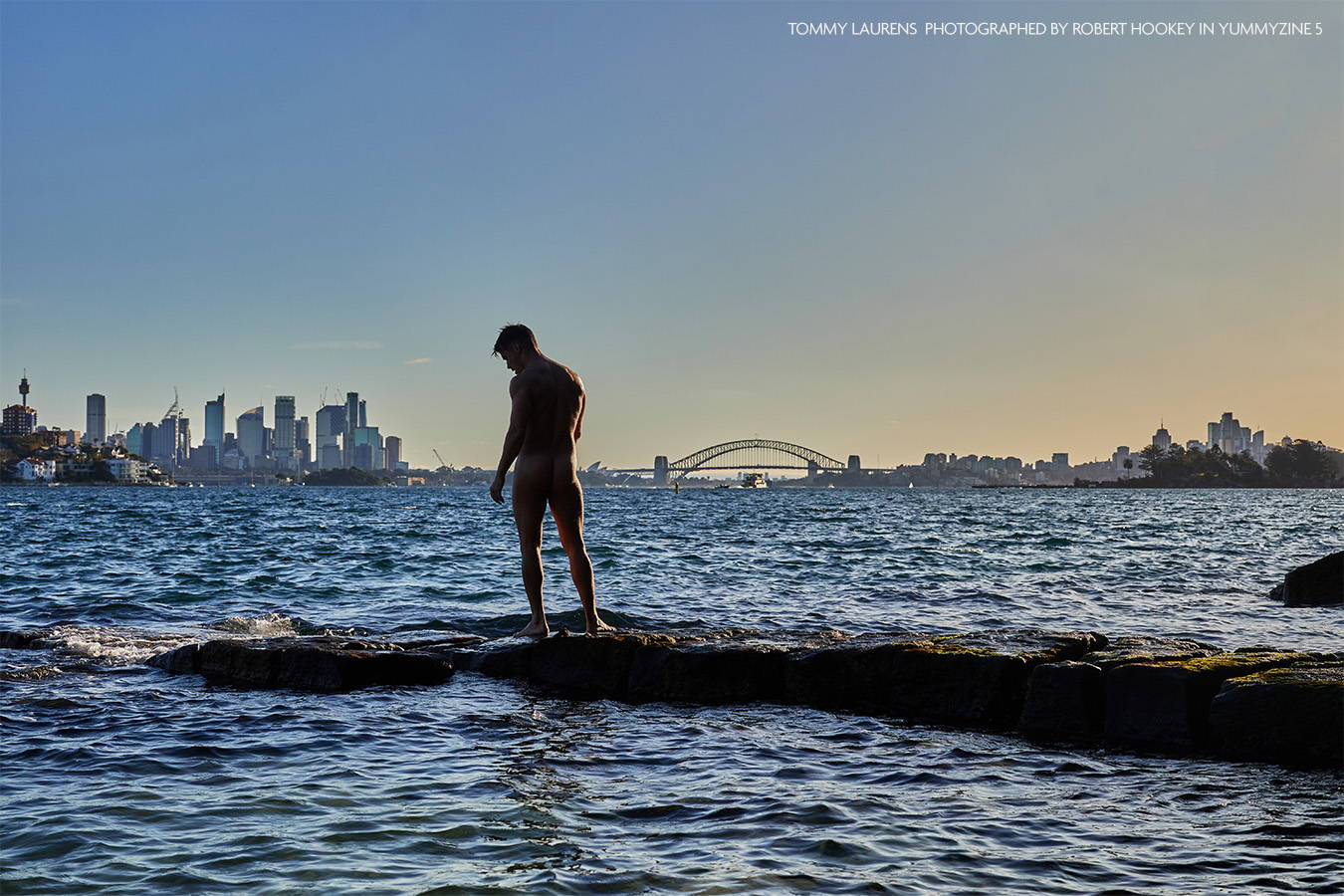 ADRIAN GOMIS EXPOSITO. Hi Tommy! We're really happy to have you in Yummyzine 5. How are you? Are you excited about this project?
TOMMY LAURENS. G'day Yummy! I'm very well. It already smells like summer in Sydney – definitely the best time of the year for me. Yummy is a magazine I've been looking at for a long time now, so I'm very excited to be in it.
A.G.E.: Before diving into more details, I would like to start by getting to know you better. You were born and raised in the south of France, close to Marseille. What's your hometown like, and what childhood memories come to your mind when you think about it?
T.L.: I'd say my childhood was quite challenging: discovering my gay sexuality in a small country town, losing my mum, and changing cities were very stressful events. I wanted to quickly escape and be an adult. Now that I am one and have taken time to process everything, I am always very happy to go back there and enjoy the beauty of Provence! Even though I haven't lived there in more than 10 years, I still have a pretty strong Southern accent. But it's charming apparently!
A.G.E.: I'm sure you miss some bits of it as you're now living in Sydney. What's the thing you miss the most, and how hard or easy is it for you to be away from home?
T.L.: What I miss the most is the proximity of other European cities and the easy change of culture. When I lived in Paris, I would often go on long weekends somewhere. Being away from home has been very difficult during the pandemic, as I haven't been able to come back to France for 3 years. But you get used to being away from your family with time. Your friends become your family!
A.G.E.: You've now been living in Sydney for 4 years. What was the reason for you to move there? What is your life there like?
T.L.: My previous life in Paris was very stressful. The city is buzzing, and you can't get a rest from it. I had a lot of anxiety and I needed to be closer to nature and take care of myself. Sydney was ideal – I joined a friend there (who had left a few months later). I think I've never been as happy as I am right now, and that's definitely due to my life in Sydney. I walk to work, spend a lot of time outside, hiking, at the beach… There is no other place I'd rather live.
A.G.E.: Regarding your job, what's it like being a marketing manager for a really appealing underwear brand? What do you do there, and how much do you enjoy it?
T.L.: This job is a mix of everything I like. I studied marketing in France and Australia, I have been modelling since I was 18 (now 33), I'm very creative, and I love photography… Working with underwear models is also not that bad, haha. It's a very fun and interesting job. I love watching the company grow and seeing people wearing clothes I imagined.
A.G.E.: Another point I find interesting about you is that you mentioned struggling with anxiety and having started a podcast where you talk with specialists about the topic and other mental health topics. Could you tell us more about this initiative, what is it about, its main goals, and where can we listen to it?
T.L.: This is an initiative I started about a year ago. I have always shared my mental health issues on my socials. I was surprised to know that I was far from alone. So I wanted to open up the dialogue around this topic. There are a lot of podcasts and resources out there, but not many people are talking about their own struggles. My podcast is to give voice to these people; they are super vulnerable with me, and I love it – it's like a therapy session. You can listen to the Anxiety Free Podcast on every streaming platform!
A.G.E. It is lovely that you mentioned loving French pastries, singing, and dancing. Why do you love these things so much, and what other hobbies do you have?
T.L.: It's very hard not to love French pastries, don't you think? I'd love to stop being obsessed with them, haha! I actually sing a lot, but my voice is not nice at all. That's probably one of my next hobbies: learning to sing without my audience gritting their teeth.
A.G.E. Going back to Yummy, you posed for Robert Hookey for an incredible story for Yummyzine 5, which involved the ocean and stunning views. What was this experience like for you? How did you feel shooting naked, and what does it mean for you to be in Yummy?
T.L.: I wish it wasn't that cold (beginning of winter) and I wasn't sick on that day, haha. I am not very used to shooting naked, even though I have done it several times. Shooting with Rob was fun because we have a professional relationship (he shoots for the brand I work for). So, imagine being naked in front of your work partner, destabilizing! But I made sure I stayed focused on the result: being in Yummy!
A.G.E.: What does the word "yummy" mean to you? Does it have a different meaning after shooting for Yummyzine?
T.L.: Being one of the Yummy boys is definitely something I'm proud of. Yummy has always been related to pastries for me. I guess you can still find some cakes in the magazine as well!
A.G.E.: Now, I'd like to ask you a few spicy questions. We've seen you skinny-dipping in this lovely story. Do you do that often? Is nudity included in any part of your life?
T.L.: I don't, you are lucky to see me skinny-dipping! But I quite liked the experience with this beautiful view. The only time I'm naked it's in bed. I am not very used to it, I'm more comfortable in underwear!
A.G.E.: Would you consider yourself a passionate person? What relevance do you give to sex?
T.L.: I enjoy sex, like everyone else, but it's not the most important thing to me. I'm more of a cuddler; I adore cuddling, and I consider myself too down-to-earth to be extremely passionate. I know this might not sound very romantic all of a sudden.
A.G.E.: Seeing your stunning physique I wonder how you keep looking so hot. What would you say is the key to looking hot and sexy? Do you have any tricks?
T.L.: Thank you! I spend a lot of time at the gym. I recently joined a group training gym where you train in the dark with loud music. I'm obsessed with the concept, and I can see my body changing rapidly. I'm also counting the calories I'm eating. Having an athletic physique is enjoyable but not always fun!
A.G.E.: What turns you on? Do you have any fantasies?
T.L.: Gyms turn me on, I always imagine naughty things but I have never experienced anything like that before. Straight boys are one of my fantasies: I'd love to be the first gay sex experience a straight man has or even a kiss. I am still waiting to this day for it to happen haha!
A.G.E.: Lastly, I'm sure you have many ambitions in life. What's next for Tommy? What do you expect from the future?
T.L.: I am currently preparing a trip to South America for January and February. I have been waiting for many years to do it, and I will be there with friends from Europe, Sydney, and my family! So, I'm very excited about it. I would love to have my own business at some point, ensuring I can keep travelling the world and working from pretty much anywhere. Oh, and maybe I'll become a great singer – but don't have high expectations for this!

If you are new to Yummy, all our upcoming photo books are bought on Waitlist, we collect orders together and then print the issue. We print Yummy twice a year. Summer and Winter.
The benefits of buying on the waitlist:
Secure your copy at a lower price

Secure your place in line, when shipping

The sooner you sign up, the faster your order comes once printed
Ships worldwide, be the first to see.
Packaging, is secure, heavy-duty, with NO branding on the outside. Specially designed to be low-key and discreet, but capable of shipping this super heavy, thick photobook.
YUMMYZINE ISSUE 5. GET ON THE WAITIST TODAY