In the modelling industry, some individuals stand out not just for their striking looks but also for their unique journeys and remarkable stories. Fernando Skinner, a proud Carioca hailing from the vibrant city of Rio de Janeiro, Brazil, is one such personality. His captivating journey from a young, self-doubting teenager to a globetrotting model has taken him to exciting destinations, both geographically and personally. In this exclusive interview with Yummy, we delve into Fernando Skinner's life, exploring his early years in Rio, his unexpected entry into the world of modelling, and his fascinating experiences across the globe, offering insights into the life, dreams, and adventures of a model who not only graces the world's runways but also finds solace and inspiration in the simple pleasures of life while providing valuable advice for aspiring models. We also dive into his yummy side and the relevance hi gives to sex and other fantasies.
The images are cropped/ made safe for online purposes, full images available inside Yummy Issue 7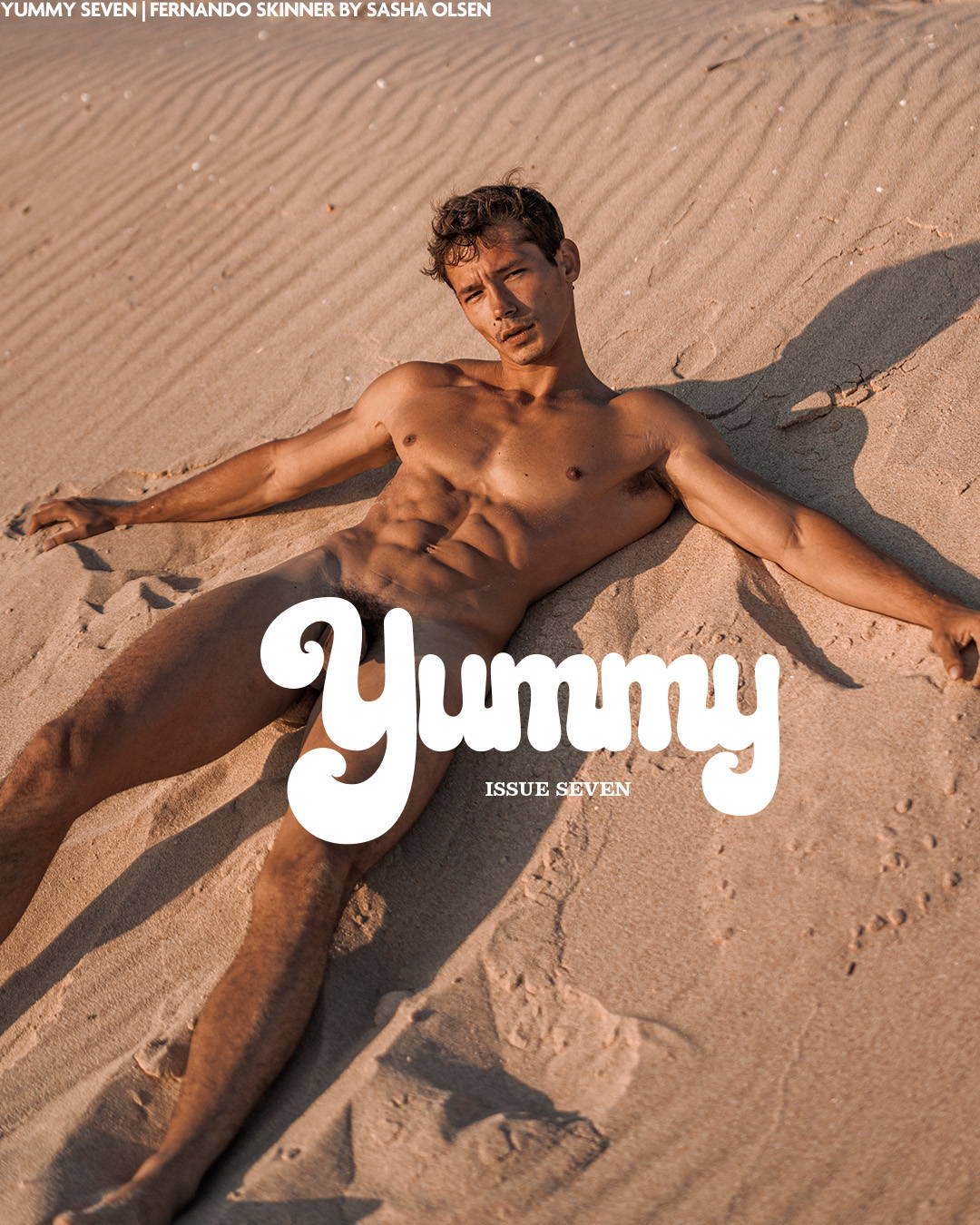 Photo story by Sasha Olsen
ADRIAN GOMIS EXPOSITO. Hi Fernando! We're so happy to have you here! To start off, could you share with us how it was being raised in Rio de Janeiro, Brazil? What do you love about your hometown?
FERNANDO SKINNER. Hey, it's an honour being a part of it! I'm a really proud Carioca. For me, Rio is a perfect mix of culture and nature. Great people, music, and weather.
A.G.E. You started your modelling career at a very young age. Can you share with us your journey into this industry, from your start at 17 to your first modelling trip in the Philippines at 19? What inspired you to pursue a career in modelling in the first place?
F.S. To be honest, I never thought of the possibility of being a model. I had low self-esteem and problems with bullies. I was scouted at a mall, gave it a chance, and after my first job, I realized that this is what I wanted for my life, and I haven't stopped since.
A.G.E. Traveling to over 12 countries due to your modelling career must have been an incredible experience. Could you tell us about some of the most memorable moments or cultural understandings you've gained from your time in Asia and other countries?
F.S. Traveling to places like China and Thailand was a life-changing experience. Every time you go outside to do simple chores, it's an adventure. The language barrier is tough, but after a while, you learn how to understand each other. Eating most times is a mystery.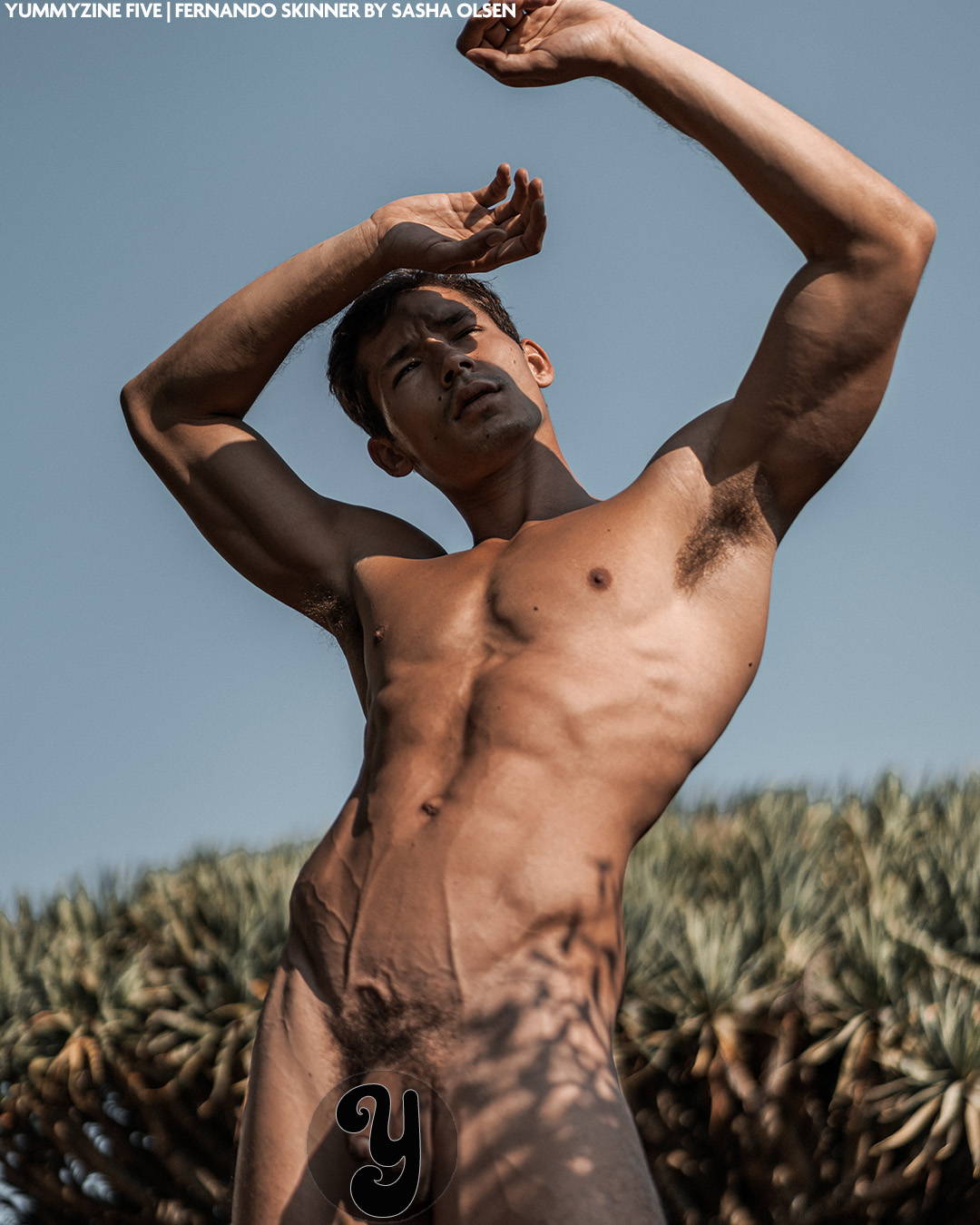 A.G.E. It's clear that you're passionate about your modelling career. Could you elaborate on your aspirations for the future? What kind of big campaigns and projects do you envision for yourself on a global scale?
F.S. I've got no plans on stopping, and every model dreams about a big luxury brand campaign, but my dream job is a perfume campaign.
A.G.E. Your dedication to fitness and bodybuilding is impressive. How has your background as a personal trainer and your bodybuilding victory in Brazil influenced your approach to maintaining a healthy lifestyle?
F.S. For many people, going to the gym is hard work and a boring thing to do, but for me, it's like therapy. For models, a fitness lifestyle is part of the job, and because of this, a fitness life just makes everything easier.
A.G.E. Nature seems to be another significant part of your life, particularly your love for the beach. Can you share a specific memory or moment by the ocean that holds a special place in your heart?
F.S. Every important moment in my life, I'd go to the beach to celebrate. If I'm sad or stressed, I take a break for a swim to renew my energy and reconnect with nature.
A.G.E. Balancing an active lifestyle with your enjoyment of downtime is essential. Tell us more about your love for spending time at home in your free time, indulging in your favourite snacks, and playing the Nintendo Switch.
F.S. Everyone deserves a break. Today we live in a constant rush; the key is to have balance. Enjoy yourself!
A.G.E. You've had some memorable shoots for Yummy magazine, both with the talented photographer Sasha Olsen; one for Yummy 7 where you looked exceptional, and another for Yummyzine 5 where you collaborated with Quentin. How was your experience working with Sasha on these projects and sharing the set with another model like Quentin? Are there any entertaining anecdotes you'd like to share, and what does being featured in Yummy mean to you?
F.S. It was an amazing experience. I just flew to Portugal for the shooting. Sasha and Quentin were great to work with. It's always good to be working but not feel like you're working. It was really fun, and it was an adventure trying not to get caught during the shoot.
A.G.E. What does the word "yummy" mean to you?
F.S. Nandoskinner, haha.
A.G.E. Are you comfortable with nudity? When are you often naked and how does it make you feel?
F.S. I learned how to deal with it. At first, it was scary, but now it's just natural. We are humans; we can be different, but even with differences, you must be comfortable with who you are. Life gets easier after you get used to it and stop being ashamed.
A.G.E. Brazilians are usually the hottest people around. How important is sex for you, and how do you make it hot? Do you have any fantasies or turn-ons?
F.S. Sex is important but not the number one priority in a relationship, but it's certainly an important part. Sex must be passionate, and I believe if both are on the same page, anything can happen. There are no limits. Want to make it hot? Give 200% of yourself, give your best, and always prioritize your partner over yourself.
A.G.E. Is there any funny or hot sexual experience you could share with us?
F.S. Public stuff always arouses me, but showers and bathtubs always drive me crazy.
A.G.E. As someone who has been part of the modelling industry for a significant period, what advice would you give to aspiring models just starting out, especially those considering travelling internationally for their careers?
F.S. Don't give up; it's not easy. Work on yourself, stay in shape, learn new skills, and always give your best.
We have five covers for Yummy Issue 7. One includes Oliver Baggerman (below). If you are a collector and want a collectors price for getting each cover, do get in touch with Jordan in the office.
The Yummy 7 photo book has a cover on one side, which leads through to the first story, but flip it over, and there is another cover, leading to another first story.
Covers (in no particular order):
Giuseppe x Steven Klein
Giuseppe x Leon Valentin
Juan Betancourt x Oliver Baggerman
Daniel Schroeder two images, one front & one back covers
Mitch Walker x Kori Sampson
252 pages of creatively photographed uncensored male models.
YUMMY ISSUE 7 (is shipping now) SUMMER 2023. GET YOURS NOW