The 21-year-old journalist student and model from Barcelona talks with Adrian Gomis Exposito about his path in the modeling industry, his secrets to feeling confident, sexy, and looking gorgeous, his experience shooting naked for Yummy, and what it really means to him to be naked.

Alexander Courtman captures the beauty and essence of Dani for Yummy Issue 5 in a series of beautiful photographs.

The images is cropped/ made safe for online purposes, there are full frontal images available only inside Yummy 5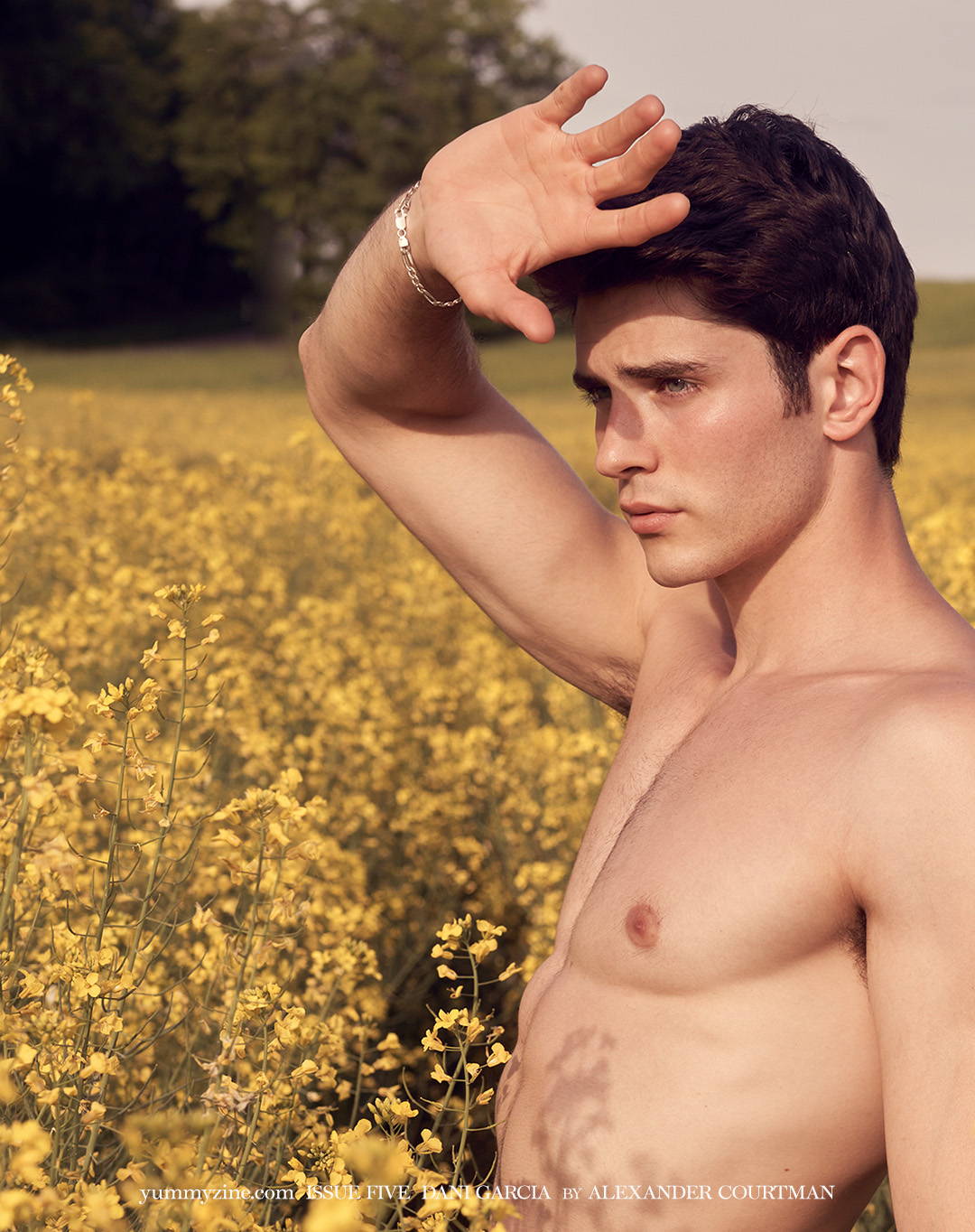 Conversation between Adrian Gomis Exposito and Dani García. words By Adrian Gomis Exposito @adriange_
ADRIAN GOMIS EXPOSITO. Could you tell me a little bit about yourself to start with? For example your origins, age, hobbies, studies/profession, etc.  
DANI GARCIA. Sure! I'm from Barcelona, Spain, and I'm 21 years old. I live in Mataró, a small city 30 minutes far from Barcelona and currently, I study journalism while I work as a model. I'm a huge fan of soccer but I rather play it than watch it. I have a black belt in Taekwondo, I like to read, I love cinema but mostly I love animals. I have an 8-month-old Doberman and she is just amazing. She's my daughter.
AGE. Do you work full-time as a professional model? Could you tell me about your modeling career? When did you start, what made you do it and how was the process of reaching your current level?
DG: I work as a full-time model, which means that maybe I spend an entire week going from casting to casting and from one work to another or maybe I spend an entire week basically nothing. I always tell my agency that I'm 100% available for anything. I mean, it's my work and I focus all my time on it.
I started modeling when I was 17. I signed with a really bad agency and I remember my first trip as a model. I had no idea how to do a "free" pose. I was basically recreating every sad face from Instagram. So I basically had to learn by myself. I used to stay until the castings were done because in that way I could see all the models posing so I could copy them. Sorry not sorry I guess. From that trip to the next one, I was studying but not with online lessons. I had to go there, so it was quite complicated working because as I said, my first agency was so bad the only way to make money was to travel to Asia, which I think is not a bad lifestyle. I know models that make a lot of money there, but when it comes to creating a real book Europe is the big league, so I changed my agency. The second one was an improvement, but not quite what I was actually looking for. Same thing but with some cheap paid jobs here in Europe. After I broke the contract with that agency I was contacted by one of the best here in Spain. After I signed with them they made a new book full of really good pictures and since then I've worked without having to travel. I basically signed for that agency I always wanted to be in, I can stay at home with my parents, my grandma, and my new dog Kiss.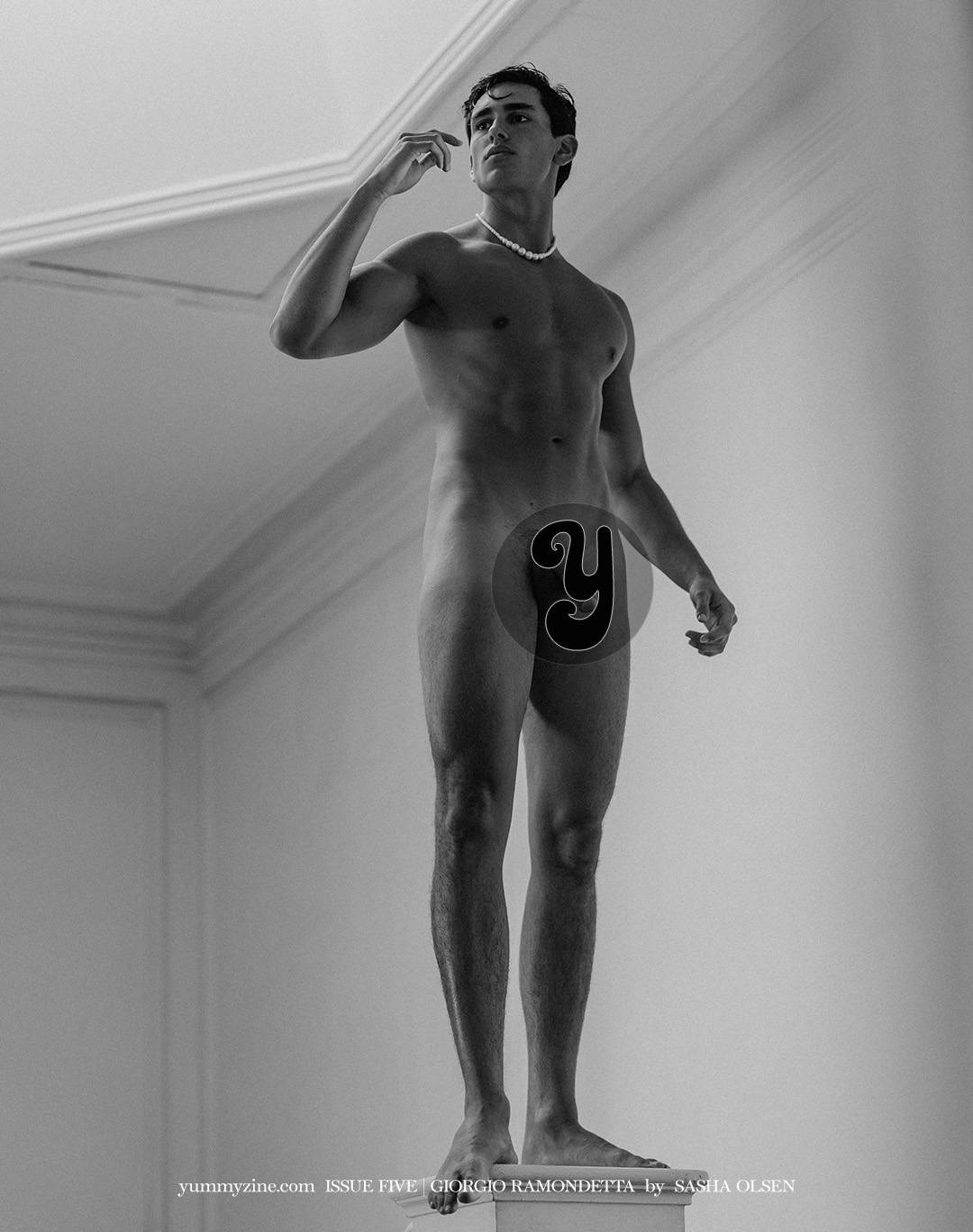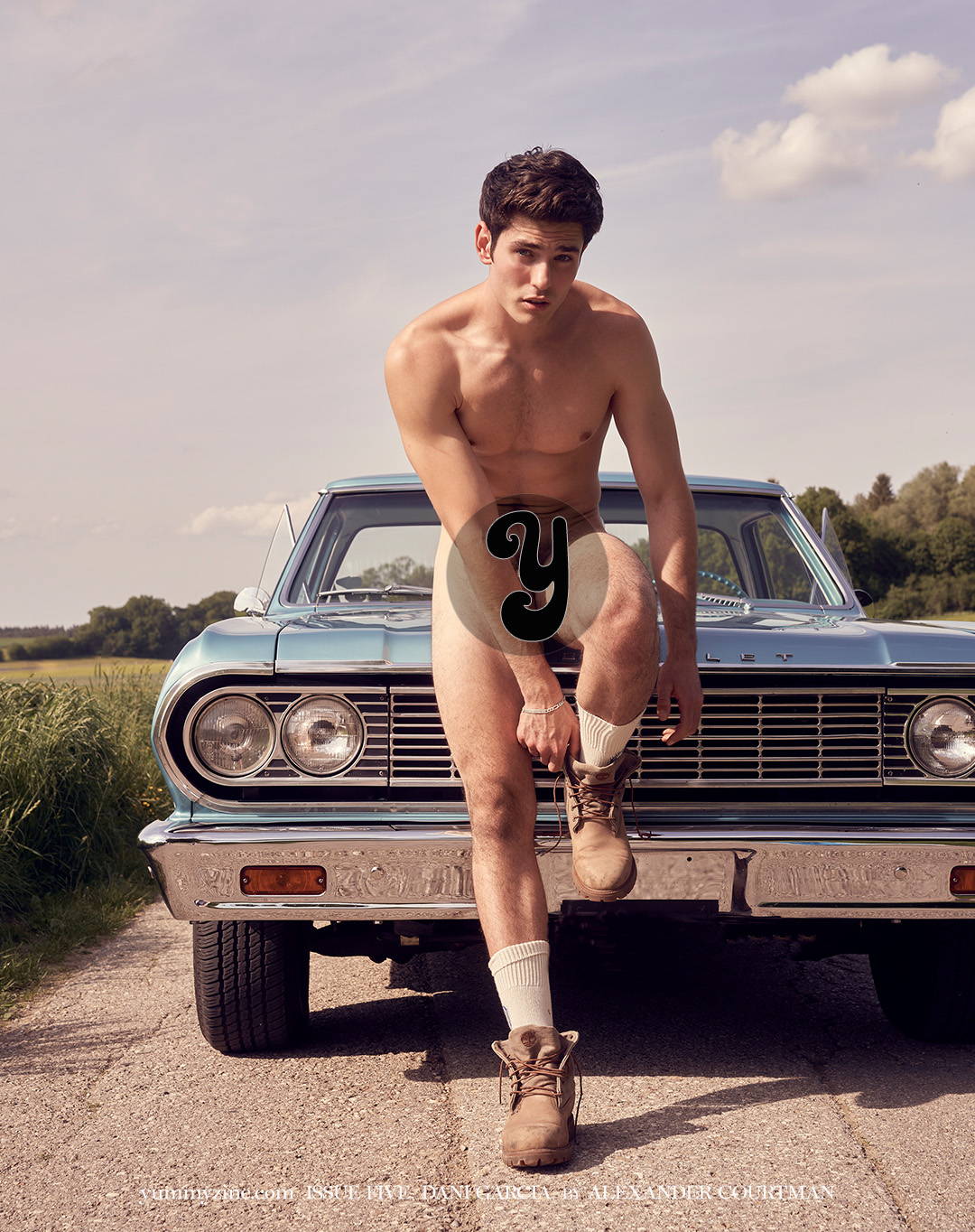 AGE. If I am not mistaken, I saw that you went to Seoul for work. How was the experience working there and why do you think so many models have to work there?
DG: I've been there twice. My first time was kind of just for learning, or that was what my first agency told me. Spoiler alert, it was false. My second time was last year. I literally had to go to my-at-that-time mother agency office to tell my booker, who was supposed to look for my professional career, to sign a contract even though the guarantee was not as big as she wanted. I signed with the best agency there because I insisted. Funny how I had to do the work myself, but anyways. During the COVID pandemic, I had to stay in a hotel for two weeks in quarantine. I'm not a big fan of Asian food, I don't appreciate its delicious taste as others do. I'm more of an Italian food guy. So imagine how that was. Octopus soup with fish and eggs. That was a nono for me. For work, it was one of the best places where you could stay because COVID was being really controlled there and the clients were just so nice. I worked a lot there. I literally had 3 weekends for myself because I had a lot of jobs, especially on Sundays, for TVC (TV Commercials), which is one of the best-paid jobs there. I ended up making more money than on my first trip, which wasn't difficult at all, to be honest, and I met so many beautiful-soul people whom I still keep in touch with.
I believe that Asia is that type of market where you make a lot of money and you don't get, or at least not as much as in Europe or other markets, really relevant pictures. Plus you get paid for going to clubs so if it's not from work it's from partying that the models make some money. I met a girl in China and she was not working at all as a model so she was at the club. In the end, she bought a new iPhone and yeah, made more money than my first trip to Korea.
AGE. You always look amazing. What do you do to look so good? Any beauty or workout routines we should know about?
DG: When it comes to looks there is one secret anyone can apply, and that's confidence. I saw in Euphoria that one character said something like "Fake it or not people don't know". So yeah, confidence is attractive. But sometimes it takes more than that. My tips for boosting your confidence and looking good: workout. It doesn't have to be an hour workout or two like a lot of people are used to. I don't work out for more than an hour. But exercise will help your mental health, your health in general, and when the results show up in the mirror… you feel like you are unstoppable. My best friend used to be obese and for a year we've been working out (because I do calisthenics, which only requires your body weight) together, and now every time we go to a club he feels confident because he likes his body now. He's confident in his skin, and that does not require any workout, but helps.
AGE. You appear in the next Yummy 5 issue. Was this your first time shooting fully naked? How was the experience?  
DG: Not really. My first time naked was freezing. It was in Valencia, under a waterfall in November. I had to stay for two hours in a hot pool to avoid catching hypothermia, and the next day at 6:30 am we were shooting the sunrise at the beach. I was not naked there, but the cold was kinda the same.
AGE. Was it easy for you to make the decision of shooting fully naked for Yummy? Tell me about the process of considering the offer to finally be determined to do it.
DG: I trust my agency when it comes to choosing what work I do, so when they told me I had to be naked my only concern was if it was going to be cold, which it wasn't. Plus they told me that it was a really good magazine and that some big models have appeared in it, so it would be a good choice to shoot for Yummy. And here I am, doing this lovely interview for such a lovely magazine!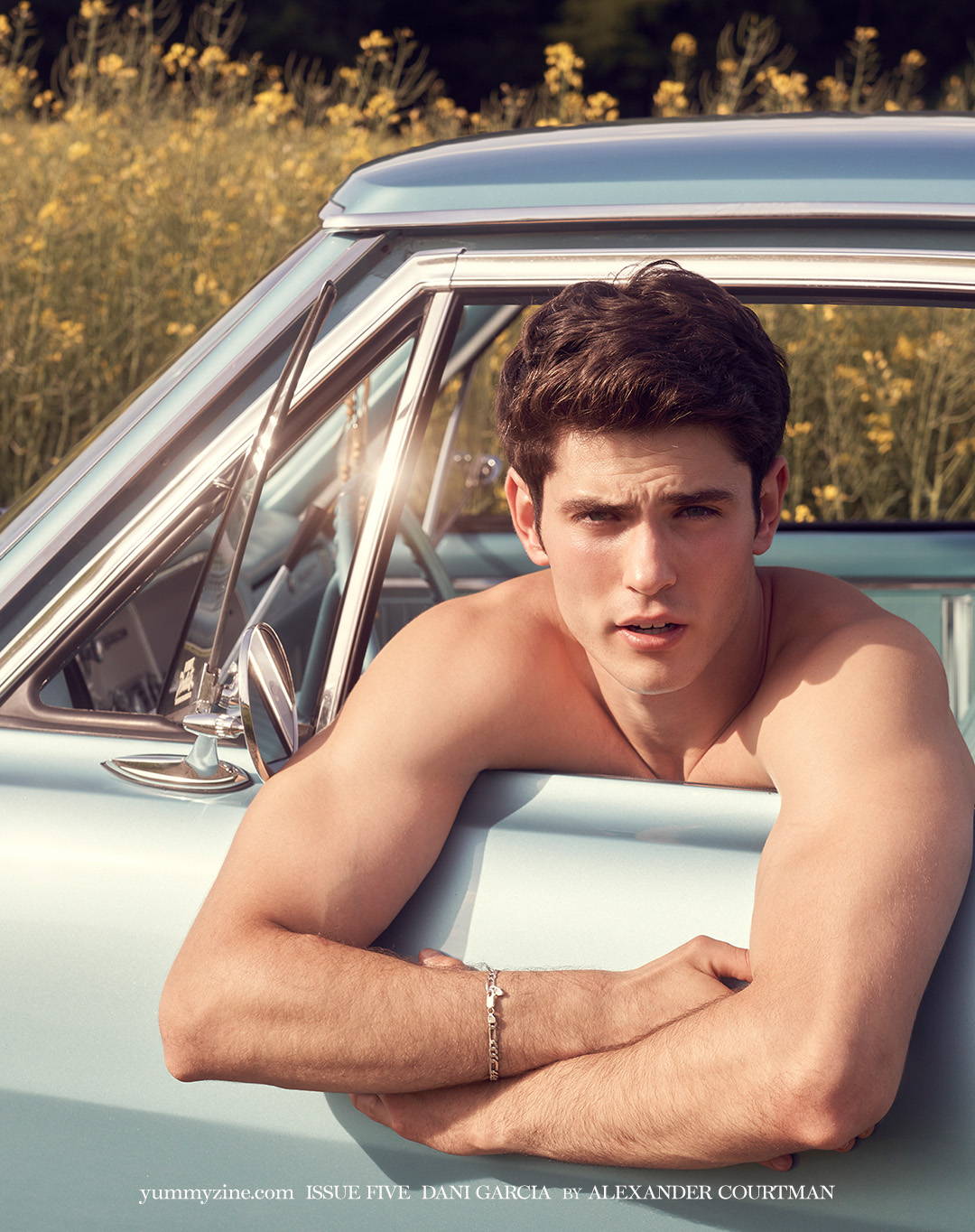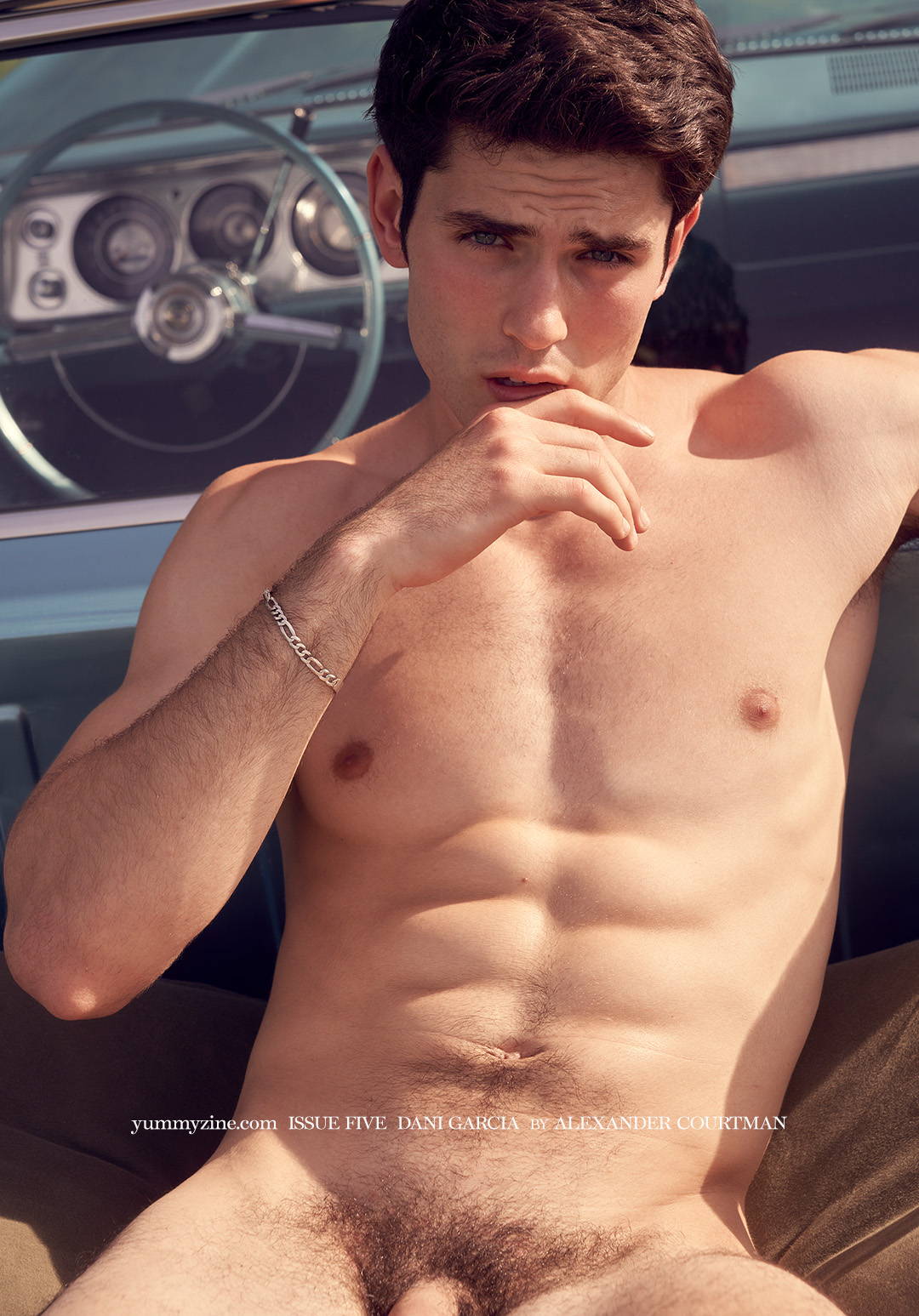 Full forntal images are available only inside Yummy 5
AGE. Have you always enjoyed nudity? Do you feel comfortable with it or what does it really mean to you?
DG: Nudity is our body in its most natural beauty. I like being, at least, half-naked, again, when it's not cold. I feel comfortable when I'm naked. It's my body and if you don't like it, well, it's not my problem. My dad always told me: who watches is more embarrassed than that who shows.
AGE. Which is the time of the day do you feel the sexiest? How do you act and what do you do?  
DG: I would say in the morning when I wake up, but I have to go to the toilet straight away. It's usually after the shower after I workout. After that I feel that, first, I've done my daily exercise, and second, my body is being stimulated and I like how that looks. I don't care if I had a cardio session or a strength-building session. It's when I see, like the viral audio of TikTok, the beauty of what my body is capable of.
AGE. I would also like to ask you a couple of yummy questions. What is sex for you? Do you consider it an important part of your life? How do you prefer to do it?  
DG: Sex is not a really important part of my life. My ex-girlfriend used to be all the time wanting to have sex and I got so so lazy that I rather preferred spending time doing other things, like playing video games. I'm a geek, to be honest. But, if I have sex, I prefer to do it, first with protection. STDs and kids are two things I'm not really looking for. Second, I want to have a good conversation first. If the mind follows or beats the body's beauty, then it's no spoiler that the sex it's going to be amazing.
AGE. Do you have any sexual fantasies or games you enjoy doing? Would you consider yourself a naughty person when it comes to sexual interaction?  
DG: My sexual fantasy was to do a threesome with two girls and after doing it new fantasies started to show up in my head. Now it's basically to have sex with a hot girl who also likes video games and to give head massages. That is a fantasy haha.
I also like to play. The nervous system responds to stimuli so small but yet so significant like a clitoris tongue twister, and I'm not talking about Peter Piper picking a peck… So yeah I'm a little naughty person.
AGE. Do you like to feel desired when people look at you? Do you like to tease a little bit?
DG: I actually don't really enjoy being desired or anything like that. It's weird that people put others on pedestals because of the way they look. Most of the time I wear sunglasses because I don't even want people to know where I'm looking at. I like to just be unnoticed. But, and there is always a but, when it comes to partying and flirting, I kinda like to be desired and it's when I tease the most.
AGE. What do you hide in your 'hidden' folder of your camera roll or in your bedside table?
DG: I have so many videos of me and my best friend smoking and being drunk and high. I usually delete anything that could put me in trouble so by saying this I'm already putting myself in a difficult position. Sorry, mum. And well. On my bedside table, there is so much stuff: my phone charger, keys from the apartment in China, hotel keys from when I lived in Istanbul, a letter that my grandma wrote when I turned 20, and obviously condoms.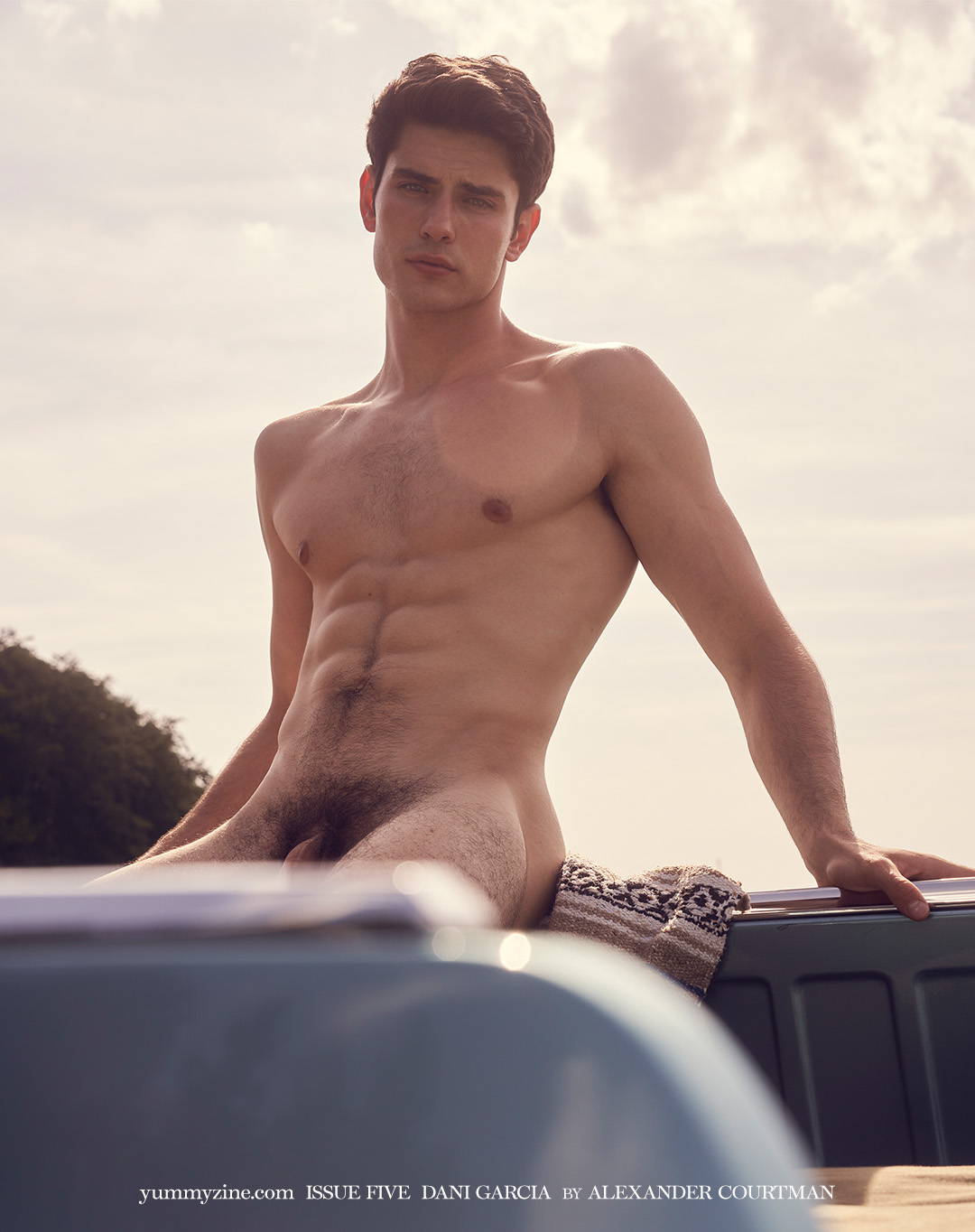 Full forntal images are available only inside Yummy 5
AGE. Do you enjoy being naked outdoors, for example by the beach or alone in nature?
DG: I'm not usually naked. To be honest, I just take off my T-shirt when I can, so if I'm at the beach you'll probably not see a T-shirt on me, and you won't see my manhood.
AGE. To conclude, what does the future look like for you? What do you spect from it and how do you think appearing in Yummy will help you?
DG: I see myself working as a model until I'm too old, or I get tired of it. Then I would probably start an OF. I'm joking haha. I want to study nutrition and I'll probably be a fitness teacher or something. But there is one truth and that is that Yummy helped me to create, not only one of the best numbers (Number 5 is the magic number) but also one of the best core memories.
Dani Garcia photographed by Yummy veteran Alexander Courtman  Special Thanks to Sight Management @danigarcii4 @sightmanagement @alexandercourtman
We offer the free ZINE on a first come first served basis, once our stock has gone, it's gone. So order fast to avoid dissapointment. Terms Apply.
Photographed by Alexsander Courtman exclusively for Yummy 5
Interview by Adrian Gomis Exposito (AGE)