ADRIAN GOMIS EXPOSITO. To start from the beginning, I would love to know more about you. Could you tell me a little bit about your origins, your personal life, and your way of life?
KARL KUGELMANN. I grew up in a small surfing town called Melkboss in Cape Town, South Africa. I have a definite passion for traveling which came into fruition through modeling after I left high school. My life philosophy will always be to follow my passions. This brings me joy and helps me grow as an individual!
AGE. What do you enjoy doing in your free time? Do you have any passions, talents, or ambitions in life that we don't get to see on your social media platforms?
KK: Music is a massive passion of mine! I've put a lot of focus into DJing over the last 6 months - mostly in the Techno scene. I definitely classify myself as a waterman! From the age of five, I was surfing and participating in all water sports I could! My favorite water sports are surfing and kiteboarding- I have always felt very connected to the ocean. Alongside water sports, I also enjoy golf and Muay Thai
AGE. How did your modeling career start and why did you want to work as a model in the first place? Could you talk us through this process, please?
KK: My modeling career started when I was 19. I finished school and was scouted to go model in Asia. My first stop was Hong Kong. In all honesty, I had no idea whether I wanted to be a model or not. I always felt the need to see the world, I saw the traveling opportunity and took the leap!
AGE. You have become a social media star with millions of fans across all your platforms. How did your journey in social media begin? How and when did you start gaining so many followers and how did it make you feel?
KK: My social media journey started when I came back from Hong Kong in August 2019. I started posting different types of short videos on Tik Tok - mostly lip-syncs and transitions. I had a lot of fun with the platform and people seemed to enjoy them! I made it my mission to post daily as I saw the potential for a massive audience to be gained which would in turn help with my modeling career. In the beginning, it was overwhelming in the best of ways. Millions of people seeing your content are unfathomable to most people and having that happen to me on many occasions was a massive shock!
AGE. I really need to ask you about your beauty secrets. How do you keep your hair, your skin, your face, and your body looking so good? Do you follow any special beauty or workout routines? 
KK: Regarding my beauty routine, I don't follow a very strict routine in all honesty! I use a moisturizer and face wash daily. I also try to exercise/surf daily and not consume too much-processed food, sweets, or fizzy drinks.
AGE. Speaking about Yummy, you appear on issue five photographed by the incredible Sasha Olsen. May I ask you how was the experience of shooting fully naked? Do you feel comfortable while being naked, during shoots, and in private?
KK: Working with Sasha is always an absolute pleasure! I think shooting that intimately with someone requires a good level of trust, connection, and respect. There are not many photographers I personally know that I would have shot this story with. I'm so grateful to have had Sasha shoot this story with me. I felt very at ease and comfortable shooting!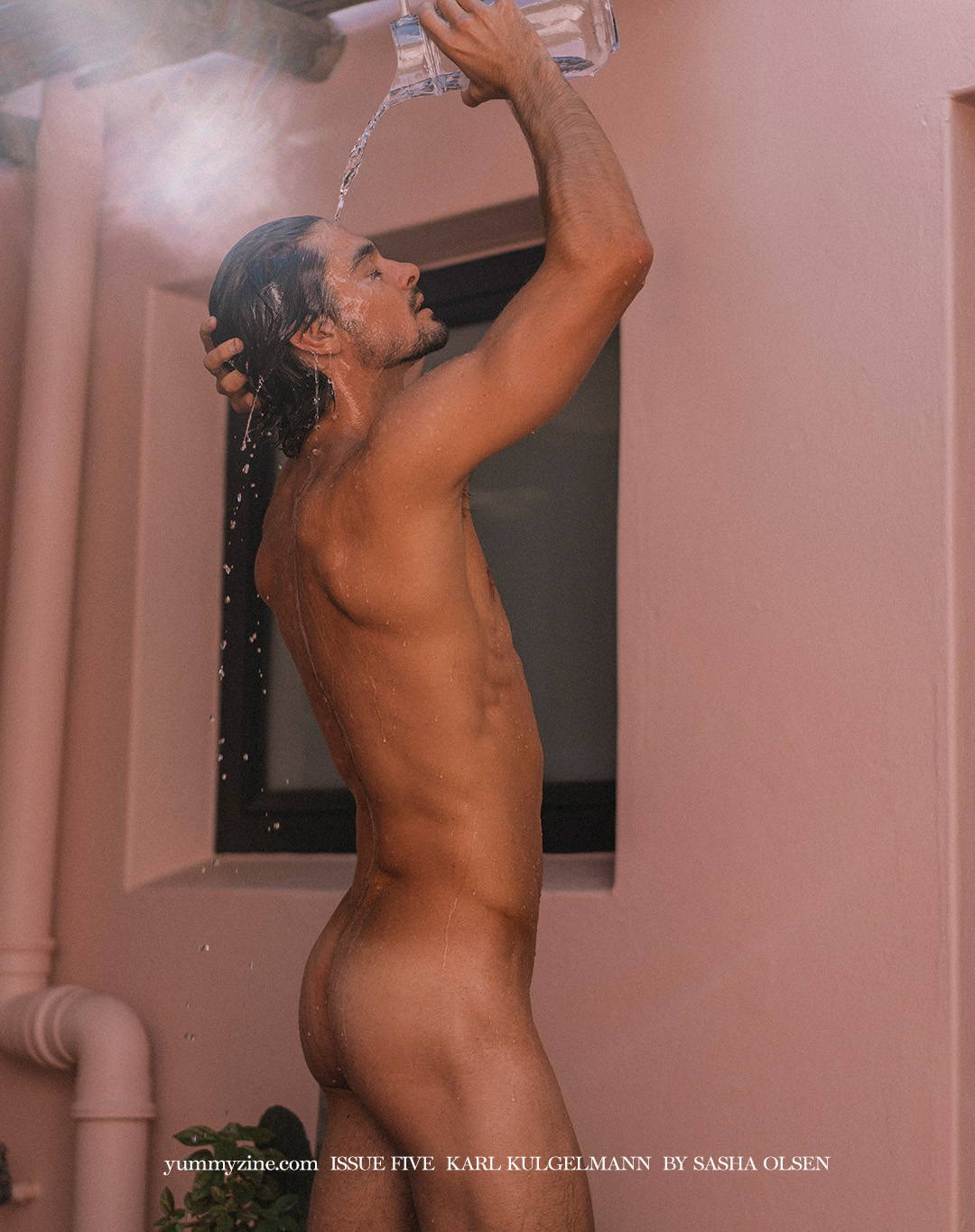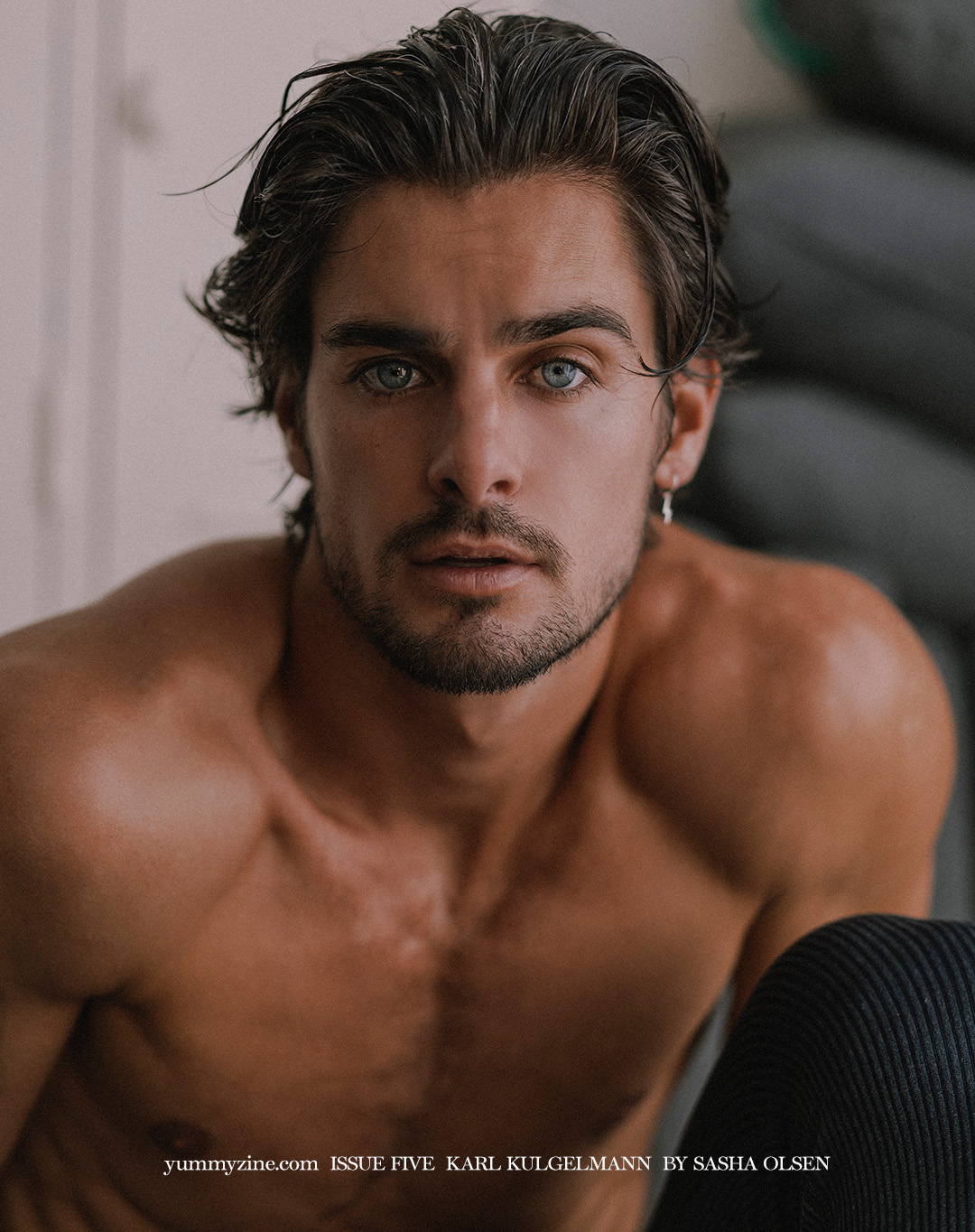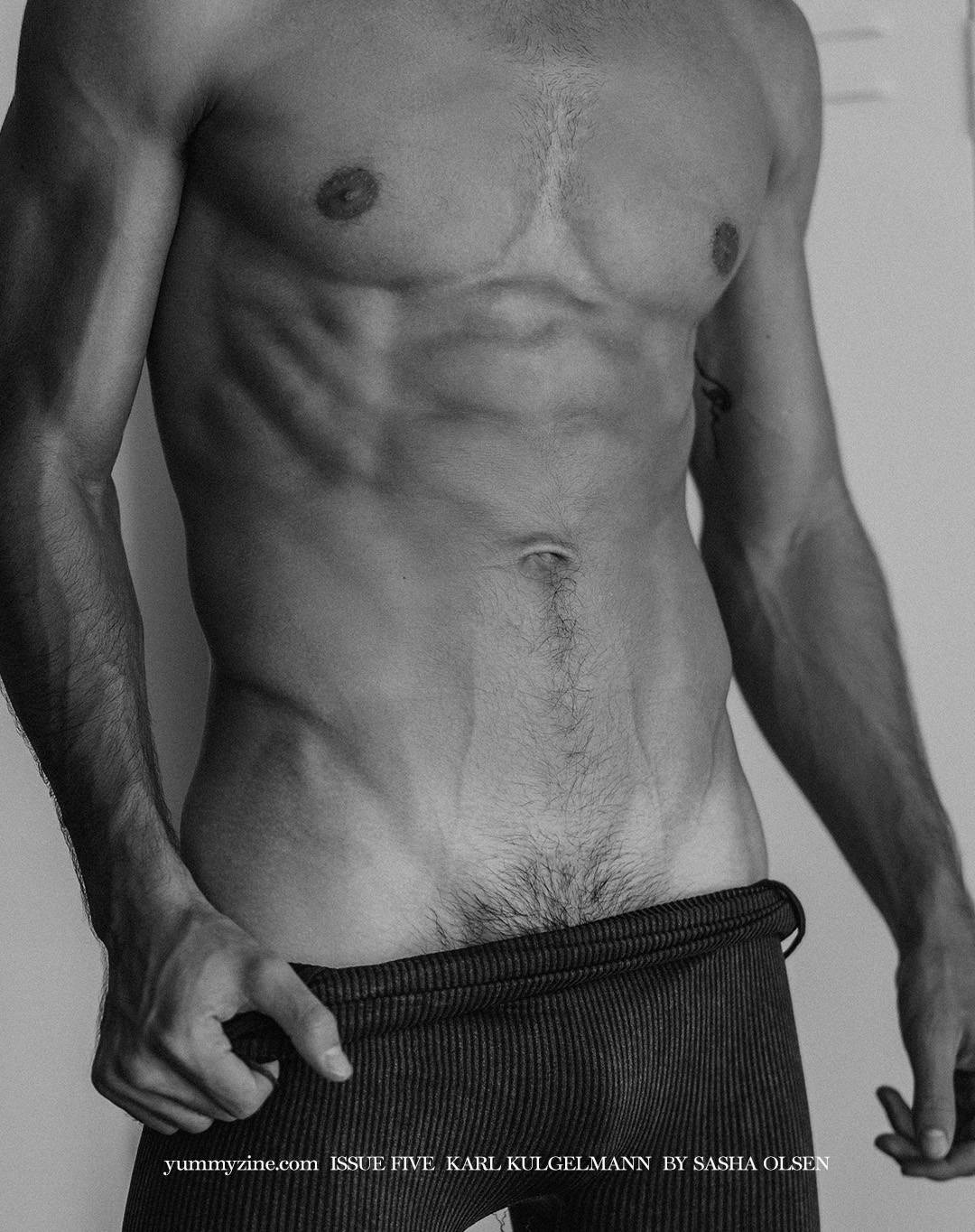 AGE. What's your take on nudity? Do you consider it something pure, natural, and comforting or do you find it disturbing? How would you link it to self-confidence and body positivity?
KK: I find nudity very pure and natural yes! I would love to go somewhere tropical with my partner one day and wear no clothes for the entirety of our stay. I think I would feel so free! That being said, you won't find me personally sitting fully naked at a beach with a lot of people. I do have a shy side to me haha. This being said, I admire those who can sit at a beach completely nude. These individuals are clearly confident in their bodies and I think that's beautiful and commendable.
AGE. I would also like to tap into your yummiest side. What makes you feel sexy or what turns you on? Would you consider yourself a playful guy during sexual interaction?
KK: This may sound old-fashioned, but a deep connection with someone has always turned me on the most. This combination of love, happiness, and home is a feeling I will forever be searching for. Add a teaspoon of chaos and excitement to that and bobs your uncle.
AGE. What does Yummy the magazine mean to you and in which context do you use the word yummy? What does it mean to you?
KK: Yummy the magazine to me means fluidity, expression of self, and natural beauty. Yummy, the word, in general to me means something nice or tasteful. Maybe a bit spicy and hot in the right context.
AGE. Forward-looking, what do you see yourself doing a couple of years from now? Which life goals do you plan to achieve soon and which are more long-term?
KK: In a couple of years from now, I hope to still be traveling the world modeling but be well established in all major modeling markets. I also hope to be DJing at festivals outside of South Africa and have produced some of my own music! As a long-Term goal, book a worldwide fragrance campaign for D&G or Armani!
AGE. To conclude, could you name your biggest ambition at the moment and what keeps you motivated, and what encourages you on a daily basis to follow your dreams? 
KK: My biggest ambition currently is to produce my own Techno track. I have an undeniable love for music and I've devoted my free time here in Istanbul to learning more about music production so that when I leave, I'll have a track under my belt!
Photographed by Sasha Olsen in South Africa, exclusively for Yummy 5
Interview by Adrian Gomis Exposito (AGE)