In this captivating interview, we delve into the life and experiences of the charismatic and open-minded Leon Valentin. A globetrotter at heart, Leon's journey has taken him from the picturesque landscapes of Bavaria to the sunny shores of Australia. As an active and sports-loving individual, Leon shares his passion for sports, music and modelling, and how they have shaped his life. Join us as we uncover his thoughts on nudity, sexuality, and the true essence of being "Yummy." Furthermore, Leon reveals his aspirations for the future and the excitement of being part of a popular German TV show. Get ready to be inspired by his thirst for adventure, dedication to authenticity, and unwavering pursuit of happiness.

The images are cropped/ made safe for online purposes, full images available inside Yummy Issue 7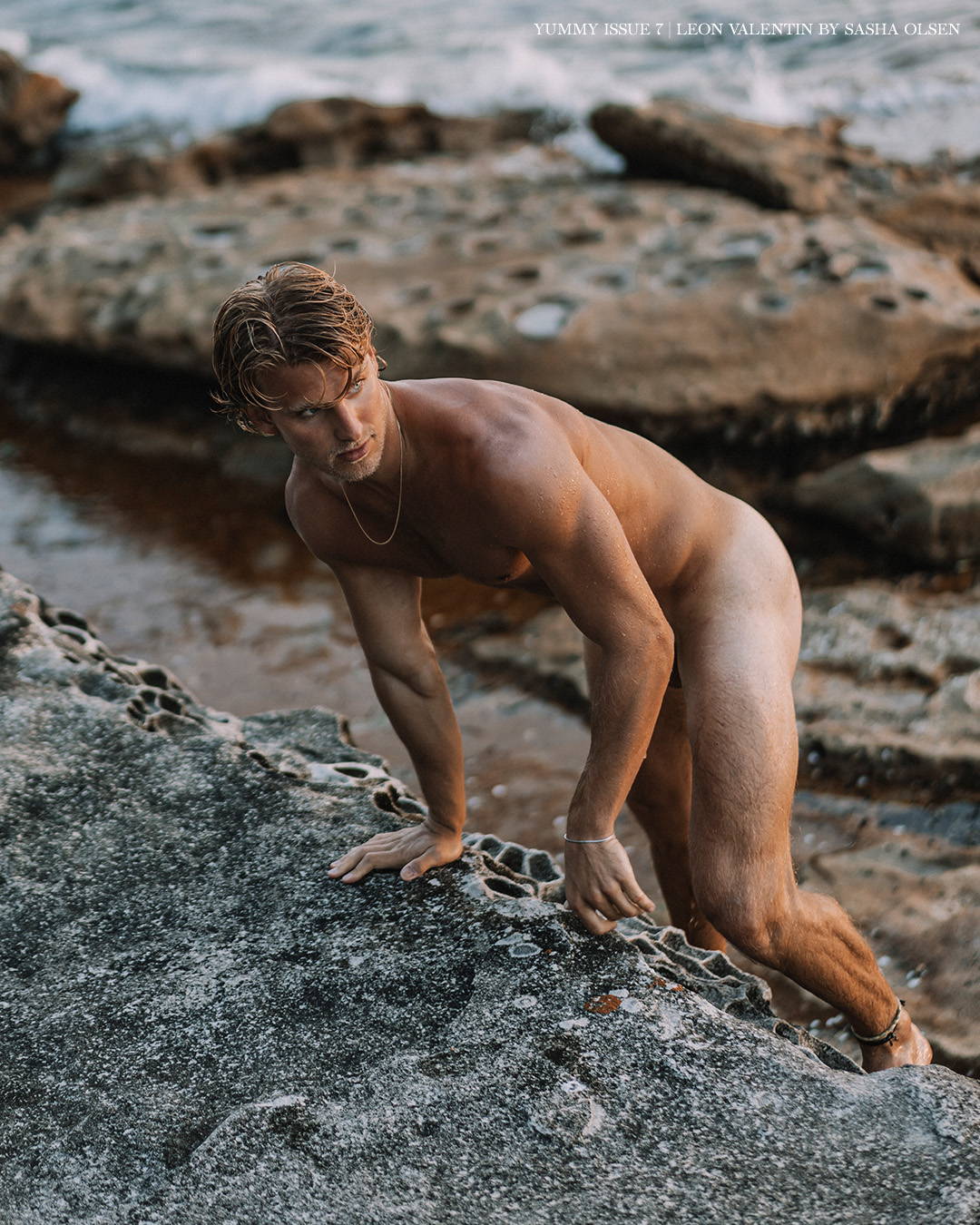 Photo story by Sasha Olsen
ADRIAN GOMIS EXPOSITO. Hi Leon! It's great to have the opportunity to chat with you. How are you doing today? Can you describe a typical day in your life?
LEON VALENTIN. I am doing very well, thank you. Such a pleasure to have the opportunity to do this interview with you today. I returned home from my year abroad in Australia about 3 weeks ago. My life in Australia was notably distinct from my life back home. I resided by the beach and enjoyed ample free time, particularly during my semester break. Currently, I'm in the process of readjusting to my routine now that I'm back home. This involves working, staying engaged in sports, tending to tasks that accumulated while I was away, and laying the groundwork for upcoming plans and projects. I'm looking forward to reuniting with friends and family whom I haven't seen in a while.
A.G.E. You mentioned that you grew up in a town outside of Munich. Can you share more about your upbringing there and what it was like living close to a big city?
L.V. I was born in Munich in 1998. When my brother was born three years later, we moved out of the city to have more space for our family. My upbringing as a child was both very exciting and peaceful, with lots of family time around my grandparents and beautiful memories to look back on. In my teens, I often hung out with older and more mature friends and started exploring the city of Munich with its nightlife. It was great growing up a little bit outside Munich, yet still having access to the city.
A.G.E. As a child, you had a passion for football and playing the drums, along with an interest in various other sports. Would you consider yourself an active and sporty person? What do you enjoy most about engaging in sports and physical activities?
L.V. Yes, I would definitely consider myself very active and sports-oriented. Playing sports and being active makes me feel alive and allows me to engage with like-minded people. I need to stay active and move a lot to stay sane. I started playing football in a local club at the age of four and got into music [piano and drums] quite early in my life as well. My passion for sports and music accompanies me to this day, and I am very thankful to my parents for fostering me and letting me explore my interests. Besides football, I enjoy surfing and playing beach volleyball, tennis, and basketball. Having grown up close to the mountains [Alps], I am also into skiing, hiking and mountain biking.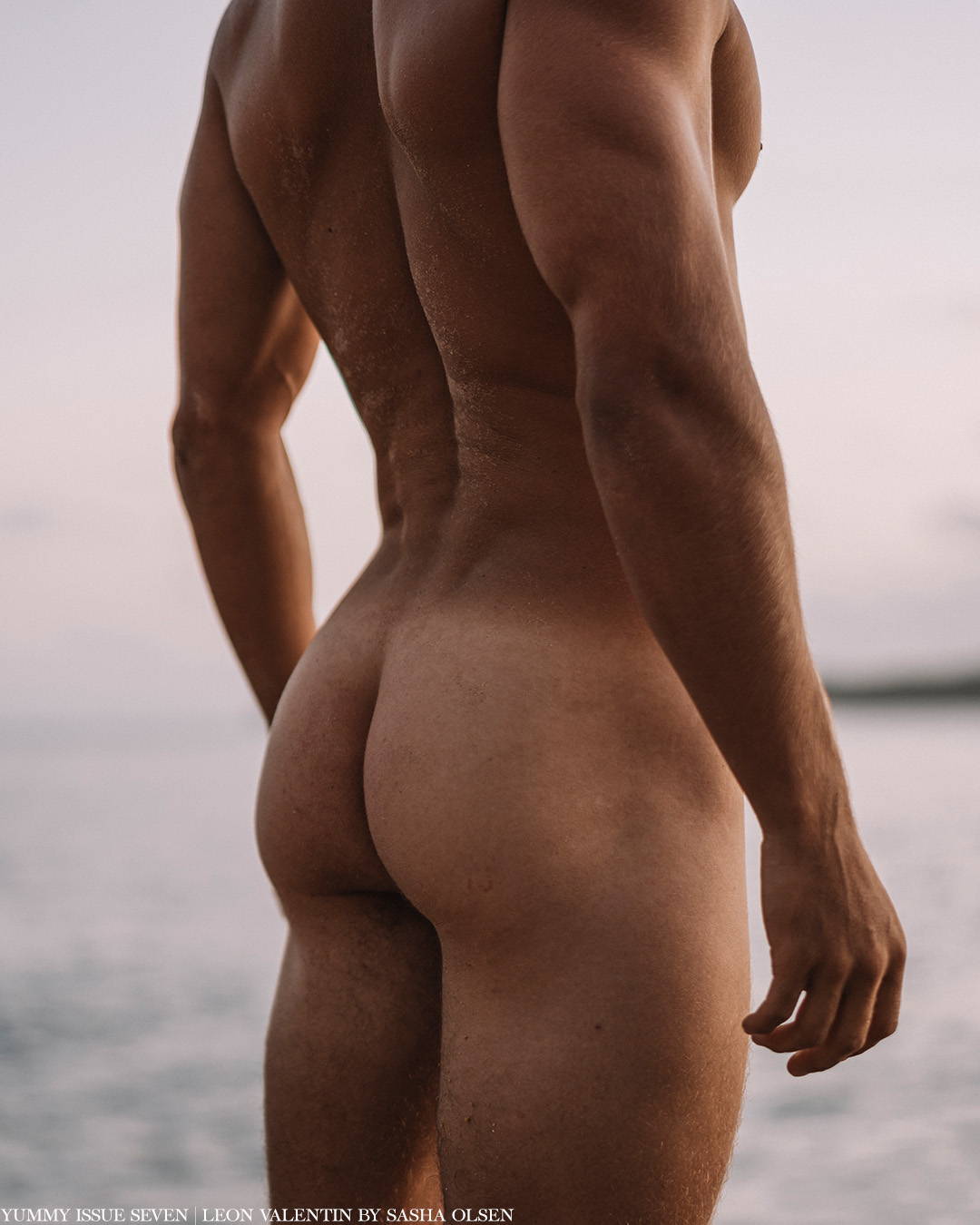 A.G.E. I understand that you also enjoy traveling, partying, and spending time with friends, but you also appreciate the comfort of being at home. How do you maintain a connection with your hometown while traveling?
L.V. I see myself as a cosmopolitan who enjoys leaving home and their comfort zone for adventures and the unknown, yet someone who has a strong connection to the Bavarian culture and loves coming home. When traveling, I usually stay in touch with people through social media and regularly talk to my family and best friends on FaceTime. By sharing my experiences on Instagram, I find it easy to let more people feel part of my days and personal life.
A.G.E. I believe you moved to the US when you were 16 and now you're studying international business in Australia. What are your main goals for when you complete your studies? Also, how has your experience been studying abroad?
L.V. Yes, when I was 16 I spent a year in the United States as a foreign exchange student and lived with a host family. As part of my international business degree, I spent two semesters abroad in a foreign country and I chose to do it in Australia,. It was definitely the right decision and most certainly the most exciting and eventful year of my life. I had a great time on campus, met many amazing people, got in touch with nature and the ocean, and used every opportunity to make another trip happen. The weather in South Queensland is hard to beat with 300 days of pure sunshine every year–exactly what I needed. Once I complete my studies in early 2024, I either want to apply for a Master's degree in a different European city or start working full-time in an interesting company.
A.G.E. Let's talk about your modelling career. When did you start, and how has your progress been in the industry? What initially motivated you to pursue modelling?
L.V. I have enjoyed standing in front of the camera ever since I was a teenager. I remember always trying to have the freshest profile photos on Facebook and regularly doing photoshoots with friends. My initial motivation was to have fun, have a collection of good photos at hand and perhaps make some extra cash on the side. I signed up with a modelling agency when I was around 14, but my progress in the industry stagnated when I didn't grow tall enough to meet the industry standards for adult men–which seems to be an issue to this day for most agencies. However, I fortunately still get to shoot with amazing photographers such as Sasha Olsen or John Russo on a regular basis as I try to make my own way in the industry. I just trust the process without forcing anything. I really like when photographers develop a sense of how to bring out the best in me, my body and my charisma.
A.G.E. Your editorial story with Sasha Olsen for Yummy 7 looks stunning. The colours and the beautiful ocean atmosphere from sunset to dawn are captivating. Could you share your experience from this project and what you hope it will bring to your modelling career?
L.V. Thinking back to the beginning of this year, I was invited to a paid photoshoot in Sydney. Sasha and I then randomly stumbled across each other's Instagram and had a chat about a potential shoot we could do together. As he told me he would have another ten days in the city, I quickly decided to come back to Sydney from Queensland to work with him. I felt very comfortable when first meeting Sasha the day before the shoot, and we both did well in picking the location and creating a good vibe throughout the day to make this a success. It was the first nude shoot I have ever done, and being completely honest, it took me a while to warm up and become completely comfortable being naked in front of a camera. I really enjoyed spending the day with Sasha, and I am really happy with the outcome. He did such a great job shooting and editing, and I am proud of the result. I hope other photographers, and possibly agents, will appreciate our work and reach out to explore future opportunities for similar projects and modelling jobs.
A.G.E. Yummy's renowned reputation for its exceptional portrayal of male nudity with top models, captured by the best photographers, is well-known. What was your reaction upon seeing the final images? Undoubtedly, such a shoot requires a great deal of confidence as it involves baring it all, even when done tastefully and artistically.
L.V. Since this was my very first nude photoshoot, making the decision initially wasn't easy. I had to contemplate whether I truly wanted to go through with it. However, when Sasha presented the idea and I witnessed the exceptional models and the quality of work showcased in Yummy, I felt a strong desire to participate. To be honest, it took me some time to get accustomed to the idea and to feel entirely at ease being nude in front of the camera. As the shoot progressed and I saw some remarkable shots, my confidence began to grow. Spending the day by the ocean with Sasha contributed to my comfort level. I'm pleased to admit that I'm content with the outcome. Sasha did a remarkable job with the photography and editing.
A.G.E. The word "yummy" can have various meanings. How do you interpret this term, and what does it signify for you?
L.V. Obviously, the first thing one would think about is something related to food or drinks. The literal translation of "Yummy" in German is "lecker," or in Dutch, it's "lekker." In a broader sense, this can also translate to good, nice, enjoyable, or even lovely. Hence, to me, yummy can be anything that is pleasing to my senses and describes something that I find very attractive or appealing. So when seeing or hearing the word yummy, especially in the context of this magazine, I would imagine some handsome-looking people who are taking good care of their bodies and are showing the best version of themselves.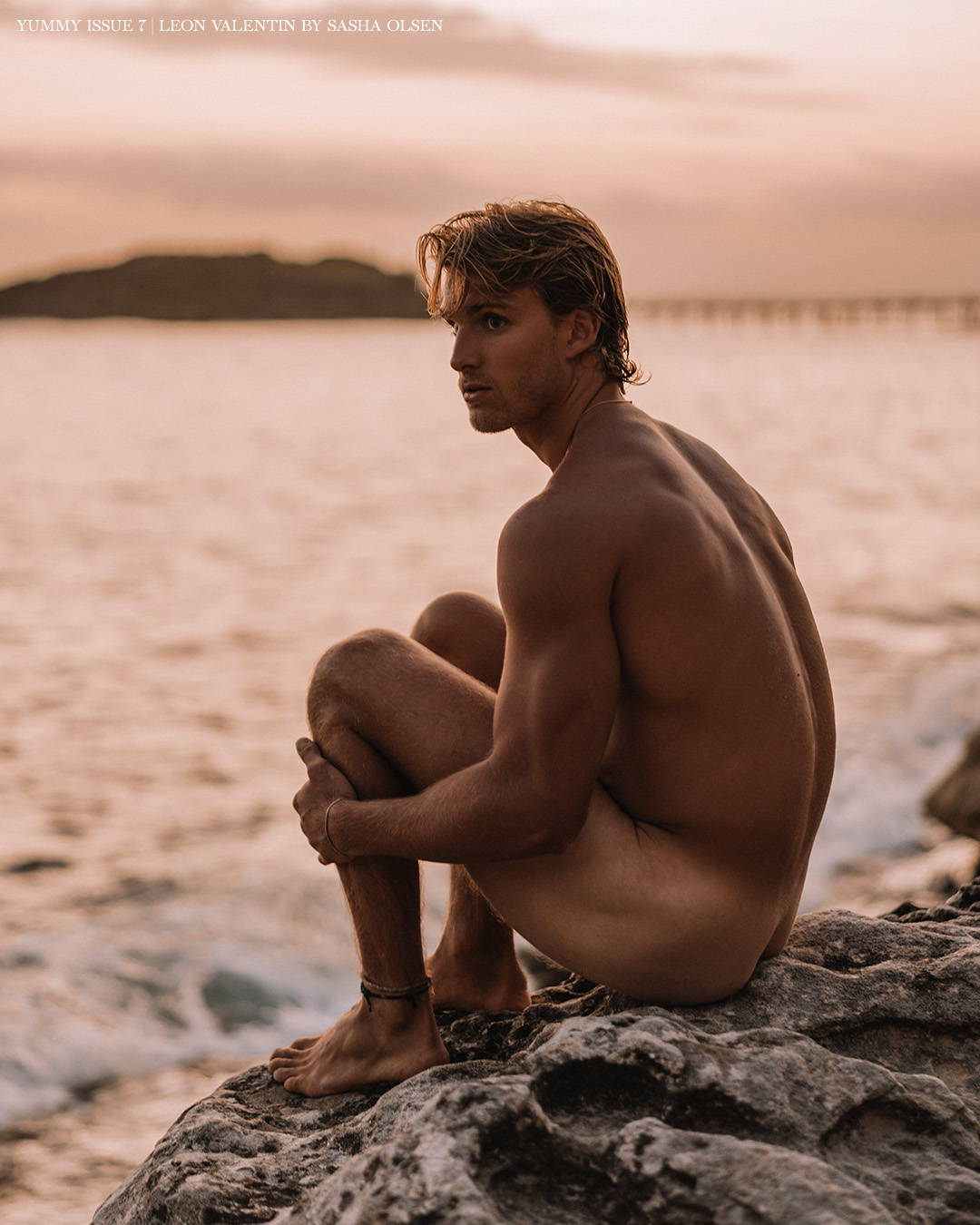 A.G.E. You strike me as an open-minded person. What are your thoughts on nudity and sexuality? Do you enjoy discussing these topics openly?
L.V. I am glad to hear that you see me as open-minded. I believe nudity is a natural part of humanity, as nobody was born with clothes on. Exposing our bodies and skin can hold different meanings for people, and I respect all religions and opinions regarding this matter. For me, being naked or wearing minimal clothing represents a sense of freedom, and I am comfortable enough to be one of the first people in a crowd to take my shirt off simply because I enjoy it. I think there's a delicate balance between revealing too much and appreciating the artistry of nude or semi-nude shots. With Yummy, I sensed from the beginning that the magazine is not solely about nudity and showcasing naked individuals; rather, it's about appreciating bodies as they are and acknowledging the effort and fitness required to achieve a certain appearance. I am generally open to discussing these topics, but I prefer engaging in such conversations with people I know well.
A.G.E. You definitely have a more international mindset, likely influenced by living in different countries. Have you had any wild or memorable sexual experiences worth sharing? Australia and the US for example seem like the perfect stage for such stories!
L.V. You're correct; the past few years have been brimming with incredible experiences and adventures worldwide that have influenced my personality and character. I do have several stories that would be intriguing to share; however, the specifics are meant to remain private, as I mentioned in response to the previous question. What I can reveal is that encounters with women and engaging in intimate interactions often seem to be woven into many of my travels and stays abroad, lending an extra layer of memorability to these experiences.
A.G.E. Many people admire your "surf boy" vibes, finding you attractive and intriguing. What do people usually compliment you the most for? It could be a physical trait or something about your character. Additionally, what qualities do you find attractive in others?
L.V. I believe the "surf boy" vibes largely developed while I was growing out my hair during my time abroad. However, I can genuinely say that I do surf, and what I love most about this sport is the profound connection it creates with the ocean. Lately, I have received numerous compliments for my longer hair, and most people, including myself, think it looks good on me. Another physical trait that seems appealing to others is my blue eyes. Characteristically, I believe people appreciate my charisma, authenticity, and empathy. In others, I value honesty, loyalty, a dedicated mindset, and a good sense of humour.
A.G.E. Sexual experiences can vary in many ways. How important is it for you to have a fun experience during intimacy, and how do you ensure that happens?
L.V. Having a fun and enjoyable experience during intimacy is essential to me. I believe in open communication about desires and preferences, ensuring mutual consent, understanding, and comfort with my partner. An emotional connection is of utmost importance, and I firmly believe that sexual connection should always involve mutual trust and respect.
A.G.E. Finally, what are your hopes for the future? Any specific aspirations or goals you'd like to share with us?
L.V. Above all, I hope to maintain my mental and physical well-being and find happiness in life. I want to stay close to my family and friends, supporting them wherever I can. Professionally, I aspire to pursue a career as a sales manager, remaining ambitious and exploring opportunities in other areas of my life, such as sports, music, traveling, and modelling. I have a strong desire to be signed by a professional modelling agency that can offer attractive jobs and projects in the modelling and advertisement industry. Additionally, in a few weeks, I will be part of a popular German TV show, and I am confident that this experience will bring positive changes to my life.
YUMMY ISSUE 7 PRINTS IN AUGUST 2023 AND SHIPS SHORTLY AFTER. GET YOURS NOW