Born and raised in Frankfurt, Germany, the 25-year-old business and economics student Leon Bohdal tells Yummy a little bit about his personal and professional background, sharing how much he's enjoying his modeling career and how he plans to combine it with his studies. We also got to talk about how he feels about being the cover of Yummyzine 2 shot by Alexander Courtman in a lake on a high mountain and how that adventure was, how a big fan of soccer he is, and of course some crazy wild experiences like the one at a 32-hour-rave in Frankfurt.

Photo story by Alexander Courtman interviewed by Adrian Gomis Exposito
The images is cropped/ made safe for online purposes, full images available inside Yummyzine Issue 2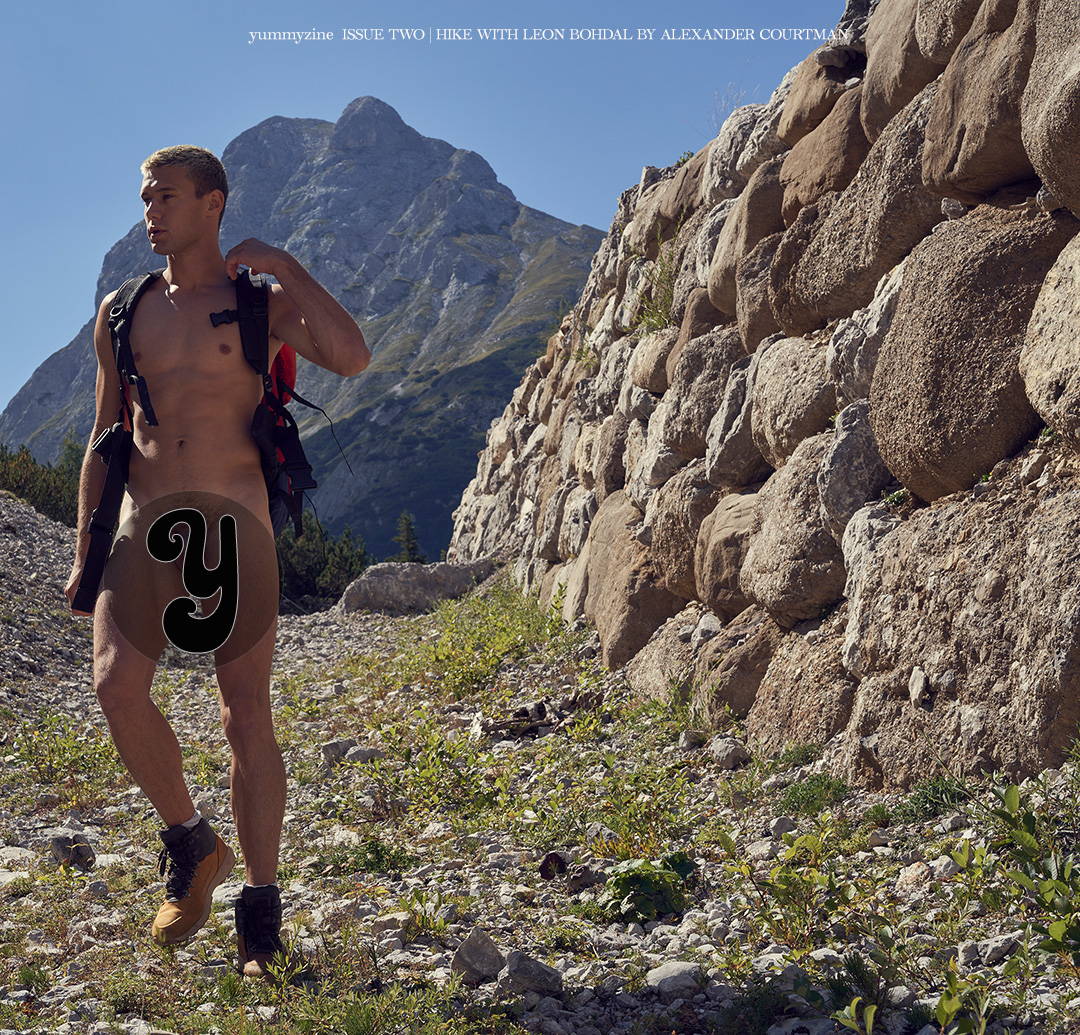 You seem to be a really interesting guy. To begin with, could you tell us about yourself a little bit, please?
I am 25 years old and I study business and economics in Frankfurt. I grew up here in the suburbs, so I know my way around pretty well. Before I started my studies I used to be a flight attendant and I had the opportunity to travel, which made me realize that I love to get to know different people and cultures. I'm really glad I had the opportunity to see a bit of this world.
You are from Frankfurt, Germany, a city that looks really inspiring. What do you love the most about your hometown? What are some interesting things to do when visiting the city?
As I said, I grew up around here, which means that I know lots of people here so I spend a lot of my free time going out and just enjoying the city with my friends to the fullest. But the interesting thing about Frankfurt is that the city also has a very interesting history. In addition, as far as I know, we are the only city in Germany with a real skyline. I know a few nice spots to enjoy the view and a bit of my romantic side.
I believe you are studying business and economics at university. What encouraged you to pursue this career path? Why economics and not any other profession?
To be honest with you, I started studying because all my friends did. I mean, it also has a lot of perks as it leaves me with a lot of options when I am done with my bachelor's degree, but mostly I enjoy living the life of a student if you know what I mean. Additionally, it leaves me with a lot of spare time to focus on modeling which is really something I started to love. The people and experiences I already got to have are something I would have hated to miss. Modeling is for sure something I would love to do as long as people want to see me!
How do you plan to balance your professional career in economics with your modeling career? Are you focusing more on the latter at the moment perhaps?
That is a really good question as it gets harder and harder the more jobs from my modeling career get in! But at the moment, I'm handling it quite well, I think. To be totally honest with you, I have had so much more fun modeling in the last few months that I don't really know whether I should focus on that more than the business and economics part of my life. I guess time will tell.
The little I know you I feel like you're a pretty outgoing and fun person. What do you enjoy doing during your free time and when you go out with your friends?
I love to go out, meet people, dance, and just have fun. I should probably tell you that I am for sure the only person on this planet that I think I am a good dancer, even though I'm not, but I do it anyway, and my friends hate me for it! I am pretty open and outgoing. I don't have problems chatting up with someone I like if there is enough alcohol involved of course.
It also shows from your stunning body that you're an active and sportive person. How important are sports for you? What type of sports do you practice?
Oh, that is nice of you to say! I would love to tell you that I need sports to keep my balance or stuff like that.. but to be honest, I don't. I play soccer because it is fun for me, not because I want to work out. Don't get me wrong, I do work out because it is my job to be in shape, but only as much as I really have to, if that makes sense.
Are you a big fan of soccer or other sports?
Yes, I love Soccer! I'm a big Eintracht Frankfurt fan and I really enjoy going to the stadium to watch them from time to time. Other than that, I sometimes follow the NFL as it is pretty entertaining!
You appear on the cover of Yummyzine 2. How do you feel about it? What impact do you feel it will have on your career?
I'm really proud and excited about that! I'm so happy with the results too. I had a blast shooting this as well so I hope you can kind of see that in the outcome. I am so hoping that this will elevate my career and hopefully help me to get bigger job opportunities. But most of all, I hope that everyone likes what they see and appreciate the work Alex and I put into this.
You did this photoshoot in a lake on a high mountain. How was your experience doing this shoot with the super-talented photographer Alexander Courtman? How did you get to that wonderful location and what was it like shooting fully naked?
Alex is just the best. He is not only super talented but also one of the kindest and funniest people I got to work with. We had so much fun shooting this and I am so happy I got to do this with him. When he came to me with his ideas and the vision he had to do this in the mountains, it was a no-brainer! Let me tell you though we had some difficulties doing this and not being seen by strangers walking by. I guess that made it even more exciting!
How do you feel about nudity? Are you comfortable with it? Tell us about it.
I don't really have any problem with nudity as I feel pretty confident in my body, so I don't mind people seeing a bit more. But to be honest, I was hesitant when it came to shooting for a magazine fully naked. But when I had the chance to do this for Yummy Magazine I just had to as it has the opportunity to open so many doors!
Having raised this topic, I would like to ask you a couple of yummy questions starting with our star question: what does the word yummy mean to you?
Yummy is by definition something that is highly attractive, and pleasing. I guess when I hear the word, the first thing that comes to mind is a very attractive person that looks so delicious you just want to lick them!
You seemed pretty comfortable shooting naked. Do you enjoy taking thirst traps and mirror nudes when you're alone? Do you think we would find any in your phone?
Definitely. I enjoy my own body a lot – alone, with a partner, or in front of the camera. Thirst traps are only for chosen ones.
You're only 25 years old but I'm sure you've already had lots of fun. What's the craziest and sexiest story you've ever lived? Maybe something at a crazy party or something like that.
It's important for me to keep certain things private, but I can tell you about a 32-hour-rave in Frankfurt I recently visited which was super fun. I got a random blowjob in the bushes while everyone was watching and my best friend made out with an 80-year-old guy. Smells like teen spirit.
Do you enjoy having fun and being naughty when it comes to sexual interaction? What do you enjoy doing and how important is sex for you?
Of course, sex is important to me, but I need some time and trust to open up and get kinky. I am very shy in the beginning when it comes to interacting with people I find attractive. In a relationship, I enjoy daily sex, but I'm also very into cuddling. It's about affection and tenderness.
Photographed by Alexander Courtman exclusively for Yummyzine Issue 2
Interview by Adrian Gomis Exposito (AGE)