From his lovely farm in the countryside, Yummy chats with Louis Nichols, a gorgeous model, and farmer who lives a wonderful and peaceful life while developing his modeling career. Combining social media with goat-milking, Nichols always finds the best opportunities either in the countryside or in the city to improve his modeling career and accomplish his goals. He told us about his origins, his routines, and his ambitions, leaving room for imagination in his answers to our yummy questions.


Photo story by Sasha Olsen interviewed by Adrian Gomis Exposito
The images is cropped/ made safe for online purposes, full images available inside Yummy Issue Six

First of all, could you tell us a little bit about yourself so we can begin to know you?
My name is Louis, I am a farmer and a model. I live in the countryside surrounded by animals. I work out and play various sports on a daily basis and I like to spend time with my family.
What about your modeling career? When did you decide to pursue it professionally and how was the beginning of it?
As I mentioned before, I am also a farmer. I have been doing these two activities for four years now. I started to take pictures with a photographer who then recommended me to other photographers. My Instagram account has developed from that moment on and today I have two amazing agents who take great care of me.
I believe you live on a farm. What made you choose that lifestyle and what do you enjoy the most about living in this environment?
Yes, I live in the countryside, I like its landscapes and calmness, life there is different from the city. However, the two are complementary, as I often go to Bordeaux and Paris to meet people, and go out in the evening with friends to some bars. I can move very easily.
What's the daily life of a farmer like you? What do you usually do on a normal day on your farm?  
A typical day, for example, starts at 7:30 am milking our goats and then feeding them all until 10 am. After that, I work out at the end of the morning, and in the afternoon I go to the vineyard, depending on the season, to prune our vines. Very often I require a tractor to do all sorts of work. At the end of the day, I take care of our goats again. During the day I also find time to manage my social media.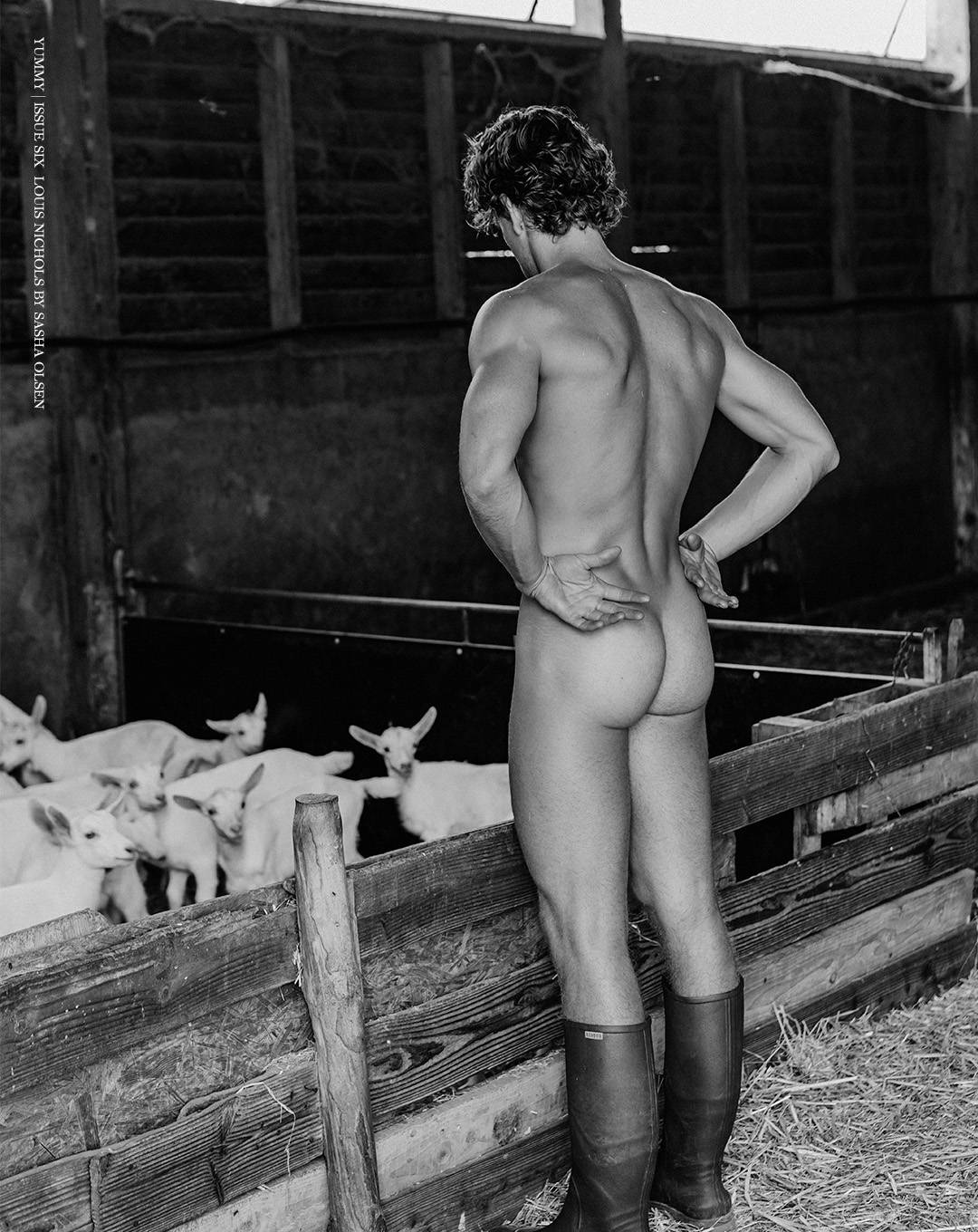 Your physique is stunning. Do you enjoy practicing any sport? What do you do to look so good?
Thank you for your nice compliment. Indeed, I always try to pay attention to my physique. I practice different sports and activities like cycling, swimming, skiing, and hiking. I try to be as active and complete as possible! I also go to the gym five times a week.
Besides what we've mentioned, what other things or activities do you have an interest in? What do you enjoy doing in your free time?
I like to read in my free time. I am also interested in other very random areas like real estate, human relations, or even interior design. I enjoy watching big sports competitions like the Olympics, soccer world cup, and rugby. I also love to spend time with my family and play petanque with my grandfather, for example.
I saw that you did these beautiful images with Sasha Olsen on your farm. How was the experience of shooting fully naked?
It went extremely well. The communication with Sasha was always perfect, a relationship of trust was born, and the photos came naturally great. Sasha gave me great advice and helped me a lot. It's my first shoot with him and I'm very pleased with everything, from having him at the farm and the whole shooting experience to the final results. I really hope to do more photos with him in the future.
Speaking about nudity, do you usually enjoy being naked? What view do you have of it?
I have no particular problem with nudity. During the summer I go from time to time to naturist beaches. It's a very satisfying feeling of freedom to be naked in the water, for example. It also helps me to avoid having tanning marks of any sort.
I would like to spice up the conversation a bit. To begin with, what does the word yummy mean to you? What do you see when you think about it?
In my language, French, the word "yummy" means delicious, so literally, for me, it would be something very good like a good dish in a restaurant. If I apply it to the concept of a magazine like this, the word will make us want to open it with a more sensual meaning. It makes readers dream and wonders about what they might find inside of it.
When do you feel the sexiest or most attractive? What do you do during those specific times, like how do you behave in those situations?
I don't have a particular moment when I feel the sexiest or most attractive. I am as natural as possible and I live the moment to the fullest with a clear mind.
At the time of meeting somebody new, what do you see first and how do you flirt with someone?  
The first thing I see when I look at someone is their face. Then, when I talk to that person, I can get interested in them, what they do, what they like, etc. Then everything else should flow naturally.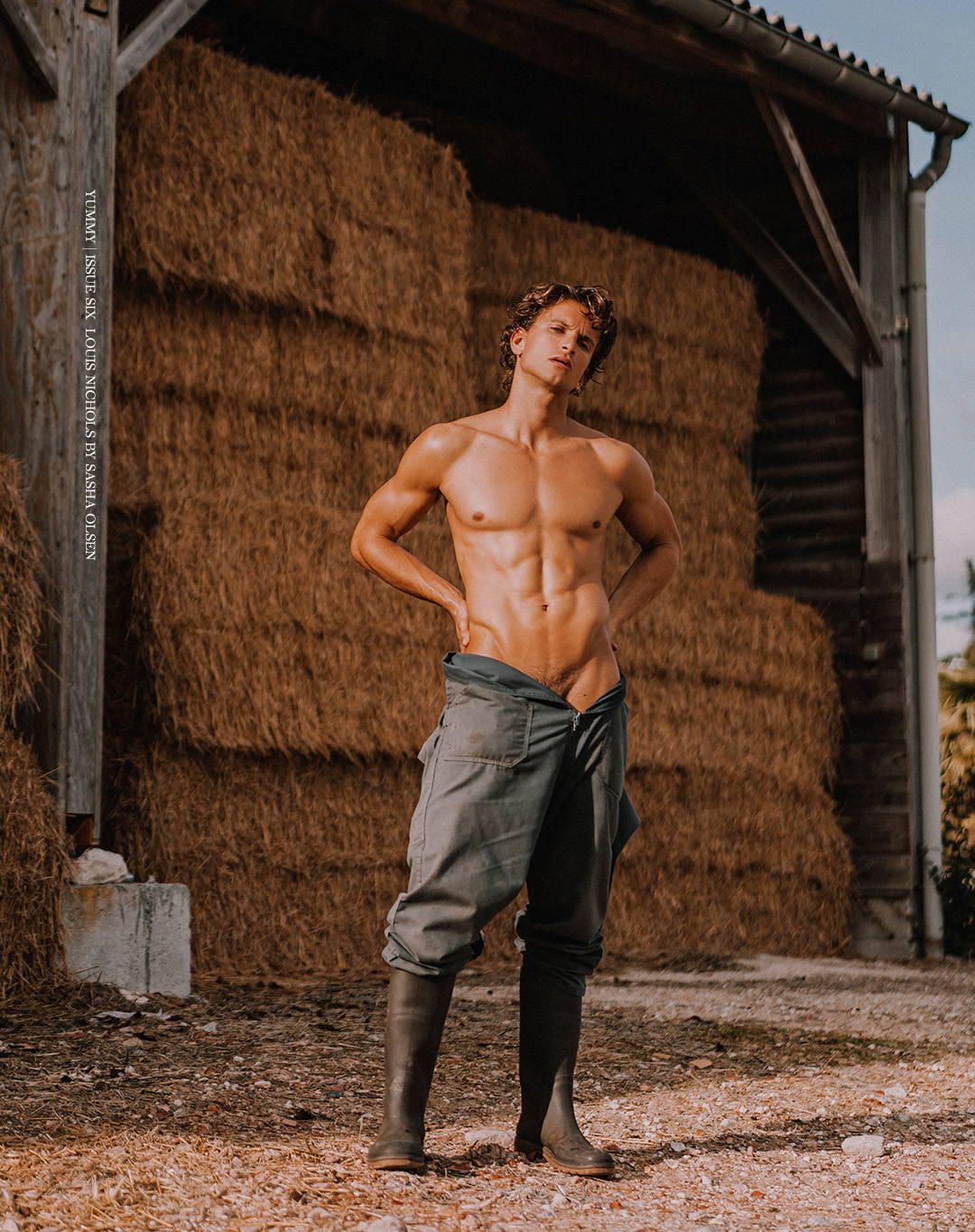 Being so handsome, I'm sure you probably enjoy taking sexy pics. What we would find if we scrolled down your camera roll on your phone? Do you have any interesting pics there?
Well, I might have some interesting pictures like some cute baby goats, cats, and amazing landscapes but I'm not sure you'll find them very sexy. I prefer to make sexy pictures with a photographer I trust and have them published in great magazines like Yummy.
You seem like a very active and passionate person. Would you consider yourself a sexual and naughty person? How important is having fun during sex for you?
I consider myself a very caring and subtle person, who can adapt to different contexts. Sexually, I am also very private. It's all about the moment and going with the flow. The most important thing is consent and respect.
What's your favourite thing to do or be done? Do you have any turn-ons or sexual fantasies? Tell us about your most interesting experiences.
I think it is necessary to have an open mind, try new things before saying they are bad or judging them. We should not live in ignorance. The most interesting experiences I lived are often unpredictable, they can be sweet and wild at the same time so I'll let your imagination do the rest...
To conclude, what ambitions and goals do you have in life? How do you hope to be in a couple of years from now?
I want to continue to do what I love. I would like to develop my career in the modeling industry and grow my social media accounts. Surely, I'd also love to work with big brands and continue to be featured in great magazines. My biggest dream ever is to be the face of a major perfume brand. I really hope to have achieved my ambitious goals in a few years. It was a pleasure to answer your questions and it is an honor to be in Yummy. A big thank you to you and all the team!
Photographed by Sasha Olsen exclusively for Yummy Issue Six

Interview by Adrian Gomis Exposito (AGE)