At an old boxing club in Milan, the incredble Jhonatan Mujica and Davide Farinelli train and warm up to jump on a boxing ring and challenge each other, pushing each other up against the ropes but never throwing in the towel. Yummy has a chat with both models to catch up, to talk about the incredible experience shooting for Yummy Issue Six, and of course, we also dive into their most yummy side.

Photostory by Sasha Olsen interview by Adrian Gomis Exposito

The images is cropped / made safe for online purposes, full images available inside Yummy Issue Six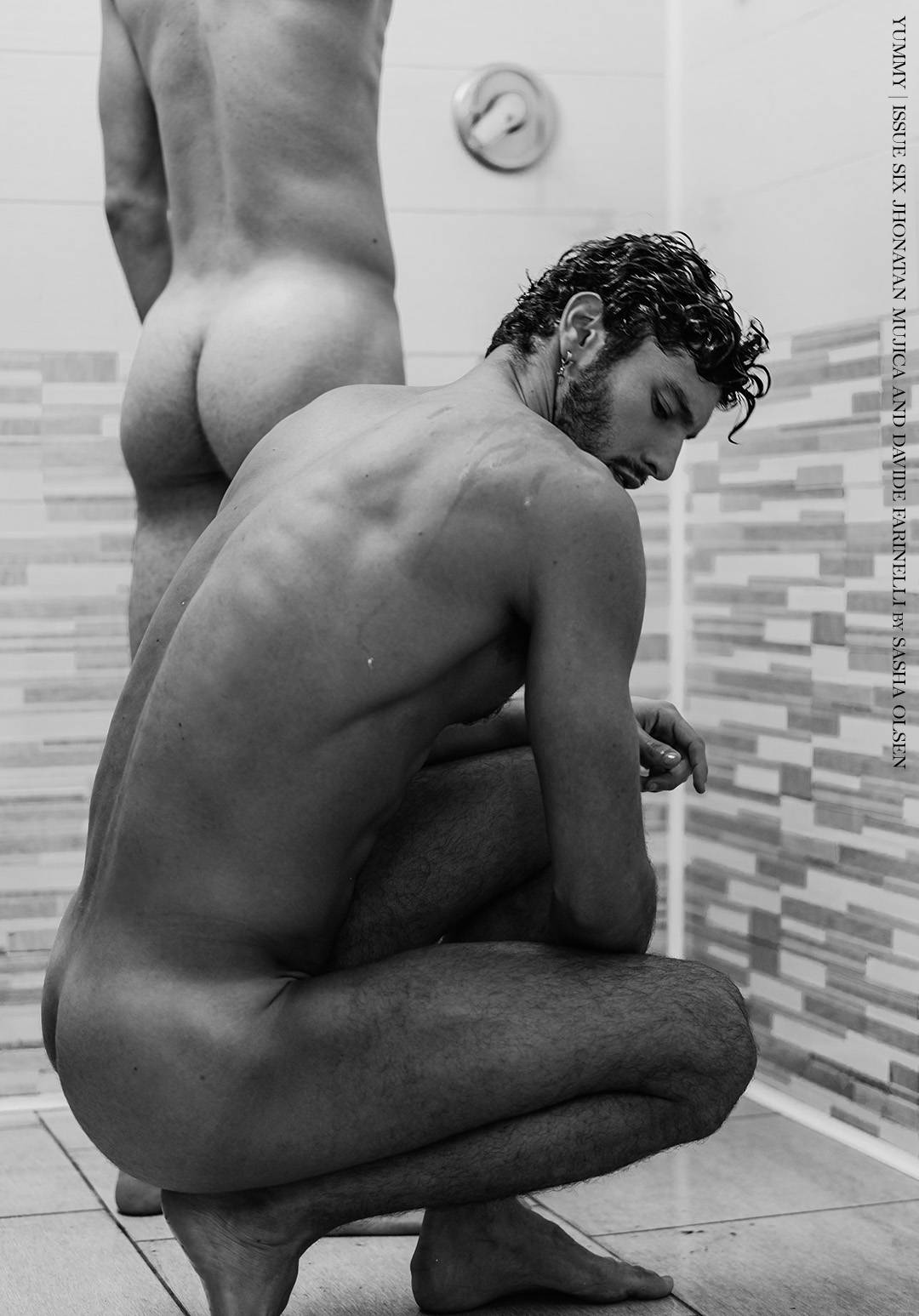 To break the ice, could you introduce yourself a little bit so we can begin to know you?
For sure the multicultural environment I have helped me to understand better the difference between cultures and be able to accept them and even enjoy seeing how everything works in every country, how people relate to each other, and understanding religions and beliefs. Today I'm considering myself an open-minded man who does not judge for anything. Live and let live.
You mentioned being half Venezuelan and half Chilean, being born in San Sebastián in Spain and partly growing up in Venezuela and Chile. How did this multicultural environment shape your life and character? What was your childhood like?
My childhood was pretty interesting because for half of my life, I lived in a pretty high economic level in Venezuela but, as some of you may know, in 1999 Venezuela started changing drastically to become a place where we couldn't live anymore, so on 2004 my family decided to move to Chile and start all over again. It was a tough time but we could come out from there and learn how to adapt ourselves to everything to be able to move forward.
From your life experiences, which would you say are the best traits of each of these countries that are part of you? What do you love the most about each one of them?
From Venezuela, I develop the capacity to not be shy, show myself up and be comfortable with my body. That mixed with the good behavior of Chilean culture I come up with my best balance of expressing myself and respecting every person's life and space.
You say you've always felt like a foreigner everywhere you go but you've now turned that into a strength as it gives you the mindset of being capable to deal with any changes in your life. Can you tell us more about this process and how you face these situations now?
I guess my experience was tough cause I leave my family's home very young and not well prepared. Obviously, I fuck up many times but I never make the same mistake, that let me learn about my mistakes and make me grow into today's Jhon. I work my ass out to make my career worth it enough to not have many problems. It has been a long path but the way to deal with my problems today is with more maturity and calmness knowing that anything is as bad as it could look. If you put your mind and your effort into it, you can do everything and pass wherever it comes.
I feel like, with all these changes you've lived through your life, you must love traveling and meeting new cultures. How much do you enjoy traveling and having wonderful experiences?
Traveling gives me the opportunity to see and experience every culture. Learning in every country I will live the best things that fit my personality.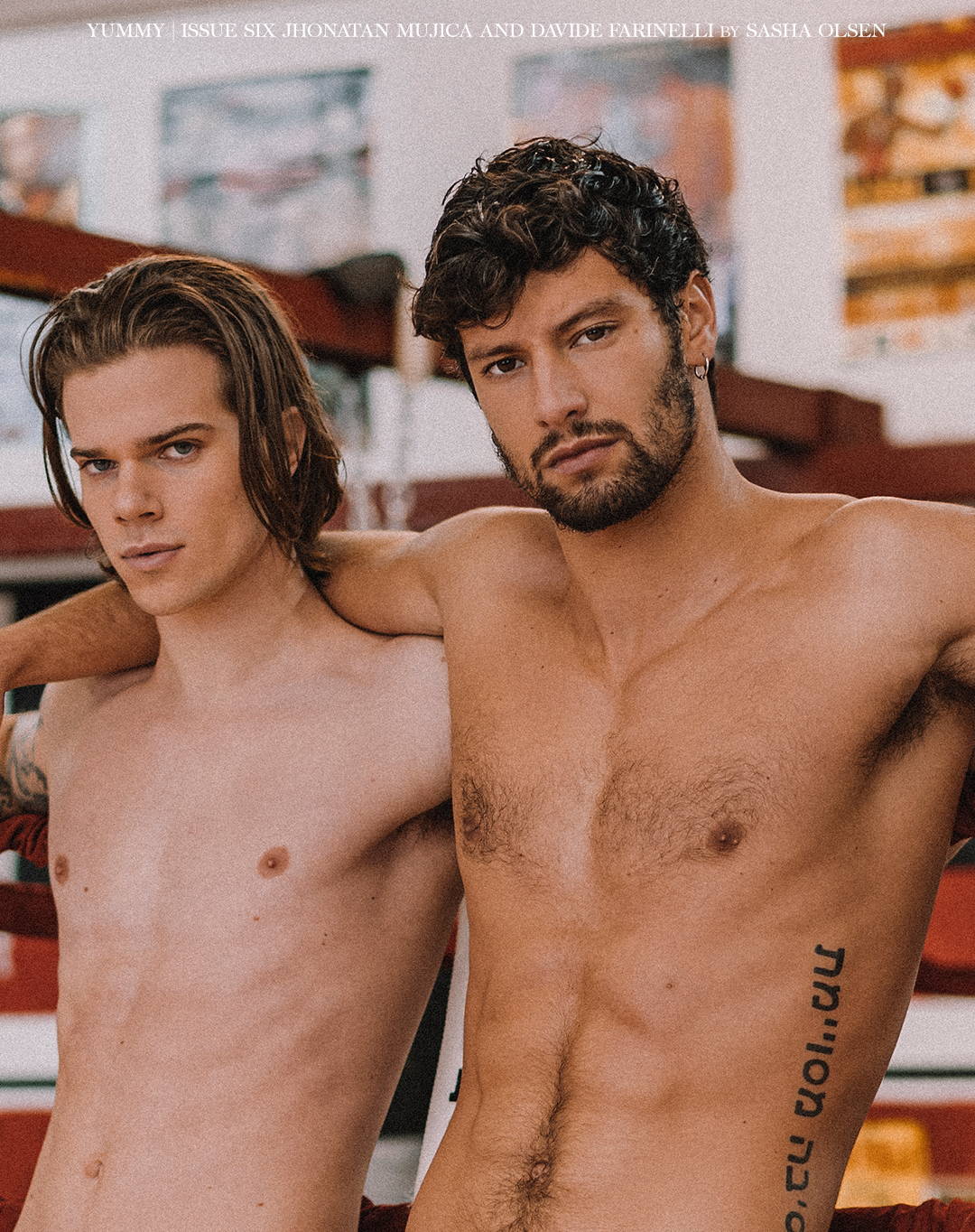 Do you have any other hobbies or talents?
I'm moving forward to grow in my two top hobbies: photography/video making which began when I started modeling and acting/dance considering that my Venezuelan culture gives the rhythm in my blood and the drama in my expression.
You are now a full-time model living in Milan. When did you decide to pursue a professional career in this field? Tell us how everything started.
I did study for two years physiotherapy in Chile, then I changed my career and country. I moved by myself to Argentina to study medicine and I started working as a personal trainer. I was working part-time as a model until I realized I didn't want to become a doctor anymore. I drop out of university and got the opportunity to make a big job with Coca-Cola when I realized the opportunity there I could have to dedicate my full-time to modeling and well, I did right.
You did a wonderful photoshoot with Sasha Olsen for Yummy accompanied by Davide Farinelli at an old boxing club in Milan. Did you enjoy this experience? Tell us about it.
The shooting was amazing and really fun. Shasha's creativity is admirable. Even though it was pretty cold, with Davide, we know each other for three years, we managed to warm it up excising ourselves a little and having fun in between the shooting.
Was this your first experience shooting naked and with another model at the same time? How did you feel throughout the shoot? How do you feel about nudity?
It was my third time actually. For me, nudity is one of the moments where everyone should feel powerful and nothing to be ashamed of. I feel comfortable being naked because I love my body in every shape in the best and in the worst, because it is not about shape, it is about loving and understanding your full self. For me, shooting with other models in this condition is a nice experience where great pictures came out.
I would like to ask you a couple of yummy questions now. What does it mean for you to be sexy? When do you feel sexy or what makes you feel sexy?
Sexy for me is the security in yourself. I think sexiness comes from the way you act, behave and show what you have in the best way. The person who is real for who they are does not need to impress anybody because they do not need it. That is sexy. I feel sexy when I can show myself in a way that is powerful and secure. My personality is a bit funny and naughty at the same time but cute and strong.
Do you sleep naked or with comfortable briefs and a shirt?
I do love to sleep naked but sometimes. I like sleeping with some underwear if it's soft and nice and it feels sexy too, but it depends on the underwear.
What do you find the most attractive in another person?
The eyes and the voice, because powerful eyes can say everything without a word and the strong voice can hypnotize your ears and your brain.
Do you have any turn-ons or fantasies? Perhaps any fun experience you'd like to share with us?
I think the fantasies could come up with the person you love cause you may need a certain level of trust to immerse in that naughty and fun experience together. But fantasies can also happen when you are single because you think about all the crazy things you would like to do or try and my advice is… do it! Life is just one and you have no time to not enjoy yourself as you should.
Do you think it's important to have fun and be a little bit naughty during sexy time? What do you like the most?
In bed, the connection with another person is really important but you also have to let yourself let out your naughty side cause everyone has it. If you allow yourself to feel it, for sure you will have a great time.
To conclude, what do you think the future holds for you? Do you have any future plans?
The future is always uncertain but I have plans to travel to different continents, grow in my photography and dance, and keep studying acting in different countries to absorb the best of every one of them and be able to show it in a movie or series once at least.
Hi Davide, it's so nice to meet you! To kick off, could you tell us about yourself and your upbringing in Modena, Italy?
I grew up in Modena, a quiet small city where young people don't have a lot of opportunities if they are not from a rich family that gives you the possibility to travel, study in big cities, and have a lot of experiences. Coming from a really humble family I started to dream big when I was a kid, thinking about my future projects and trying to move from Modena as fast as possible to create good opportunities by myself. Because of this, I started working at the age of 16 as a barman just to make some money and start to be independent. When one day I was chilling with some friends, a scouter stopped me and asked me to join the fashion industry as a model. I felt comfy since the beginning, so I took my bag and left Modena to live in Milano, where everything started.
Did coming from a small and humble family ever stopped you from dreaming big? What was in your mind that you thought you could never accomplish?
Fortunately, my family believed in me from the beginning and they never tied to stop me, also because of this I was more confident with the choices I made. In the beginning, it was really hard to live in Milano because of the living costs, but I squeezed my teeth and I kept going, and fortunately, all the sacrifices gave me the stability I have now.
I believe you're doing pretty well now. Have you been able to fight that feeling of being unable to accomplish what you dream about? Have you achieved your dreams and goals or there's still a long way?
Through the years I understood that at the beginning was weaker, but after a lot of ups and downs, I am more determined cause I understood how this industry is. The most important thing I learned is to always be positive and never lose focus. Keeping eating healthy and working out even when is a quieter period is the secret for me to keep me determined. I will never be satisfied 100% until I can get better, so I gonna keep working and trying to always reach a new level. This is my way to think everywhere, in the job first and then the sport.
What about your modeling career? How did you get scouted and what did that mean to you and how did it change your life?
As I said before, I got scouted on a sunny day chilling with my friends, when a scouter stopped me and proposed I joined this industry. In the beginning, it was really hard to the point of having to leave with other two guys in a small room in the suburbs of Milan, counting the money for food and trying to do my best to be always on point. All of these situations changed completely my lifestyle, and I can say I grew really fast because of the circumstances, but I'm really thankful and happy for this.
I believe you've been a full-time model for 5 years now. How were your first years modeling compared to where you're at now? What has changed?
I can say they changed a lot compared with the first years because at the beginning, even if I gave the agency full-time availability, I needed to work as a barman in the night to get some more money to pay for the apartment and food every month. In the beginning, this influenced my routine because sometimes I got really tired, and to rest, I often skipped the workouts. Today I work full time, in my free time I'm able to work out, focus on other projects and have a full mental focus on this job, so I'm really happy with the progress I did over the years.
Is it hard to be a model? What requirements do you have, for example regarding your physical appearance? How many times a week do you work out or what's your routine to meet the high standards of this industry?
Over the years I set my routine with at least one workout a day and eating healthy every day with two free days to eat something different, also to relax my body and don't let it become too stressful for my mind.
Besides modeling, what other activities do you like to do? Tell us about your passion for martial arts.
Since I was a kid I've always practiced martial arts. I started with karate at the age of 5, then judo, and then I started to move to the world of mixed martial arts. There started my passion for Brazilian jiu-jitsu, the martial art that I'm still practicing, and where I already set some projects for the future.
You shot a really nice story with Sasha Olsen for Yummy and you were also joined by Jhonatan Mujica in a boxing ring in Milan. How was this experience of shooting naked with another model? Did you enjoy it?
In the beginning, I was a little bit stuck with the idea to shoot naked, but talking about it with Sasha and Johnathan, whom I know since the beginning of my career because we worked together for Dsquared2 years ago, made me comfier and I asked about the idea of the story Sasha supposed to realize.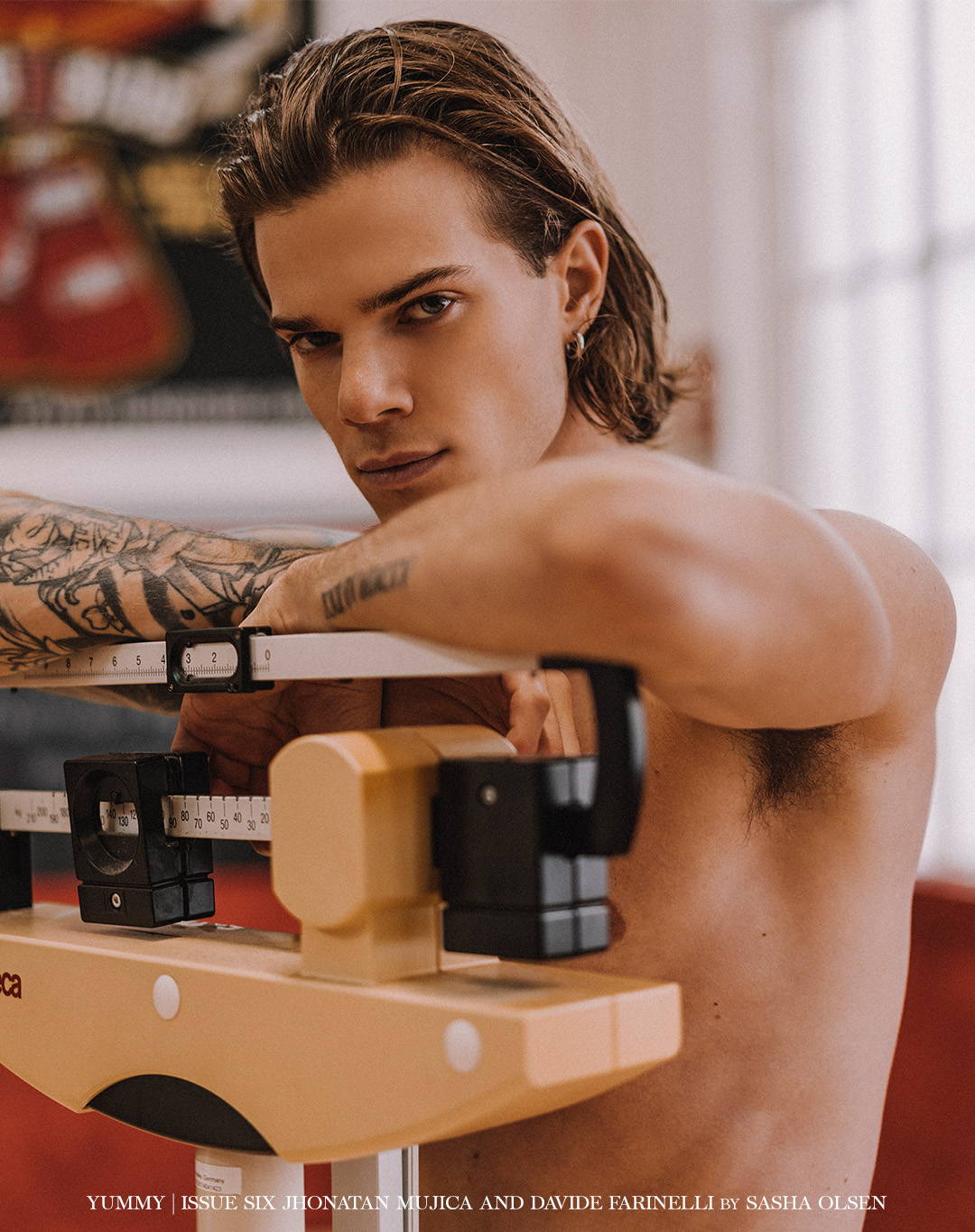 I believe this was your first fully nude shoot. Why did you decide it was time to do it?
Definitely, the thing most helped me to enjoy this experience was that I would shoot with a friend that already have more experience in the "naked world", and that I loved since the beginning the history Sasha wanted to do, representing a martial arts fight inspired of one of my favorite movies "fight club". This was definitely the key to making me comfier with that.
How do you feel when you're naked? Are you comfortable with it, especially if not alone?
In the beginning, I was a lot shyer and the idea to shoot naked never even passed in my mind, but with the experience and the years I started to be more comfortable with my body and also more open with my mind to enjoy and understand this kind of art matched with the fashion industry.
I'd like to ask you a couple of yummy questions now. What does the word yummy mean to you? What pops up in your mind when you think about it?
When I think about yummy as a word for me means something curious that you want to discover. I connect this word with food, maybe also cause I'm Italian and we push a lot in our culinary world, so I think about it as a dish you need to discover.
You have a stunning physique, do many people appreciate it on social media for example? Do you receive any compliments or funny comments via DMs?
Yes, sometimes I receive some compliments and appreciation comments on social networks, and are always nice because they make me more confident with my body.
Would you consider yourself a passionate or romantic person during intimacy?
I don't put myself in one of those worlds cause I think when you are in a relationship and you have the power of feeling each other you must have both together, and you have to know when you both can be more romantic or more passionate.
I would like to end our interview by asking you what you look forward to the most in the future and what is the best advice you can give to someone that would like to pursue a modeling career.
I will keep working hard and always try to get better, reach new goals, and always have new experiences. For someone who would like to enjoy the world of modeling, I would like to say to stay strong mentally first, because this job is going to put a lot of obstacles in your way and you need to overcome them and try to stay focused physically because the body and the face are the tools you will need to reach your goals with in this industry. Last but not least, stay positive. This is the key that helped me to still be in this world today.
Photographed by Sasha Olsen exclusively for Yummy Issue Six

Interview by Adrian Gomis Exposito (AGE)